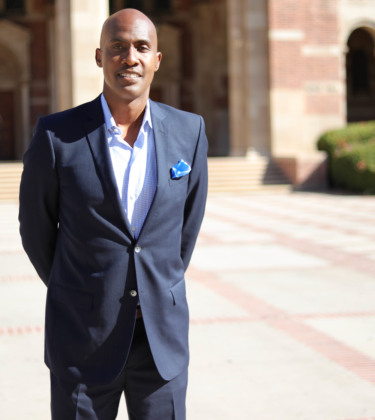 College of Education, 1998
Dr. Howard came to the UW after teaching in elementary school classrooms in Compton, California. Advised by Professor James Banks (the "Father of Multicultural Education), Howard studied multicultural education, academic achievement among African Americans, and equity in the classroom. Howard has continued onto an impressive career as a professor of education at University of California – Los Angeles, where he continues to study race and equity in K-12 education. At UCLA, Howard is the former associate dean of the Graduate School of Education & Information Studies and the founder and executive director of the Black Male Institute. He is frequently asked to present his work across the country and globe. In 2019, Howard was honored with the College of Education's 2019 Distinguished Graduate Award. We spoke with Howard about how GO-MAP* (then known as the Minority Education Division) enhanced his graduate school experience at the UW, and the program's lasting influence on his career.
For me, the Minority Education Division was about family and about community as well as financial support. From a financial standpoint, I was what might be called now a non-traditional student. I had a wife and two kids when I started my graduate degree.
I had funding through the School of Education but it was not enough. I didn't want to work three, four or five jobs outside of the UW to make ends meet. So I would go to Cynthia and talk to her about the financial challenges we were facing, and Cynthia would find something. MED was a huge financial support in ways I could not have envisioned when I started graduate school.
At one point I approached Cynthia because it was a real tight squeeze for my family and I to make ends meet. I was really hesitating to talk to her, because I didn't know what she would say. Before I met with her, I put together five talking points on the subject. I planned points and counterpoints; I had all these things prepared to say if she said no.
I went in nervous to our meeting, prepared to hear no. As you probably know, Cynthia has such a calm demeanor. As soon as I brought up my first point, she said yes. She said, I'll make it happen, and she made it seem like it was so easy.
That conversation was life changing. It was so important to know that she got it and she made it happen. All the talking points I had prepared, I didn't have to go through because she was so responsive.
When I was looking at graduate programs and I visited the UW, there was a group of master's students in the College of Education who were incredibly helpful. Patricia Halagao, Cynthia Denning Del Rosario, Jim Rodriguez, and Andre Branch. They said, there's a space for people of color here at the UW. They told me it was a good place to consider because my work – on racial and ethnic diversity in the classroom – would be supported here. It meant a lot to hear current graduate students say that they felt supported on campus.
As a graduate student, you recognize that the school – for me, both the College of Education and the UW – were predominantly white. If you didn't find a community of like-minded people, you could feel very isolated and very disconnected. As a person of color, you have to create your own community within the larger community by finding pockets of people who share the same experiences as you.
MED provided a space where I saw other students of color. With MED students, I didn't feel like I was alone, and I had people who could relate to being the only or one of the few people of color in their programs.
What was helpful for me was to come into graduate school with a small group of people who were part of the Office of Minority Recruitment and Retention. That became my community. The folks I worked with in my department knew about the Minority Education Division, Mosaic and other organizations to plug into to find community, so they helped me seek out those opportunities.
It worked for me, but if you didn't know how to find that community, you would be on the outside looking in. Now there are more intentional steps and approaches so incoming students of color can be introduced to these units and plugged into communities of color, if they desire to be.
My involvement with MED has been huge for my career. As a grad student, it was good to be in a place where people helped you to sharpen your ideas and pushed you – always with kindness – to sharpen your methods.
When you're a graduate student, you're insecure as a scholar. For me, having people who were part of the UW community who supported my ideas – conceptually and intellectually – allowed me to recognize the importance of my work. Professors such as Jim Banks, Gevena Gay, and Ed Taylor were invaluable and incredibly supportive.
A lot of the work I do now is still tied to equity and inclusion. I wouldn't be doing this work if I hadn't had the support I had at the UW. This support let me know that my work matters to the community. I'm forever indebted to the community because of that.
I hope the university does all it can do to support efforts like GO-MAP. Universities say they value diversity and want it on campus but often offices like GO-MAP are on tight budgets and not receiving the support and recognition they deserve. Initiatives like GO-MAP are often the heartbeats of diversity, the backbone of inclusion and places where students of color can truly feel supported and comfortable. And we should support them accordingly.
*This story is part of a series celebrating the 50th anniversary of GO-MAP, now known as GSEE. Learn more.