September 25, 2019
Jason Wooden, Ph.D.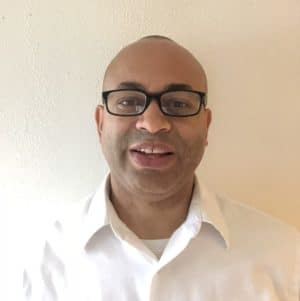 Department of Genetics, 1996
Wooden works in the Seattle area and is a full-time entrepreneur, with a number of projects in health and biomedical sciences. Wooden recalls how GO-MAP* functions helped him get out of the lab and make connections across disciplines.
Graduate school can be very arduous for people. It can be a long road, with a lot of ups and downs.
Cynthia and the others in the GO-MAP office were always there to support you if there was an issue you were dealing with. I remember when I received my funding both from the Ford Foundation or the UNCS Burke Science Initiative, GO-MAP did all this work behind the scenes to make things as seamless as possible. That way, I could focus on my research and not the paperwork.
GO-MAP had some really good functions where they would invite all of the minority graduate students. At that time, in my department I was the only person of color. So it was a great way to meet all of the other graduate students of color who you normally wouldn't see because you were all scattered.
At these receptions we'd hang out, make friends, and have conversations if there were issues people were struggling with. There, students from very different disciplines were able to connect as we're going through our graduate school experience and encourage each other through our everyday struggles.
Sometimes there would be very deep discussions about topics outside of school. I still remember this conversation I had with someone from Astronomy about their disciplines and practices in their discipline versus Genetics. That's one conversation you remember forever.
We would exchange information and some of us would go out and do things after those events. People would reach out and say, hey I'm hosting a party, or we're going out to this place, and you should come along. It was good to get you out of the books or your lab. To add some fun to the mix and help you stay grounded.
I would always look forward to those receptions – to seeing Cynthia Morales and other UW administrators. Some of those friendships I made at GO-MAP receptions, I still have to this day.
*This story is part of a series celebrating the 50th anniversary of GO-MAP, now known as GSEE. Learn more.