International Applicant Information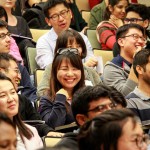 "The University of Washington is proud to be the home to students, staff and scholars from around the world. We stand with them and will provide them with support as needed." —UW President Ana Mari Cauce.
International students often have very specific questions regarding language, financial requirements, I-20 requests, and employment opportunities. The following pages can assist you in learning more about these topics.