From a young age, Sarah Smith began visiting museums in the Bay area with her grandmother, inspiring a life-long love for learning. Her grandmother, who worked as a sixth-grade teacher, would take Sarah to different types of museums and aquariums throughout California during the summers.
Education has always been a part of Sarah's journey. She had planned to become a child therapist, but, after studying in Rome during her junior year, she discovered a passion for the ancient world. This time abroad allowed her to explore ruins and investigate how much, or how little, humankind has changed. Although it was too late to change her major, when she returned from her trip, she solidified her decision to work in museums. 
"Museums are a place of learning, and I like pushing myself to engage with new thoughts, ideas and people," Sarah says. "I wanted to work in a place that made a real difference and had a mission I believed in."  
A Passion for Education 
After college, she held various jobs with one commonality: education. She has worked in an aquarium and museums and even taught English abroad. Her love for education and museums led her to pursue a graduate degree in museology.
Sarah is in her second year of the Museology Master of Arts (M.A.) Program at the University of Washington. During her time at UW, she has interned at several museums in the Seattle area. Her project-based thesis focuses on bringing mindfulness into children's museums by providing educators with a toolkit that helps them integrate mindfulness into their already existing museum programs.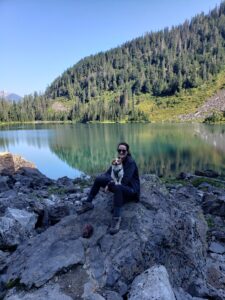 Mindfulness is purposely bringing one's attention to the present-moment experience without evaluation, a skill developed through meditation or other training. 
"Research shows that practicing mindfulness increases both well-being and learning. Museums have been shown to have the same benefits. That's why I wanted to bring mindfulness into the museum – to support and enhance the work museums are already engaging in. I use mindfulness in my everyday life and have experienced the benefits,." Sarah says.  
Included in the toolkit are 16 mindfulness practices. Some focus on breathing techniques, others focus on feeling grounded or recognizing emotions. Each practice is short, most ranging from 2 – 4 minutes and there are several songs included.
Through her research, she has learned that when public schools use mindfulness techniques, they have seen improvement in their student's performance and behavior. The toolkit is still under development but is currently being integrated into programming at KidsQuest Children's Museum in Bellevue, an interactive children's museum.
Building community from a troubled history 
 For Sarah, museums have a duty to their communities. "A huge part of museums is connecting the institution to the community, and a great museum that exemplifies that is the Wing Luke Museum," Sarah says.  
The Wing Luke Museum is an Asian American Pacific Islander history museum that relies heavily on oral history to convey information to visitors. Since it relies on oral history, the museum is tied to the community and is exhibiting a new shift in museology. "Museums have had a complicated and damaging relationship with the community," Sarah says. "Many museums throughout the western world have their origins in colonialism and racism with many collections containing stolen artifacts. Too often, museums have misrepresented the stories and cultural histories of marginalized populations and ethnic groups." For Sarah, how museums engage with the community and tell their stories is critical to making them more accessible.  
The Wing Luke Museum is discussed in many classes because of how community-centered they are. Through their community advisory committees, power is shifted to community members, who get a real say in the content of exhibits and programs. 
Looking to the future 
After completing her M.A., Sarah hopes to develop educational programming for a history museum, or even work at an arboretum.  
"There is a lot under the umbrella of Museology, including parks, zoos and aquariums," Sarah says, "I really love the outdoors and would like for my work to involve environmental education." 
By Tatiana Rodriguez, UW Graduate School
Published on September 15, 2023