Art and culture have been a part of Ghada ElHaffar's life from an early age. With her mother working in the cultural field in Bahrain, Ghada found herself frequently taking art classes. It wasn't until she discovered art history that she found her true calling.  
Ghada is a second-year master's student at the University of Washington (UW) in Museology and a Fulbright Scholar originally from Bahrain. Before coming to Seattle, she worked at the Bahrain National Museum for five years. The museum has a collection that is mostly local — most of the collection is from Bahrain: Artworks are often acquired through museum exhibits. Excavation teams collect artifacts from local dig sites that are then added directly to the collection and remain in the country.
"I realized that I had a knack for understanding the relationships between artworks, there contexts, and their purposes," Ghada says. "I was naturally drawn to explaining art and identifying the context of things, and I enjoyed it immensely."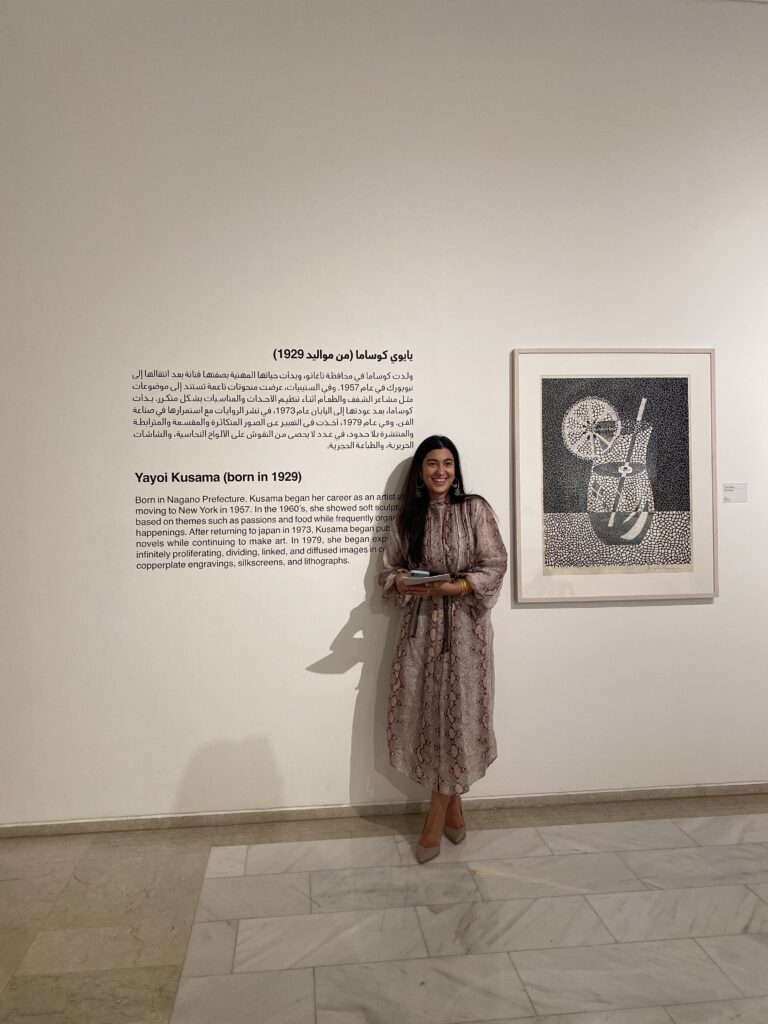 Museums in Bahrain
Museums are a relatively new concept in Bahrain and were introduced by the Danish in the late 1980s. Western influence was woven into institution operations, leading to a disconnect between what was going on inside the museum with the artists and the audience. 
Due to this influence, Ghada feels that preference was given to outside perspectives, and people from outside the country were often hired to work on big projects. By pursuing a master's degree, Ghada seeks to gain the expertise and use her local perspective to make meaningful changes in the museum industry in Bahrain. 
During her studies at the UW, she learned about the history and purpose of museums and the various controversies surrounding their collections. "The museum world has a complicated history, and it was eye-opening to learn about the problematic ways that museums were created and how they have been used to portray others," Ghada says. 
Thesis Work
As a part of her research, Ghada developed a project-based thesis that serves as an interpretation guide and public programming toolkit for the artwork available on the UW Seattle campus. There are about 135 artworks that are part of the Washington State Art Collection, and the Washington State Art Collection is meant to provide artwork where people eat, study;, and live, to integrate art into our lives in a seamless manner. 
"People don't realize that there is art, and so it just ends up being decorative. It's a Washington State law that any new building that comes up, there's a percentage of the budget that needs to go to commissioning artwork or purchasing artwork," Ghada says. "But there is a disconnect once again between the work that's being done by the Washington State Art collection and then the public."
This disconnect inspired Ghada to create an interpretation guidebook with information about the artwork, the artist, the various locations, the connections between the artwork and the locations and the specific mediums that the artist used. These guidebooks include a coloring book based on the university artworks, and a treasure hunt that allows people to see and experience art that often goes unnoticed. 
From her childhood to her time now studying at the UW as a graduate student, learning and discovery have guided Ghada's journey into art and culture. She will continue to use this passion for art history to help promote understanding and appreciation for the rich cultural heritage of Bahrain. Ghada is still employed by the Bahrain National Museum and will return to Bahrain to implement what she has learned at the UW into her community. 
 By: Tatiana Rodriguez, UW Graduate School
Published on May 05, 2023