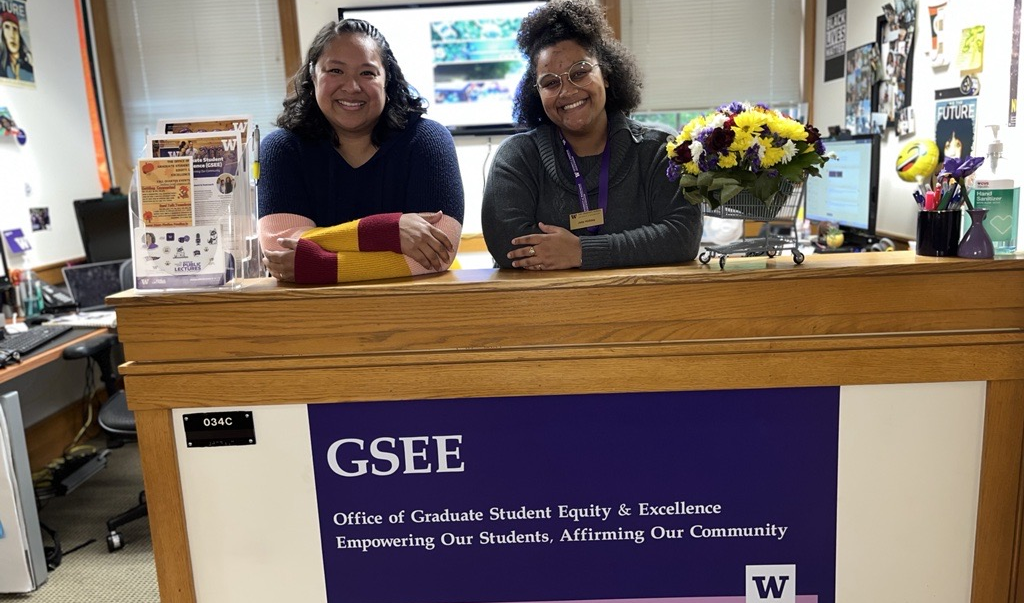 As a unit of the University of Washington Graduate School, the Office of Graduate Student Equity & Excellence (GSEE) is committed to enhancing equity and social progression to promote the success of graduate students impacted by racism and its intersections* at our Bothell, Seattle and Tacoma campuses.
For more than 50 years, GSEE (formerly GO-MAP) has worked with graduate students, staff, faculty, and campus leadership to develop initiatives that strengthen graduate diversity, enhance academic opportunities, and encourage and support research exploring cultural diversity. GSEE aims to cultivate a culturally and ethnically diverse academic and social environment in which all graduate students can learn and thrive while attending the University of Washington.
GSEE promotes and supports:
Outreach, Recruitment and Graduate Student Success
Professional Development and Community Building
Graduate Funding Opportunities
Scholarship and Research
Advocacy, Consulting and Advising
---
---
How can I become a part of GSEE?
Graduate students can be a part of the GSEE community by attending events, volunteering as an Outreaching Grad (OG), or stopping by the office. GSEE does not have an application process — all graduate students are welcome to participate in our programming and events. We invite you to become a part of our campus community as you prepare for a rewarding life of work rooted in diverse intellectual engagement.
GSEE is located in Suite 034 of the Graduate School on the ground floor of the Communications Building.
Would you like to schedule time to speak with a GSEE staff member? Please fill out our online "connect with GSEE" form.
---
*Intersections include sexism, homophobia, ableism, Islamaphobia, antisemitism and other forms of discrimination