In 2015, Leoma James traveled to Kenya to study abroad, sparking a journey of self-discovery and a love for Africa. "When I came back from Kenya, I knew I wanted to be back in Africa," Leoma says. "It was just a matter of how."  
From 2017-2019 Leoma returned to Africa, traveling to Namibia as a Peace Corps Volunteer to teach English. During her service, she was able to learn a little bit of a local language called Oshikwanyama but was not able to reach a high fluency due to her rigorous teaching schedule.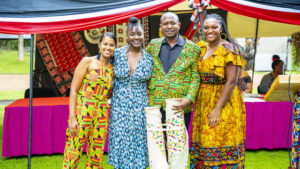 During her Master of Education program at the University of Washington, Leoma received an additional opportunity to travel back to Africa as the 2022 recipient of the David L. Boren Fellowship, which allowed her to live in Tanzania and study Swahili for nine months. 
The David L. Boren Fellowship is an initiative of the national security education program that provides U.S graduate students funding of up to $25,000 to study less commonly taught languages in regions that are underrepresented in study abroad programs. In exchange for funding, Boren fellows commit to working for the U.S. federal government for up to one year.  
As part of the Boren fellowship, Leoma and her cohort attended Swahili classes at the University of Florida for six weeks before embarking on the immersive portion in Tanzania. Leoma studied and spoke in Swahili 24/7 in Tanzania. "It's an intense experience, and every student agreed to a language pledge at the start of the program; if you are caught speaking too much English you'll get a warning," says Leoma.  
To stay in Tanzania longer, Leoma accepted a teaching internship with the Elimu Community Light, where she taught English and basic math to preschool aged children. Through this work, she was also able to donate school supplies, such as pencils, erasers, puzzles, and schoolbooks, with the help of a former high school teacher. As well as collaborate with an organization called the Mother Bear project, who donated over 150 teddy bears to three schools in Tanzania.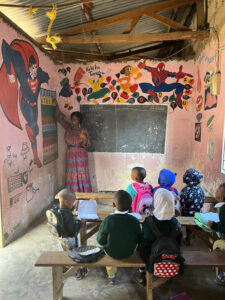 Leoma participated in the faculty review and worked with the Graduate School Office of Fellowships & Awards. Her experience was unique because she applied twice for the Boren fellowship. The first time she applied was during her first year of her master's program. Leoma was diagnosed with a brain condition the same day that she applied for the fellowship. She had brain and spinal surgery three months later and was selected as a runner up for the program a few weeks before her surgery. "It ended up working out in the end because even if I was accepted, I wouldn't have been able to participate," Leoma says. 
 In her second year of applying, she knew she needed to articulate not only her desire to work for the federal government but also the specific department and the work she wanted to do. She made strong points about wanting to be a Boren fellow, learn Swahili, work in Tanzania, and made sure to clarify her commitment to the federal government – which led her to be accepted.  
As Leoma settles back into life in the U.S., she advises future Boren applicants about how they can prepare for their time abroad. "Boren provides a living stipend but be prepared to have extra funds for vaccinations, clothes or other emergencies," says Leoma. She also advises applicants to start their application early, that way they can get feedback on their essays and join informational webinars about the program. 
"All around, it was an incredible experience which really pushed me out of my comfort zone, introduced me to a beautiful and rich culture, and allowed me to practice Swahili every day," Leoma says. This Spring, Leoma will graduate with a Master of Education Policy and Organization from the UW. She says that she will continue her language journey with hopes of being able to support students and families from East Africa in the future.  
To learn more about the David L. Boren fellowship and how to apply, please contact Michelle Sutton,from the Office of Fellowships & Awards. 
By: Tatiana Rodriguez, UW Graduate School
Published on June 23, 2023