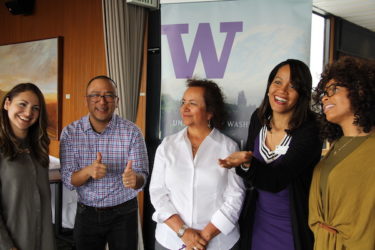 I had the special pleasure of serving as a GO-MAP* Graduate Staff Assistant (GSA) for the two years I attended the Evans School, 2015–17. As a non-traditional student with 15 years separating my undergraduate and graduate education, I was beset with imposter syndrome, and GO-MAP provided me the exact levels of encouragement and mentorship I needed to thrive and succeed. Our staff meetings were great instances of this as Cynthia (Morales) would regularly ask me for my opinions if she noticed I was quiet or reserved — a function of my own self-doubt. This was further exemplified in her support of my vision for a campus-wide racial justice caucus and organizing project where over 100 students gathered to process the police killing of Black people in 2016.
My final year with GO-MAP coincided with the beginning of the political and social tumult we face today, which created a precarious campus climate for students of color, especially for Black, Latinx, immigrant and refugee students. I will never forget the day after the election. We all came into the office around the same time, dour and weary, and went around the room unpacking our feelings and analyses of what happened and what lay ahead. The commonality in our thoughts was the need to pull together as a community to support students and each other. So, we set out some coffee and cookies and consulted with nearly a dozen students about their feelings and concerns as they trickled into the office looking for community to process with.
The GO-MAP staff — Cynthia, Vanessa, Anthony, Carolyn — worked earnestly to support us students through the vulnerabilities and challenges we faced during this period with the kind of care and empathy one extends to a family member. I will forever be grateful, and feel indebted, to the staff and students of GO-MAP. Thank you so much for all your hard work and compassion. Happy 50th Anniversary!
*GO-MAP was the name of a program that is now called GSEE: the Office of Graduate Student Equity & Excellence