In Keisha Bharath's home there is an ornate ceiling fragment on display, over a century old. A keepsake which once belonged to one of the most storied buildings in Trinidad and Tobago: the Red House.
She says it's the most valuable thing she owns. Even now, as she's 4,300 miles away from home, this piece of the past, coupled with her lived experience, reminds her of the importance of preservation, history, national pride and the invaluable role planning plays in the future of a country.
Bharath's love of urban planning, research, and Trinidad and Tobago, has driven her to pursue a Ph.D. in Urban Design & Planning at UW, where she was awarded a Fulbright to study. She plans to research how to improve sustainable development for her own country and other Small Island Developing States.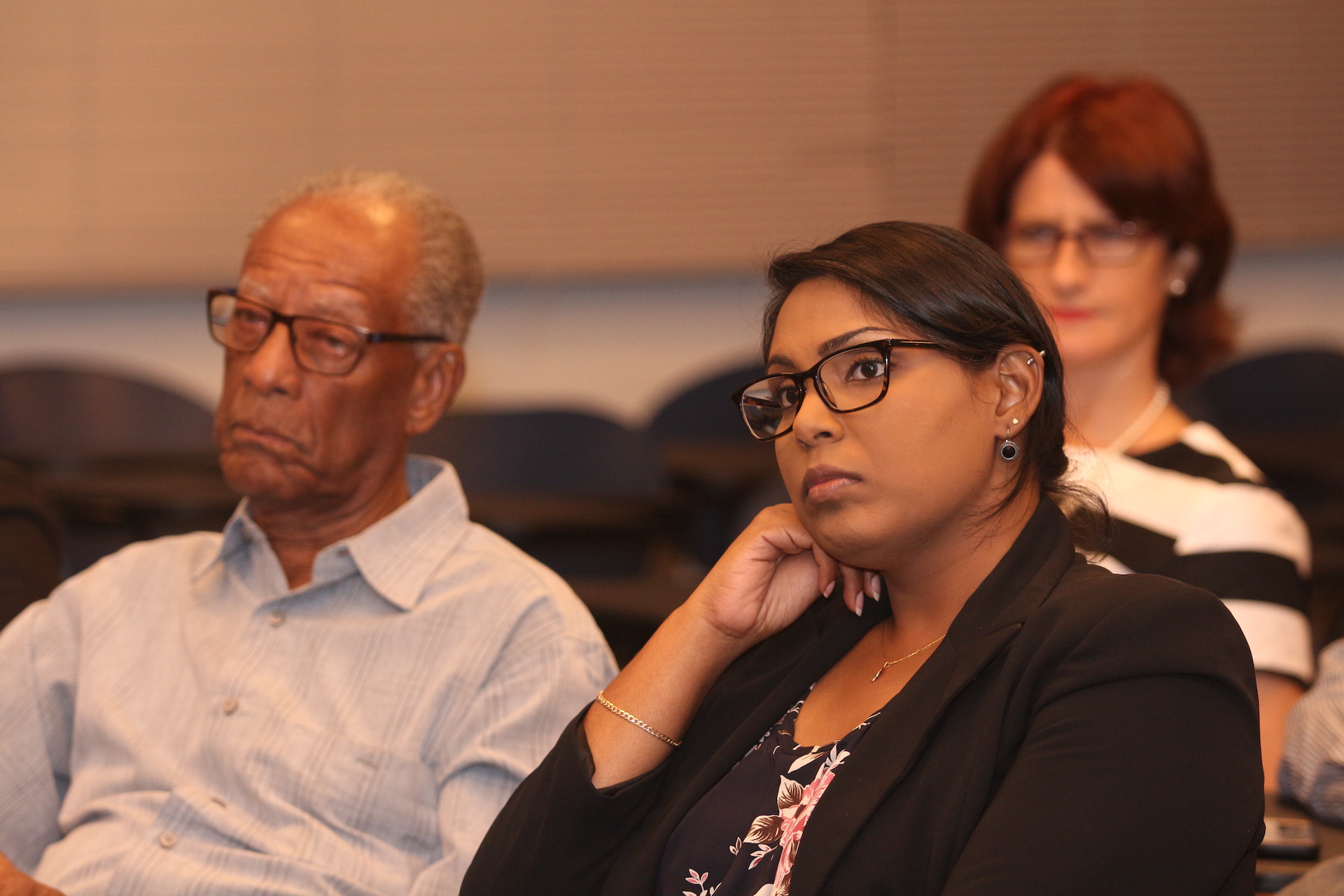 "Effective planning can improve the life of an individual, the lives of a community or neighborhood, and ultimately, the country," Bharath said. "Planning gave me an opportunity to make the lives of the citizens of Trinidad and Tobago better, no matter how small the contribution may be."
Bharath didn't know it at the time, but her love of planning started when she was young, as she noticed the slightest details of change around her.
She noticed how her neighborhood was getting louder and brighter, as the colonial-styled homes where she grew up in Tunapuna were being torn down and replaced with newer buildings made of glass and metal.
She noticed the long commutes she and her fellow citizens had to endure on a daily basis and the impact this was having on livability and overall productivity.
But it wasn't until she took a planning course as an elective during college that she found a place where she could study these observations of her world. Ten minutes into the class on planning theory, she leaned over to her friend and whispered in her Trini tone, "Aye, is there a master's program in this?" Her friend shrugged and turned back to the lecture. But Bharath felt like all the synapses in her brain were firing at once.
"I had a 'this is it' moment," she said.
One of the focuses of Bharath's research is how international standards for sustainable development could be improved for small island states. The United Nations created Sustainable Development Goals for all countries with indicators to be met by 2030. These goals include things like building resilient infrastructure, sustainable energy sources, and equitable education opportunities.
But Bharath, who studied sustainability at the graduate level and worked on these goals as a project manager at the Trinidad and Tobago Office of the Parliament, saw that there were instances where small island states didn't have the resources to meet targets that larger countries could.
By researching different theories of sustainable development during her Ph.D., Bharath hopes to develop more specific tools and techniques for small island states, especially her home country, to use in the pursuit of sustainability.
Bharath grew up surrounded by examples of public service in her parents, who worked as customs officers, and her aunt, who taught. They all showed pride and dedication in their work and encouraged Bharath to do the same.
Bharath also felt immense gratitude towards her country, as she was part of the generation of students who could pursue a free undergraduate education at the University of the West Indies, St. Augustine, and receive funding for half of their postgraduate degree.
In exchange, Bharath worked for the government in the Office of Parliament for several years after receiving her master's.
While she loved public service, as her parents and aunt did, she was still itching to do research, and even the simplest of reports she worked on at her job had a researcher's thoroughness.
Bharath's graduate school mentor, Professor Michelle Mycoo, inspired Bharath's interest in urban planning and saw Bharath's potential to be a Fulbright doctoral candidate. For years, she encouraged her to apply.
"She reminded me that I was capable of making a greater contribution," Bharath said. "For that, I am eternally grateful to her."
But before Bharath could apply for the Fulbright, before she could be less meticulous in her reports, she had something she needed to see to completion: the restoration of the Red House.
The Red House is the seat of Parliament in Trinidad and Tobago, and a landmark of the country's national history. The building was painted red in 1897 for Queen Victoria's Diamond Jubilee and was burned down during water riots in 1903, then resurrected, red paint and all.
The Red House is where Trinidadians celebrated their independence from the British for the first time in 1962. It is also the place of an attempted coup in 1990, where more than 100 people stormed the house and held the government hostage for several days before surrendering.
It's a rich history held within the walls of a large red building, and Bharath wanted to ensure her country's history was preserved, the good and the bad. She committed to being part of the team that would deliver the restored Red House to the citizens of Trinidad and Tobago.
"To every Trinidadian, the Red House has a special place in our heart," Bharath said. "It is a beacon of our resilience and perseverance."
The restoration was completed January 24, 2020, ending a two-decades-long project. That's where Bharath got her treasured souvenir from the old Red House ceiling. While it's a reminder of her civil service, it's also a motivator for her work ahead: giving back to her country through her Ph.D.
It was hard to leave her country, but Bharath is enjoying her new home in Seattle, "except for the rain and the cold," she jokes, "But the beautiful campus and amazing faculty and staff of the University of Washington make up for it."
Bharath will be working with UW Professor Marina Alberti, and said she is humbled and excited to make a meaningful contribution to the work her colleagues are dedicated to.
"I am where I need to be," Bharath said. "My work begins when I return home with the Ph.D. in hand."
Published Oct. 28, 2021
By Kate Stringer, UW Graduate School