Ziyan Bai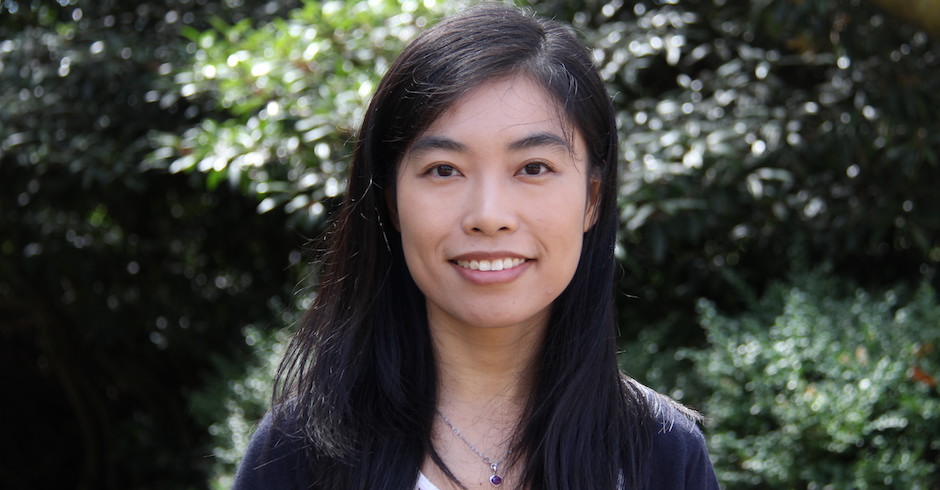 ---
Ziyan Bai, Graduate Staff Assistant, Core Programs and PhD candidate, Education
Education
Master of Education, Educational Leadership and Policy Studies — Higher Education, University of Washington
Career
Research Intern, Council of Graduate Schools
Ziyan Bai is passionate about pursuing and improving graduate education: she's a full-time PhD Candidate in Education; her research is situated broadly in graduate education policy, practice, and financing higher education; and she has worked for the Graduate School for five years.
In her position as a Graduate Staff Assistant for The Office of Postdoctoral Affairs, Ziyan is responsible for supporting communications and programming for postdocs, mostly centered around professional development. For her work at Core Programs, she improves the experiences of fellow international graduate students through research and programming. She "has brought a vision for international graduate student and postdoc support," says Kelly Edwards, associate dean of Student and Postdoctoral Affairs, "and her commitment to student and postdoc experience really shines through in every effort."
Ziyan's work on international graduate student programming is "not only informed by her impressive knowledge of higher education research, but also by her thoughtful collaborations with international grad student peers, campus partners, and university leaders," says Jaye Sablan, assistant director of Core Programs. Jaye adds that Ziyan is "also just a wonderful person to work with, as she brings warmth, humor, and wit to the office every day."
Ziyan herself is an international graduate student, and while she's careful to emphasize that her experience is in no way identical to that of other international graduate students, it does help her relate to some of the challenges and experiences her international peers face.
Take, for example, her first day of classes. "It was surreal," she says, being in a new country and a new educational system, all with very different customs and norms. Never mind the fact that her first degree at the UW was a significant departure from her undergraduate degree, which was in physics.
She was "starting from scratch" in her master's program in educational leadership and policy studies, she recalls. Yet, the program "really stimulated my intellectual curiosity." When she graduated — two quarters early — she left with a lot of unanswered questions about her field.
She was inspired to continue her education by an advisor who told her, "if you want to answer your own questions, do a PhD." Now, she's working on her dissertation which focuses on self-sustaining master's programs and their broad implications on public higher education.
And yet, Ziyan knows that because her experience as an international student is very different from that of others, she can't rely only on her own experiences when developing programs. Instead, she makes informed decisions based on both empirical studies and collaborative dialogues with graduate students and staff. This is how she's come to develop comprehensive programs on helping international graduate students in developing needed communication skills. "Concerns about communication can affect everything from how international graduate students contact a professor to their attendance at a party," she says, so they're important concerns to address early on.
Every year, Core Programs, in partnership with the Graduate and Professional Student Senate, FIUTS and UWAA Alumni organizes several workshops specifically for international graduate students, focused on communication.
Each workshop has a different focus, including cultural and communication norms, communicating with professors and communicating with working professionals.
The final workshop in the spring, on communicating with professionals with graduate degrees, focuses on "skills you need to develop intentionally in grad school in order to transition into an industry job post-graduation," Ziyan says. This workshop is especially important because a lot of international students don't have a big network in the U.S., and it's difficult to form connections and find resources outside academia," she says.
With professional development events, the impact is not always immediate, Ziyan says. It may be years down the road, when a student is reflecting on their academic and professional career, that they find the information useful.
But still, Ziyan knows she's had an impact when students approach her after an event she's led to shake her hand and thank her for the experience. A particularly touching moment, she says, was when an international student told her after a workshop, "I feel not invisible." As someone dedicated to improving the graduate student experience, "I truly appreciate those moments," she says.
Ziyan has "truly contributed to making our Student and Postdoc Affairs office exceptional," says Kelly. "She provides consultations to other graduate schools looking to grow, and individual mentoring to graduate students. No issue is to big or too small to take on." While the Core Programs team is excited about Ziyan's professional future, they recognize the significant gap Ziyan will leave when she graduates, Kelly says.
Did you enjoy reading about how one of our graduate students contributes to the success of the Grad School? Check out a profile of Rochelle Lundy, who helps her peers with one of their ultimate challenges: financing their education.
Published April 2018