Tori Hernandez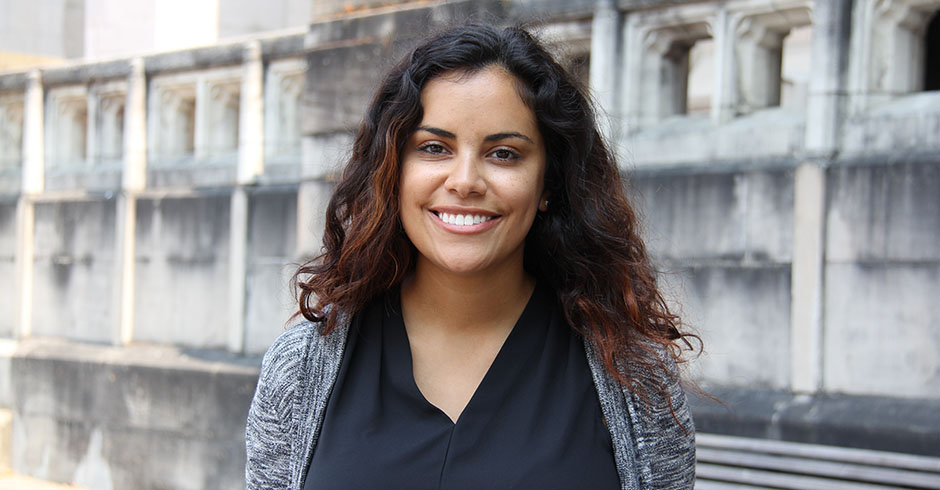 Tori Hernandez, master's student, Evans School of Public Policy and Governance
Education
Bachelor's degree, Communication and Psychology, College of the St. Benedict, Minnesota
Career
AmeriCorps member, College Possible
As the first generation in her family to earn a bachelor's degree, Tori Hernandez blazed her own trail to college and career. Though the path wasn't always clear, she was successful by continually setting and meeting high expectations for herself — and, when necessary, defying them.
Now in her second-year of a master's degree at the Evans School of Public Policy, Tori is working to improve the graduate school experience at the UW by working with and advocating for graduate and professional students.
Hailing from a suburban Minnesota town, Tori's parents expected her to attend college. But their vision of where she would attend — an affordable, local public college — was different from Tori's vision of her college experience at a liberal arts college. Specifically, the tight-knit, supportive community of the College of St. Benedict.
Determined to attend St. Benedict, Tori applied for financial aid and scholarships to support her tuition and fees. But starting from the financial aid applications, college applications and culture were tedious and frustrating, especially without the support of someone who had navigated it before.
Filling out the financial aid forms, "I remember sitting with my mom and trying to figure out what to do," she recalls. When asked if they turned to anyone for support, Tori says, "we kind of just muscled through it." Ultimately, they were successful, and Tori enrolled at the College of St. Benedict.
Tori arrived on campus with a clear picture of what she wanted to accomplish: earn a degree in nursing, and pursue a career in medicine. But during her first year, "I realized I wasn't very passionate about it," she says.
Looking for inspiration, she took a couple of communications courses — one focused on education practices, and another on women's voices. "That sparked my interest," she says.
She continued on to earn her bachelor's degree in communication and psychology. After graduating, she worked as an AmeriCorps member with College Possible, which works with low-income individuals (many of them first generation college students) to help them prepare their college applications and guide them through the financial aid process. It was a rewarding job, Tori says, having faced similar struggles when she was applying to college. Having lacked "that same level of support," she says, "it was nice to provide that support to others."
The following year, Tori moved across the country to start a degree program in Seattle at the Evans School of Public Policy. She's now in the second year of the Masters of Public Policy Program, with a focus on non-profit management. That the Evans School offers a specialization in non-profit management is ultimately what drew her to the program, she says, adding that it's "the perfect mix of policy and management." It's one of the few programs to offer that blend, she says.
Much of Tori's time outside her role as a student is devoted to making the UW a more accessible, welcoming place for her peers.
As the VP-Internal of the Graduate and Professional Student Senate, Tori works with different departments on campus to improve the Graduate School experience.
She chairs the student-led GPSS Graduate Student Experience (GSE) committee, which encourages discussion and brainstorming of "resources that are missing from campus, or resources that are not being communicated to students effectively," Tori says. She plans to use this information to develop professional development programming for grad students based on their demonstrated needs.
As a Student Ambassador, she is a resource and a support system for incoming Evans School graduate students. She understands how it feels to move across the country and to start a degree at a new school, so she wants to give support and reassurance to students in similar situations.
She's also involved with the First Gen Grad Student Advisory Board for Core Programs. The social meet-ups and lectures specifically for first-generation students are an opportunity for her to connect to other people with backgrounds similar to hers, she says — people who have faced similar challenges in navigating college admissions and culture and who can relate.
Connecting with other students who've shared some of the same experiences gives her a support system of people "I know I can go to for advice," she says.
She encourages incoming first-generation graduate students not to hesitate to reach out to staff or faculty if they're struggling, and to consider looking for help beyond their department, to people and services outside their program.
"If your program doesn't have the support you need, it will be elsewhere," she says. You just have to find it.
She adds that as an officer of GPSS and chair of the Graduate Student Experience committee, she's always open to speaking with graduate and professional students in the GPSS Office about their experience on campus.
Her aim is to collaborate with students and develop plans "to improve their experience, and make sure they are being supported on campus in the ways they need," she says.
Kelly Edwards, associate dean of student and postdoctoral affairs with the Graduate School, has worked with Tori as a member of GPSS and on the First-Gen advisory board, and more. "In all cases, Tori is 100 percent committed to student experience and working collaboratively with other UW leaders to assure student voice and perspective is heard and integrated into programming," she says. The Core Programs Team "recognizes that students come to UW with a full spectrum of experience and it has been a gift to work with Tori to innovate and evolve Core Programs for graduate students as needed."
Want more stories of first-generation grad students like Tori? Check out the First Gen Grad Student webpage, managed by Core Programs, where you'll also find information and resources for first-gen grad students.
published October 24