Teofila Cruz-Uribe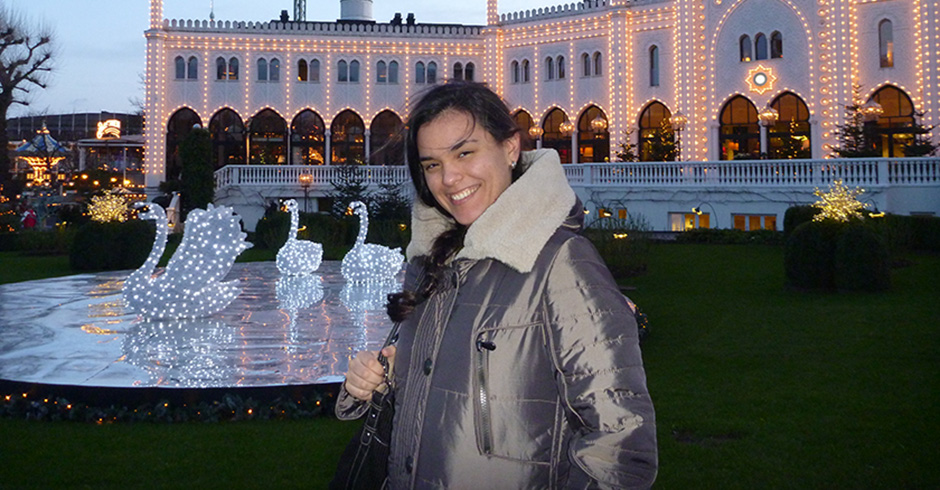 Master's student, concurrent degrees in Jackson School of International Studies – Russian, Eastern European & Central Asian Studies and Museology
Education
Bachelor of Arts degree in STS (Science, Technology & Society), University of Puget Sound, Tacoma, WA
Career path
Spanish teacher/Assistant Montessori Teacher, Arcadia Montessori, Tacoma, WA
Certified TEFL (Teaching English as a Foreign Language) Teacher, Language Link, Moscow, Russia
Summer Intern, Registrar's Office, Burke Museum of Natural History and Culture
For Teofila Cruz-Uribe, whose love of interdisciplinary learning earned her the nickname "the great synthesizer" as an undergraduate, pursuing concurrent master's degrees combines her love for Russian culture and her fascination with the history and management of museums.
Teofila Cruz-Uribe's fascination with Russia started in early childhood, when a Russian college student came to live with her and her family for several years.
In Tacoma, Washington, Teofila grew up surrounded by Russian culture — reading Russian fairy tales and playing with Russian dolls.
As an undergrad at the University of Puget Sound, Teofila devoted her mental energy and enthusiasm to studying early 20th century Russian history in the interdisciplinary Science, Technology & Society department.
Following graduation and a year teaching kindergarten, Teofila spent four years teaching English in Moscow.
Career inspiration can strike in unlikely places.
For Teofila, it was while waiting to see an exhibit at the Catherine Palace at Tsarskoye Selo in St. Petersburg, Russia. The line snaked through the elaborately decorated areas of the palace and into bland hallways visitors aren't meant to see — ones with janitor's closets and director's offices.
The hall was littered with photographs of previous museum staff, dating back to the 1930s. Intrigued, Teofila later sought the stories of how museum staff protected the palace's valuable contents from destruction during World War II. She learned that as the Germans invaded Russia, the museum staff stayed behind until the last possible minute, shipping off some of the artifacts, hiding others in local homes and as a final, desperate measure, burying them.
The dedication and passion of these museum workers sparked Teofila's interest in how museums are managed. With this insight, she saw a new means of channeling her passion for Russian studies into a career path.
From across the globe, she applied to the Ellison Center for Russian, Eastern European and Central Asian Studies (REECAS) at The Henry M. Jackson School of International Studies.
When she discovered UW also offers a master's degree in Museology (also known as 'museum studies'), she saw the perfect opportunity to pursue both and continue to follow her passions in an interdisciplinary manner.
Interdisciplinary programs and approaches are critical, Teofila argues, because they encourage scholars to seek out research methods and concepts from other departments and fields, "rather than just stay in (their) own corner, which, to my mind, doesn't seem like it would leave any room for breakthroughs or new ideas."
Also, as UW has extensive resources across hundreds of departments, "it would be wrong not to take advantage of them," she says.
In her first year, Teofila split her time evenly between the Russian and Museology programs.
This year, she's focusing on completing her degree in Russian Studies, and will defend her thesis this spring. Her research traces the influence of early Soviet avant-garde museology on contemporary Russian museology art.
Next year, Teofila will turn her focus to finishing her Museology degree, and will graduate completely in the spring of 2018. In the Museology program, Teofila studies the history, management, and practice of museums. The program prepares her for varied careers in and around museums, ranging from curation to archival conservation to grant management.
Through her museological research, Teofila seeks to better understand the relationship between museums, cultural diplomacy, and social activism, particularly with an eye to Russian-U.S. relations.
This summer, she will attend an independent exchange program in St. Petersburg, returning to Russia for the first time since she moved back to Washington in 2015. She plans to make her way back to the Catherine Palace at Tsarskoye Selo, where her love of Russian culture started her down a museum-focused career path.
When Teofila graduates, she plans to look for a job that utilizes both her specializations – possibly in a museum focusing on Russian content, or facilitating exchanges with Russian museums.
She says pursuing dual degrees has allowed her to keep her options open, something she finds attractive.
"I've never liked the feeling of closing a door," she says, speaking on the popular idiom of "closing a door and opening a window." When it comes to opportunity, "I like to have the door and all the windows open at the same time," she says.