Tatiana Toro – Distinguished Graduate Mentor 2019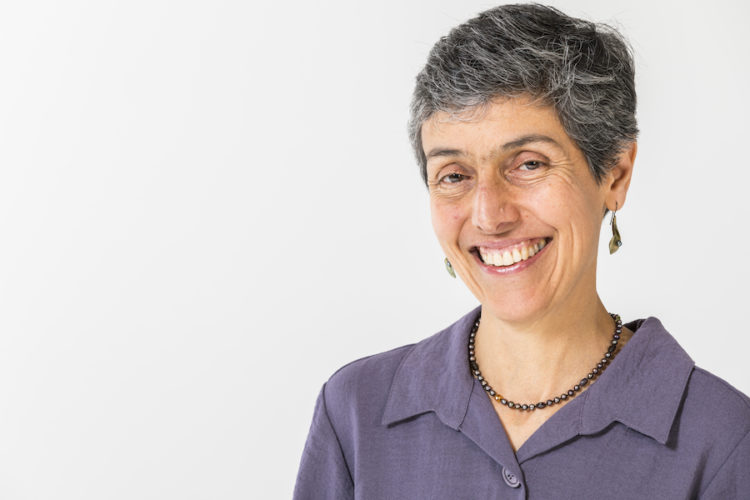 Dr. Tatiana Toro's legacy as a mathematician will include impressive theorems, several awards and many accolades. But Dr. Toro, Craig McKibben and Sarah Merner Professor of Mathematics, insists that her most important contributions will be in the spaces where she has helped others — particularly her undergraduate, graduate and postdoctoral mentees — achieve their goals.
"I love mathematics. One of its most rewarding aspects is to help somebody else succeed at it," she says.
Toro's careful and individualized attention to her students, her passion for mathematics and her ability to balance fearlessness with kindness and generosity are just a few of the many reasons Toro has been awarded the Marsha L. Landolt Distinguished Graduate Mentor Award for excellence in mentorship this year. Toro will be recognized at the Awards of Excellence ceremony Thursday, June 13.
For Tatiana, mentoring is as much about a process as a result. Yes, all off her students share a common goal — to learn to produce independent research — but the journey to that goal requires meeting her students where they are.
"I don't have the impression that Tatiana thinks of us as graduate students who just need to pass the thesis defense," says Zihui Zhao, one of Toro's former graduate students who is now a postdoc at the Institute for Advanced Study at Princeton. "She thinks of us as individuals, each with specific strengths and drawbacks. She respects our differences."
For Zhao, this means (in part) respecting her occasional difficulties expressing herself in English, which is not her native language.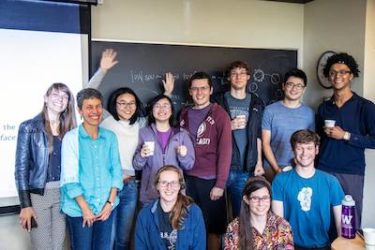 "I have seen other grad students not taken seriously because of this language barrier," Zhao says. "Tatiana has always been extremely patient and encouraging and makes a constant effort to listen to what I'm trying to say." For Zhao, this has been helpful not only in mathematics, but also in boosting her confidence in social settings.
For Max Goering, fourth-year Ph.D. student in Mathematics, Dr. Toro's commitment to mental health has shaped his experience of graduate school. "I do not know the number of times during my first couple years working with Tatiana that she told me, "Writing a thesis is much longer than a marathon, you must breath, eat and sleep well to succeed," he says.
Not always "warm and fuzzy"
Dr. Toro has not always seen herself as a mentor — it's the aspect of her job that has evolved the most over the course of her career, she says.
"I come from a French academic system, and they're not warm and fuzzy," Dr. Toro says. Toro, who grew up in Colombia without a lot of wealth, says she "learned that you took your courage with two hands, you worked hard, and that was it."
As one of two girls in her high school math and science courses, Toro's early academic environment lacked mentorship that spoke to her experiences as a Latina. Early in her career it didn't occur to her that others might welcome this kind of support, or that she might give it.
A turning point for Dr. Toro's thinking about mentorship started, in fact, with one of her mentees.
"I was teaching a calculus class which included a number of students in CAMP (the College Assistant Migrant program that helps students from agricultural backgrounds to succeed in their first year). At the end of the course one of these students — a second year medical student now — came to me and said, I don't know what a mentor is, but could you be my mentor?"
Toro, of course, said yes.
This student told Toro that having a Latinx professor and T.A. for the course had helped her feel more secure and confident, particularly in the final exam.
"I thought, can it really be that the fact that I look like somebody else is this important?" Toro recalls. The realization that "one can make a difference just by letting people know that there are people like them who are succeeding" inspired Toro to spearhead a series of national conferences, Latinx in the Mathematical Sciences.
Latinx in the Mathematical Sciences has convened twice — first in 2015 and again in 2018 — to bring together Latinx people from a range of mathematical backgrounds. "People were so thankful to have an opportunity to connect with other people with whom they shared a cultural background and scientific interests," Toro says.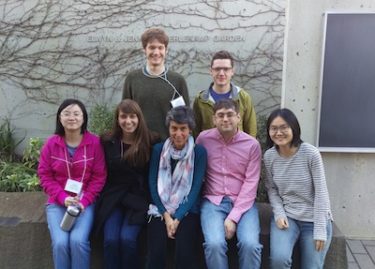 For Toro's female students, her individual mentorship has also been critical for navigating the male-dominated field of mathematics. "Tatiana is the first person I can talk to about the challenges of working in a male-dominated field like mathematics," says Mariana Smit Vega Garcia, Tatiana's former postdoc and an assistant professor at Western Washington University. "She has been an amazing mentor for me, and honestly is one of my personal heroes."
Toro has helped Smit Vega Garcia with concerns ranging from dressing for an interview, writing job applications and negotiating salary, to addressing inappropriate comments in the workplace. But one of the ways she has made the biggest difference, Smit Vega Garcia says, is by modeling how to stand up for herself and others.
She recalls when a visiting speaker to the math department was dismissive of the female professors' questions. After the talk, she overheard Toro standing up for herself to a peer who tried to downplay her concerns.
"She showed me that I don't have to swallow all these horrible things," Smit Vega Garcia says. "Before, I never had the courage to say anything when something I felt was unfair happened toward me, but seeing her do it has taught me how to do it as well. It's been such an important lesson for me, and I hope to also show others they too can stand up for themselves."
A balance of challenge and trust
For Dr. Toro, the mentor-mentee relationship requires a balance of challenge — pushing her students to exit their comfort zones — and trust, knowing that each has the others' best interests at heart.
Trust between students and their mentors shows up in different ways, Toro says. For example, while some mentors prefer to start their students with a very difficult problem to test them, Toro prefers to start with a straightforward one. This way, the student gains confidence in their own abilities and builds a rapport with her.
"When you start out with research, it's exciting but very daunting," says Matthew Badger, Toro's former graduate student and an assistant professor at University of Connecticut. "Having an advisor able to identify acceptable and interesting first projects is critical. A lot of people can do this, but Tatiana displays this consistently with all of her students," he says.
For Badger, the decision to work with Dr. Toro came down to her commitment to mentorship. When he was trying to decide between two different groups. Dr. Toro advised him to choose a Ph.D. advisor who would support him at least several years after he graduated. "That sealed the deal for me," Badger says.
Now, he makes the same considerations for his mentees. "I am advising my first graduate student right now, and I worry not just about helping her to finish her degree, but making sure I can support her post-graduation in whatever direction she wants to go," he explains. "If I can do half the job with my student as Tatiana does for hers, I'll be very pleased," he adds.
Tatiana is very grateful to Craig McKibben and Sarah Merner for their support which has contributed to the creation of a community where students and postdoctoral fellows can thrive.