Sayana Saithu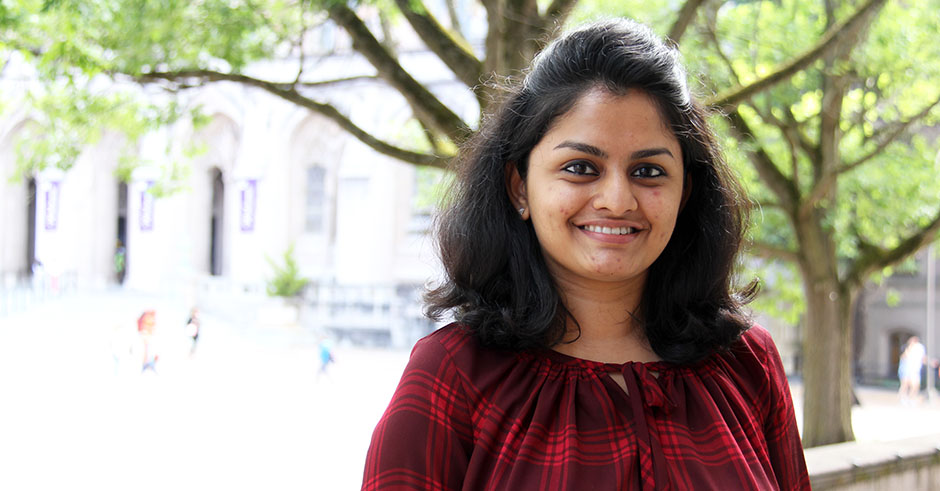 Sayana Saithu, master's student in Computer Science and Systems, UW Tacoma
Education
Bachelor's degree, Electronics and Communication Engineering, Adi Shankara Institute of Engineering and Technology, Kalady, India
Career
Software Developer, UST Global
Update, September 13: Sayana did not win the competition in Orlando, although she says she enjoyed the process and the valuable learning experience. Of the competition, she says: "Except for one other participant, all other participants presented their research work and it was an amazing experience to listen to such great talks. I feel happy to have participated in the competition as it helped me polish my presentation skills as well as meet and network with other passionate engineers from across the U.S. and Canada."
Sayana Saithu is preparing for her first trip to Disneyland at the end of the month, but it's not by packing a bathing suit and stocking up on sunscreen. Sayana, a master's student in computer science at UW Tacoma, is preparing to speak at the second round of the Institution of Engineering and Technology's Present Around the World competition.
Her journey to Orlando started back in February, when she read about Present Around the World — a public-speaking competition for young professionals and students in engineering — in the Grad School Digest, a bi-weekly newsletter. The competition is billed as an opportunity for early-career techies to hone their presentation skills. But while the competition peaked Sayana's interest, since she wasn't doing any research at the time, she wasn't sure what topic she should present.
Coincidentally, the same week Sayana learned about the competition, she read about Google Cloud Spanner. Spanner, Google's globally distributed relational database, stores information and organizes data into tables. "It was the perfect topic for the competition because Google had just announced Spanner's public beta (an opportunity for the public to test the product)," Sayana says, "and as it was relatively new, presenting on it would give me the opportunity to learn more about it." Sayana wrote a brief proposal of her topic in just a few days, and then set about reading every paper, article and blog post available on Cloud Spanner.
As she prepared, some of her doubts about entering the competition grew. Without a research advisor or mentor, she was working to prepare the talk entirely on her own. She knew she'd be going up against professionals at major tech companies, and that many of her competitors would be presenting on topics they'd studied for years — Sayana, on the other hand, had only been studying Cloud Spanner for a few weeks.
On top of all this, she was nervous about approaching her first-ever public speaking opportunity in the U.S. She felt confident speaking publicly in India, where she had lots of practice, but presenting to an American audience posed different challenges. She worried, among other things, that the judges wouldn't be able to understand her Indian accent.
But rather than viewing these concerns and anxieties as barriers obstructing her path, Sayana saw them as opportunities to stretch herself, and learn. "I love to take risks," she says with a smile, "so I just told myself to keep pushing."
The first level of this world-wide competition was held at the UW's Seattle campus. Sayana spent the day of the competition doing exactly what everyone had advised her not to do — practicing.
"I was totally nervous," she says. "I didn't think I'd win, but I wanted to do my best, and I wanted to show what I had prepared."
What she prepared was enough to impress the three judges, who selected her as the winner from a pool that included five other competitors. Sayana says it was thrilling to hear her name called when they announced the winner.
What set Sayana apart from her competitors, she says, was not her topic nor her research but her effective presentation skills — skills she credits to years of giving poetry recitations in high school and undergrad. In reciting poetry, she was trained to speak slowly, and to vary her intonation and hand gestures.
Pace, tone, posture and facial expressions are all critical when speaking publically, Sayana says. But there's no easy way to perfect these things — the only way to get better is to practice in front of an audience.
"I don't think it's possible to give your first presentation with full confidence," she says. It takes stepping out on a stage for the first time to grow comfortable and confident in public speaking, she explains.
However, Sayana did share some strategies she's using to help her prepare for the upcoming competition in Orlando.
When writing her script for a public presentation, she focuses on its logic and flow. For example, when writing her speech for Present Around the World, she made sure to have a clear introduction, middle and conclusion. First, she explained what a cloud-based database is, and gave examples of early databases and detailed some of their weaknesses. Then, she moved on to discuss Google's Cloud Spanner, including how it improved on previous databases, and where it may need more upgrades.
Once Sayana is satisfied with her script, she starts practicing her speech. She recites the talk while watching herself in the mirror, so she can pay careful attention to her facial expressions and hand gestures. She asks her friends to watch her practice, give her feedback and pose questions about her presentation. She said fielding their questions was particularly helpful in preparing for the question and answer period of the Seattle competition.
Sayana is practicing more intensively for the Orlando competition than she did for Seattle. The competition will be stiff, she says, and the winner from Florida will go on to compete against four other finalists from around the world — another opportunity she's eager to take on.
But while it would be exciting to win, ultimately "I just want to do my best," she says. And no matter the outcome, she and her husband will take a couple days after the competition to explore Disneyland. She says she's most looking forward to testing out the water theme parks — so perhaps she'll pack that bathing suit, too.
published August 17, 2017