Saejin Kwak Tanguay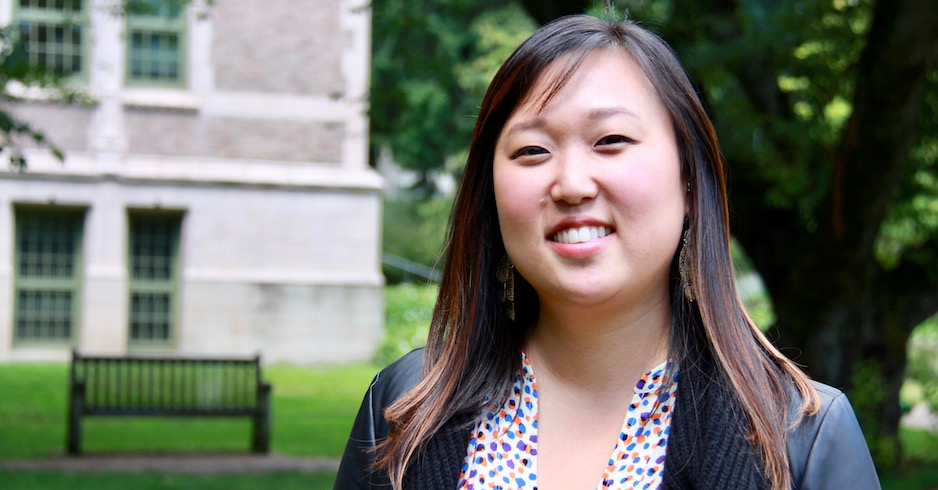 ---
Saejin Kwak Tanguay, Graduate Staff Assistant, Office of Diversity and Student Affairs, Ph.D. candidate, College of Education
Education
Bachelor's degree, Hispanic Languages and Literatures, University of Pittsburgh
Master's degree, Education, University of Washington
Career
"Right now at the University of Washington there are plenty of people who care about race and equity, but it's difficult, if not impossible for them to create meaningful change acting alone," Saejin Kwak Tanguay, Ph.D. candidate in Multicultural Education, says.
As Research Assistant for the Graduate School's Office of Diversity and Student Affairs, Saejin recently co-lead "Engaging Microaggressions and Macroassaults: Equity in Praxis." The course aims to bring grad students, staff and faculty together to address a shared motivator — equity — and provide participants space to reflect and strategize to work toward institutional change.
The course, which Saejin co-taught with Professor of Social Work and Graduate School Associate Dean Gino Aisenberg, centers on addressing and interrupting microaggressions. Microaggressions are comments and behaviors that undermine another person based on their race, ethnicity, gender, sexual orientation or other minoritized status. While not always intentional, the effects of microaggressions are detrimental to the victim's health and well-being.
Saejin's interest in race, ethnicity and education was fostered early: in her experiences of two very different educational settings as a child.
Born in Korea, Saejin and her family moved to Cambridge, Mass. when she was one-year-old. In Cambridge, they lived in graduate housing: surrounded by Korean community and, for Saejin, learning in pull-out Korean classes at her local school.
Saejin's experiences at school changed dramatically when her family moved to a predominantly white community in second grade.
"I've always been friends with people who don't look like me, which is good," Saejin says. "But I was also pretty isolated. There weren't other Koreans in the town."
After graduating with her bachelor's degree in Spanish, Saejin taught English in Chile for several year. There, she became increasingly interested in the structure of the higher education system back home in the U.S. after witnessing student strikes related to the costs and culture of higher education in Chile.
When she returned to the U.S, Saejin moved to the UW and to the College of Education's Multicultural Education program. Here, Saejin came to realize "my success in school has always depended on my peers, and particularly on peers who didn't look like me for support." This realization sparked her study in cross-racial and cross-ethnic peer relations.
This fall, Saejin will being working on her dissertation project: a study of first-year, low-income undergraduate students from Washington as they make the transition into higher education. During the first two quarters of the academic year, Saejin will be conducting interviews and using observation to understand how these students make friends, as well as "how policies, practices and systems designed to support their educational experiences also impact cross-racial and cross-ethnic peer relations." She hopes the study will elucidate the role institutions play in fostering supportive peer environments for diverse student populations.
As someone who is interested in social networks, Saejin sees the course on microaggressions as a way to "expand the networks students have access to, and for a community of different perspectives to connect around shared interests to strategize."
Saejin emphasizes that students will have different takeaways from the course depending on their background and expectations. For some people who have very little experience with race and equity issues, the course will fill a gap in their knowledge.
Other students "are extremely motivated and need a collaborative space to strategize," Saejin says. And even others "may feel they're the only person in their department or cohort who care about equality, so it refuels them to be around similarly motivated people."
As an R.A., Saejin receives several benefits from teaching the course: including tuition coverage; a stipend and an opportunity to build her resume as a teacher.
But for Saejin, teaching the course was also highly rewarding in less tangible ways.
Working with Dr. Aisenberg was a formative teaching experience, Saejin says. Dr. Aisenberg "had a lot of faith in me and gave great feedback," Saejin says. "He might have an intimidating title, but he's not an intimidating person."
As a teacher and as a person, "to be in a space with people who are so motivated to address social justice issues" was gratifying, Saejin says. She also found teaching her fellow grad students — who are highly motivated and "trained to be thoughtful" — to be particularly rewarding, she says.
Teaching a course on Microaggressions isn't Saejin's only role as an R.A. She also attends regular Diversity Pillar Meetings, where units across the Graduate School strategize on the best support strategies for student populations, and brainstorm ideas for integrating holistic admissions processes. Like much of Saejin's work, these conversations are critical for making the UW more equitable and welcoming for diverse student populations.
From majoring in Spanish as an undergraduate, to teaching courses on microaggressions today, Saejin's career path has been varied.
The thread that connects all these pieces is that Saejin has always enjoyed teaching. "It was just a matter of what subject," she adds.
Looking forward, Saejin plans to continue teaching: focusing her energy toward educating institutions on "what they can do to create better climates for a racially and ethnically diverse population." Whether it be at an educational institution or a non-profit, "that's the work I'm always going to want to do," she says.
Did you enjoy reading about how one of our graduate students contributes to the Grad School? Read about Ziyan Bai, who supports the professional development needs of postdocs and graduate students with a focus on international grad students.