Rochelle Lundy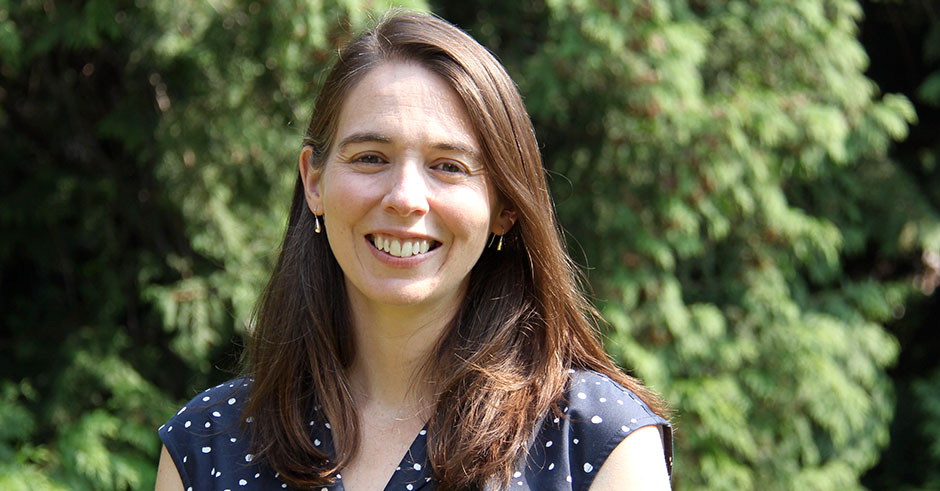 ---
Rochelle Lundy, master's student, Library and Information Sciences, Graduate Staff Assistant, Graduate Funding Information Service
Education
Bachelor's degree, Harvard University, Anthropology
Master's degree, University of Toronto, Anthropology and International Relations
Juris Doctor degree, Columbia University, Law
Career
Attorney, Jenner & Block LLP
Graduate students seeking funding have probably dreamed of winning the lottery or finding a pot of gold bracketing a rainbow.
Rochelle Lundy with the Graduate Funding Information Service might not have gold, but she holds a treasure map.
Rochelle, a master's student in Library and Information Sciences, is entering her second year as a graduate student assistant with the funding service. There, she helps maximize students' chances of securing funding by connecting them with appropriate resources at the UW or opportunities for external funding. She provides one-on-one consultations with students seeking funding, leads workshops for incoming students as well as departments on strategies for securing funding, and manages the funding service's blog, which highlights a range of funding opportunities.
She's a resource for all grad students, on all three campuses, for any kind of funding — whether it's covering tuition or living expenses, or supporting a research trip abroad. It's a popular service: Last year, she advised more than 200 different students. She held office hours twice every week, and sometimes spoke with five or six students in a single hour.
She's a wealth of knowledge when it comes to securing funding, and her number one piece of advice? Start early. Really early.
"I recommend looking a year ahead of when you need the funding," she says. When new students start programs this fall, they should start thinking about how they will pay for the next phases of their degree. This way, they'll maximize the options available to them, she adds.
Summer funding — for opportunities abroad, internships and the like — run on a slightly later schedule. Rochelle recommends starting to look mid-winter, around December or January.
Yet, she emphasizes that no matter the need or the time of year, "I would never discourage anyone from seeking funding or say it's too late," she says. "It's always worth looking."
When a student approaches her for help, she'll work with them to "develop the best strategy based on their current situation," she says. The most important thing she does in her work with students, she explains, is to turn the intimidating, amorphous task of "finding funding" into actionable, manageable steps.
For Rochelle, it's rewarding to help students secure funding that "allows them to do the things they want to do, whether it be attend grad school at all or pursue a specific research project." But she adds the work becomes "really challenging when students are struggling to find funding."
Funding is a very personal and sensitive issue for students. For people who are struggling, "I try to listen more broadly to how it's affecting them and hopefully give them a chance to feel that someone cares, and someone understands what they're going through," she says.
As a third-time graduate student, Rochelle is all too familiar with the struggles of finding funding. Previously she earned a master's in anthropology and a law degree, followed by an eight-year career as a lawyer in D.C.
Rochelle was driven to pursue library sciences by the insight that as an attorney, one of her favorite parts of the job was organizing large, complex data sets for litigation (a task her fellow attorneys usually dreaded). Always eager to learn new things, she decided to pursue a degree that would allow her to understand the process and strategy behind these kinds of tasks.
UW was her top choice of program, she says, because it blends traditional methods with a tech-forward, innovative approach. Plus, "I always wanted to live on the West Coast," she says, and Seattle has proven a welcome change.
Rochelle's job helping others find funding is, in fact, a critical piece of her own funding. As a Graduate Staff Assistant, her tuition is covered and she receives a stipend to help with her living expenses.
But the benefits of the position go beyond the funding, she says. Her job also makes her feel more connected to the campus community, through working directly with students, helping them overcome funding challenges and, in the process, learning more about them and their studies.
She enjoys the more hands-on nature of her work, saying it's a nice compliment to her classes. As she looks toward a possible career working in an academic library, the funding information service position "reminds me what I'm working toward," she says.
Did you enjoy reading about how one of our graduate students contributes to the Grad School? Read about Graduate Staff Assistant Lauren Collins, who helps TAs and graduate students navigate complicated learning technologies.
Published February 2018