Rigoberto Ordaz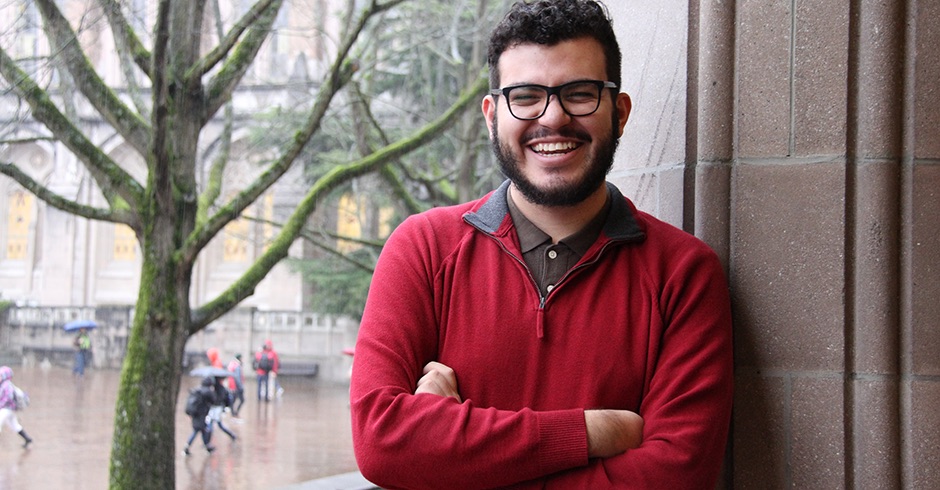 ---
Master's student, Human Centered Design & Engineering
Education
Bachelor's degree in Communication Design, California State University, Monterey Bay
As a first generation graduate student, Rigoberto Ordaz, '18, is "pushing (himself) to open new doors." In the tech world, he's looking to do the same — by designing technology with society's marginalized groups in mind.
When Rigoberto Ordaz's father was given a smartphone to use for his work as a mechanic last year, Rigoberto noticed the technology was as much a cause of strife as it was of convenience.
Rigoberto's father, Roberto Ordaz, works as a mechanic on various farms in Salinas, California — a part of the world Rigoberto describes as a "small farm town"— and has arthritis in his hands.
"When he's out in the fields early in the morning, using a touch screen [is] not ideal for him," Rigoberto explains. "That was design flaw number one."
Roberto also found the symbols and interface of the phone unintuitive. Because he lacked experience and knowledge in using a computer, he struggled to remember that the floppy disk was the 'save,' button, Rigoberto explains.
His father's interactions with technology, as well as those of marginalized youth in Rigoberto's hometown, have inspired this first-generation college student to pursue graduate-level research in computer design.
Applying blindly, and finding a path
While Rigoberto's parents did not receive a college education, from the time Rigoberto was young, he remembers they set the expectation that he would do so. But when it came to actually applying, he says, he was going about the process "blindly, with almost no help."
While his parents supported and encouraged him, they didn't have the experience or knowledge to help him navigate the application and financial aid processes.
With the help of a few high school mentors, Rigoberto completed the arduous application process and was accepted to California State University, Monterey Bay, roughly 10 miles from his hometown. It wasn't his first choice, he says, but it was the school his family could afford. There, he majored in Communication Design with the idea of working in web design for nonprofit organizations.
But a volunteer experience during his junior and senior years of college would set him on a different career path, he says.
Volunteering with under-served elementary and middle school students, he noticed schools were introducing technologies at a rapid pace and, in the process, were leaving some of their students behind.
These students he worked with were largely immigrants, for whom English was a second language and who already experienced a barrier to learning because of this.
Many students also lacked access and basic familiarity with computers. With the introduction of new technologies into the classroom, "kids who could potentially be brilliant were limited by these two factors," he says.
Buoyed by this experience, Rigoberto realized he wanted his work to have a wider impact than just one website, one organization. He dedicated himself to "designing for the marginalized people in society," he says.
In pursuit of this goal, Rigoberto decided to attend graduate school. He set his sights on the UW, and during the application process, talked constantly with his family about the prospect of moving to Seattle.
Opening new doors
Ultimately receiving his acceptance email from the UW is one of his favorite memories, Rigoberto says, a day he describes as full of pride, excitement and fulfillment.
The program he was selected into, Human Centered Design & Engineering, is a fitting match for a student looking to design technologies that transcend language barriers and technological expertise, "so any kid anywhere can pick up [a device] and have the opportunity to succeed," he says.
Since starting his program last fall, Rigoberto has settled into the city and made friends within his program. He says he "loves" the area for "its greenery, its history and its music scene."
And while some of the struggles of being a first-generation college student — especially the financial burden — are still prevalent, Rigoberto also sees his first-gen status as a strength.
"I'm pushing myself to open new doors," he says; and in doing so, he has become a role model for his three younger siblings to pursue college. He even advised and assisted his brother, who is a year younger and a senior at California State, in the admissions and financial aid processes.
On campus, Rigoberto is using his experiences as first-generation student to help others, by working with staff members at Core Programs — a campus resource dedicated to personal and professional development for graduate students and postdocs — to create a community among first-generation graduate students. Known simply as "First Gen Grad Students," the group organizes events specifically for these college pioneers to meet, mingle and discuss a topic of common interest.
As an undergraduate, Rigoberto found it helpful to have a community for first-generation students because "we tend to share many good and bad experiences, and sometimes hearing that you are not going through all that alone can be very comforting." Through such a community, he says, "students can learn from each other's struggles and successes."'
Want more stories of first-generation grad students like Rigoberto? Check out the First Gen Grad Student webpage, managed by Core Programs, where you'll also find information and resources for first-gen grad students.