Responding to call for help, neuroscience graduate students share what it was like working in the center of Seattle's COVID-19 testing effort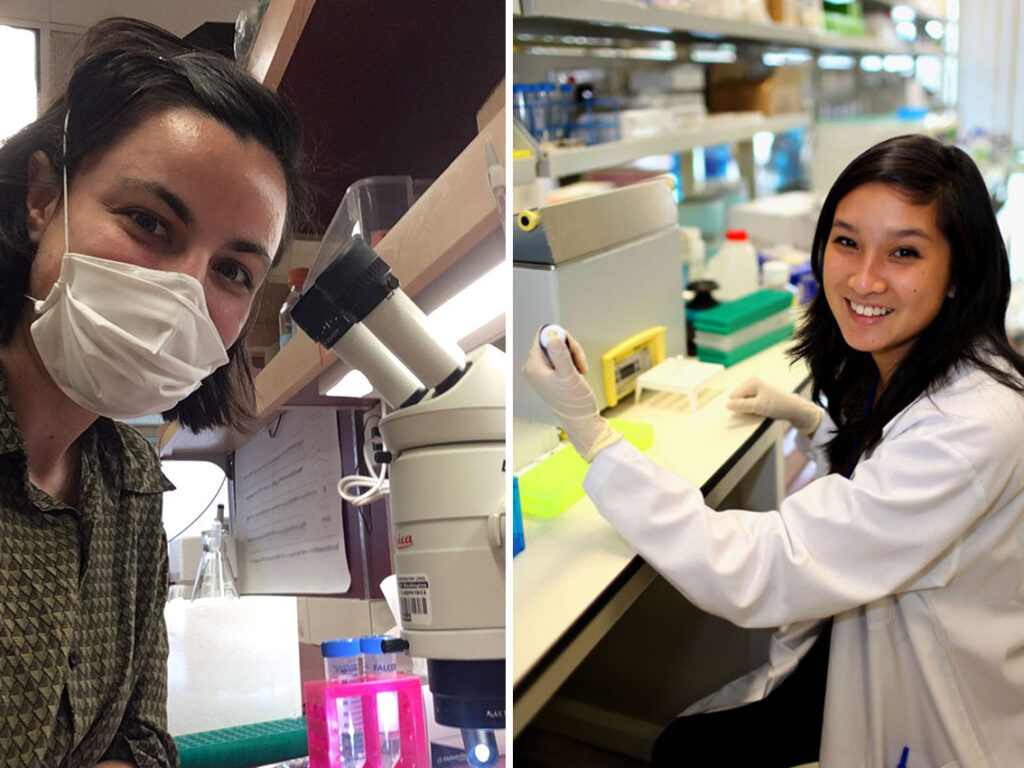 As COVID-19 began spreading in the U.S., many people wanted to help but didn't know how. For neuroscience graduate students Su-Yee Lee and Ellen Lesser, the "how" became clear when they received a message from UW Medicine calling for students with lab experience to help process COVID-19 samples.
"I didn't think about it too much; it was just a natural response to want to help out," Lee said. "I think as a scientist, it feels almost like a duty and also fulfills a dream to be able to contribute your skills and expertise to help out with a global crisis like this."
Both students work in John Tuthill's lab. Lee studies how neuromodulatory systems in the fly influence locomotor behaviors, like walking, and Lesser studies how flies use information about where their wings are to control flight. While neither had spent time testing diseases before, researchers at the COVID-19 testing labs trained their new team of scientists.
Surprisingly, Lee and Lesser found that amidst the chaos of the pandemic, the labs where COVID-19 samples were being tested were the calmest places to be. Their coworkers were friendly, despite working in a lab that was running 24 hours a day. The routine work helped take their minds off of worrying about the national spread of the virus. They could have conversations with their research colleagues about the coronavirus that were based in science and facts rather than fear.
Lee worked in a lab at the UW Medicine building on UW's main campus. New samples arrived throughout the day for Lee and her team. At first the samples were just the swabs used for nasal testing, but eventually they also started processing blood samples to test for antibodies.
Lee entered data about who the samples belonged to, froze the samples, and then packaged them to be sent out every two hours to the UW Virology Eastlake site where the testing would occur, which was where Lesser worked.
Once Lesser received the samples at the Eastlake lab, she worked with a team to check that they were labelled properly before placing them in tubes for the machines, which would then analyze the samples to see if they tested positive for COVID-19.
For two months, Lee and Lesser worked anywhere from 12 to 20 hours a week in the COVID-19 testing labs during the evenings and on weekends. Normally a crowded commute to Eastlake, Lesser would bike to the lab through what felt like a ghost town, then spend hours in the flow of the testing routine, which she said felt like a good break from her normal schedule. At the end of the day, she could check the UW Virology Twitter feed to see how many tests they had processed, a number usually in the thousands.
Similarly, Lee would work on her own research at home during the day before heading into the lab at night. Working at the center of the fight against COVID-19 felt surreal at times. Lee would read a news article one day about how Seattle was running out of testing supplies and had to secure more kits from China, and a few days later, she'd see new testing swabs that had been created in China on her processing table. Another day, she read about how antibody testing would soon begin, and the next day, she was being trained to process blood samples.
While they both recently stopped working in the lab as their own neuroscience research has begun to ramp up, Lesser and Lee said they learned a lot from watching how the COVID-19 testing lab grew rapidly in a short span of time.
"Watching them set up this whole system that just didn't exist at all before to suddenly be then processing thousands and thousands of samples every day accurately, that was very inspiring to watch," Lesser said. "They put together this really well-run system that needed a lot of people to be on board. They were up and running testing right away in March before it was really happening across the country."
The students said they felt proud and grateful that they could help out their community in some way, especially when it was easy to feel isolated during social distancing measures.
"I still feel very connected to the community of UW and Seattle in a way I hadn't before," Lee said.
By Kate Stringer
Originally posted June 8, 2020