Ph.D. candidate Sarah Faulkner discusses Frankenstein-themed event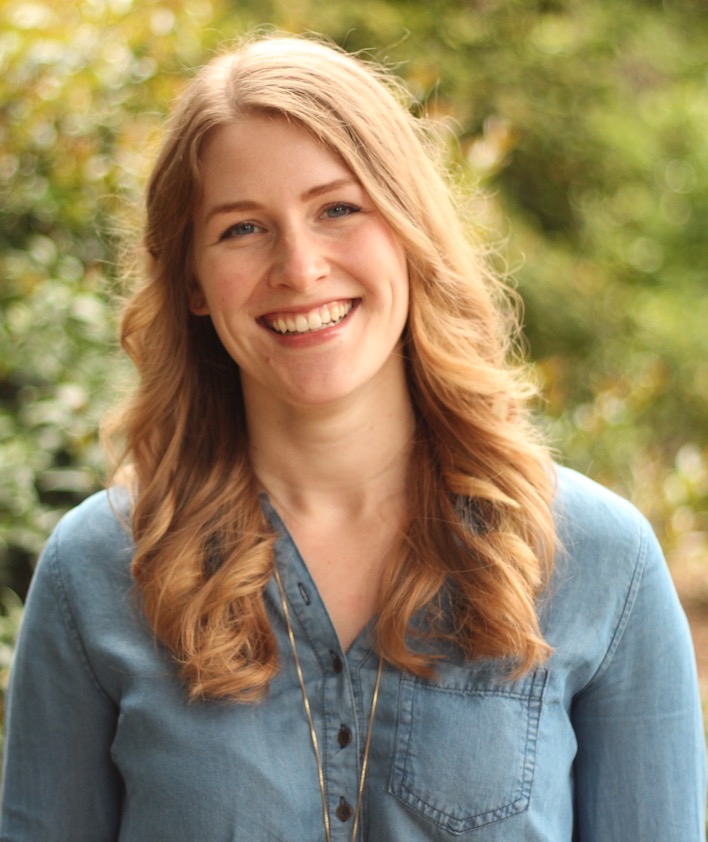 In celebration of the bicentennial of the novel Frankenstein, three English Ph.D. candidates — Sarah Faulkner, Matt Poland and Eric Morel — along with the Research Commons and English Librarian Elliott Stevens, are hosting Frankenreads: an event to engage faculty, students and the public around the classic Mary Shelley novel.
One of nearly 600 "Frankenreads" world-wide, this October 27 event on Seattle campus will be "an interactive, intellectual and fun festival," says Sarah Faulkner. Sarah and peers planned the event as coordinators of the Eighteenth- and Nineteenth-Century Graduate Research Cluster, which brings together students and faculty from different disciplines to discuss and celebrate 18th- and 19th-century literature and culture.
We caught Sarah in between planning for the event and finishing a chapter of her dissertation to ask her a few questions about Frankenreads.
"Folks are seeing Frankenstein's monster everywhere this time of year — on masks, napkins and even commercials," Sarah said, when asked why it was the right time to host the event. "We're excited to give people the chance to learn a bit more about the original Frankenstein. Besides, who doesn't want their Halloween celebration to be both smart and spooky?"
Who, indeed?
Tell me a little about the Frankenreads event you are planning. What will happen at the event, and why did you choose those activities? Who has been involved in the planning?
The main event is a series of seven ten-minute lightning talks given by UW professors, graduate students and public scholars. Talk titles include "Mary Shelley and Romantic Women's Writing," "Frankenstein and the Classics," "Adapting Frankenstein for the Stage," and "Frankenstein, Sci-fi, and Superheroes: A History of Influence," among others! In addition to the talks, we have opportunities to vote for your favorite passage, draw your version of the Creature, watch The Bride of Frankenstein, view a Romantic era gown replica and take a photo in our photobooth! We're especially excited that our guests have the opportunity to head to Special Collections to hear Rare Books Curator Sandra Kroupa talk about monster books, and even have the chance to handle some of our hundreds-year-old books!
We wanted the event to offer something to all: faculty, graduate and undergraduate students, members of the public, die-hard fans of the novel, fans of Young Frankenstein, and people who come to learn about the novel! Thus, we're hoping that our talks are informative, our exhibits engaging, our film screenings and photobooth fun, and our Rare Books workshop inspiring!
Tell me a little about your research, and how your research and studies inform you work for an event like Frankenreads.
I study eighteenth and nineteenth century British women's writing here at UW. Though my dissertation doesn't include analysis of Frankenstein, it's an incredibly important work to studying the Romantic Era in literature as well as the innovative talent of women writers in the early nineteenth century. I've always been interested in authorship studies and how women writers navigated the divide between public and private spheres in their act of publication. I'm excited to give a talk on Mary Shelley's biography and publishing history while also discussing the challenges women writers faced in 1818.
What does "public scholarship" mean to you? Is Frankenreads an example of public scholarship, and why?
Public scholarship can mean a lot of things to different scholars. My colleagues perform innovative and crucial work studying directly with public groups to complete academic research that is beneficial to academic and public circles alike. Within my own work, public scholarship takes the form of academics collaborating with public scholars to create unique content and experiences stimulating to both audiences. Frankenreads opens a conversation between academic and public scholars about a mutually important and beloved subject, and will provide diverse examples of how our Seattle communities engage with Frankenstein.
Why is it important to you to engage in public scholarship?
One thing I love about the books and authors I study is that I'm not the only one who loves them! My first love was (and still is!) Jane Austen, and I've always been blown away by the community organization and scholarship generated by groups like the Jane Austen Society of America. I knew there must be similarly exciting engagement with Frankenstein here in Seattle, and I hoped to bring us all together to celebrate the various ways the novel has influenced our lives. When we first started brainstorming speakers for Frankenreads, I was thrilled to meet public scholars like David Quicksall, who performed a careful and creative analysis of Frankenstein to adapt it for Book-It Theatre's production here in Seattle. I think public scholarship shows how much we can teach each other about mutually-beloved texts — it helps our ideas transform while these texts endure.
Do you have a favorite passage from Frankenstein? Please share it! And tell me why it's your favorite.
As I have a chapter of my dissertation due at the end of the month, I'm currently alternating between the following two sentiments:
"If the study to which you apply yourself has a tendency to weaken your affections and to destroy your taste for those simple pleasures in which no alloy can possibly mix, then that study is certainly unlawful, that is to say, not befitting the human mind."
"Nothing contributes so much to tranquilize the mind as a steady purpose- a point on which the soul can focus its intellectual eye."
What are you most looking forward to at Frankenreads?
I can't wait to hear questions from our audience! Our talks are quick, only seven to 10 minutes, but I really think we're going to cover a lot of interesting ground. I can't wait to see the connections our audience forms between talks, and hopefully folks will contribute to our public poll on how the event might have changed their perspective on the author, the novel, or its afterlife! For me, these events are all about community. It is immensely important to me that the university fosters connections between academia and the public, and what better way to do that than to celebrate cultural phenomenons like Frankenstein?
Published October 25