Osa Igbinosun and Aomawa Shields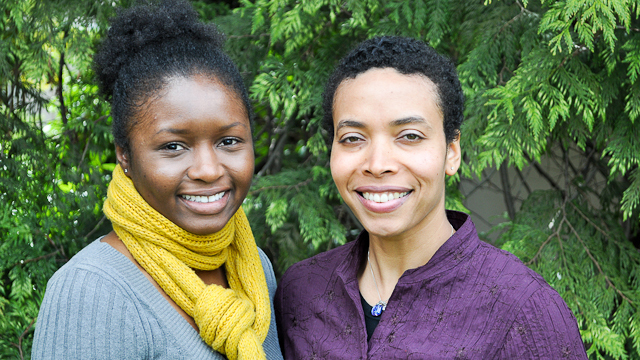 ---
Osa Igbinosun
Graduate student, Ph.D. in Earth and Space Sciences/Astrobiology
Aomawa Shields
Postdoctoral Fellow at UCLA
Doctoral degree in Astronomy and Astrobiology
Aomawa Shields adored astronomy. She also loved acting.
So after completing her undergraduate degree in planetary sciences from MIT, she went on to earn her master of fine arts degree in theater from UCLA. Along the way, she met and married her husband and acted in a film that went on to the Sundance Film Festival.
"I loved acting and astronomy. I wanted to see how far I could go in acting," she said. "I thought my career in astronomy was over until I found a job at Caltech working in a technical scientific position supporting the astronomy community."
It was there that Aomawa's fascination with astronomy was sparked again. And, she found a way to combine both of her passions by hosting a science TV show on PBS called "Wired Science."
As she pondered pursuing her doctorate in astronomy, Aomawa received advice directly from one of the world's most popular astrophysicists himself: Neil deGrasse Tyson.
---
What does being a Naval Aviator and studying astrobiology have in common? Both jobs are rigorous, complex and require razor-sharp focus and discipline. And they're jobs that Osa Igbinosun excels in.
As a Naval Aviator, Osa's work as a graduate student and researcher in earth and space sciences/astrobiology now "engages all the skills I gained in my undergraduate program and the military to push myself to pursue my interests in graduate school."
Once she graduated from the University of Rochester with a bachelor's degree in physics and astronomy, Osa attended flight training for two years. She was designated as a Naval Aviator in 2005 and has flown C-130 aircraft since then. She left active-duty and entered the Navy Reserves in 2009 when she began her graduate work at the UW with a GO-MAP* fellowship. An IGERT fellowship followed in 2010. She had the honor of participating in the Caltech Space Challenge in 2013.
Her research focuses on planetary science and ISRU, in-situ resource utilization, which is the use of resources found on an astronomical bodies such as the moon, Mars and asteroids during space missions so fewer materials need to be transported to Earth.
"I have always been interested in manned space flight, so I hope my work will contribute to this field," said Osa, whose goal is to acquire a post-doctoral position at one of the NASA centers.
---
Aomawa was working at in a scientific job for the Spitzer Space Telescope at the California Institute of Technology in Los Angeles when she discovered she still had a passion for astronomy. She emailed a NASA administrator, whom she didn't even know, asking for advice. The woman advised her to talk with Neil deGrasse Tyson, and she connected the two.
Tyson had seen Aomawa's work on "Wired Science" and encouraged her to earn her Ph.D. A doctorate in astronomy, he told her, would give her the credibility she would need to pursue a career in television and science. Tyson even wrote a short recommendation to accompany Aomawa's applications to graduate school.
"It was one of the most difficult decisions I have made to return to graduate school, especially with the very comfortable living I was making in my Caltech job," Aomawa said. "But I wanted more for myself. I wanted to push myself to do what I didn't think I could – especially after 12 years since I finished my undergraduate degree."
With the support of her husband, Aomawa and he moved to Seattle in 2009 and she began her studies that fall.
In her first quarter at the UW, Aomawa wrote a paper on "Snowball Earth – the state our own planet was in 600 to 800 million years ago when it is believed to have been covered with ice from Pole to Pole. I became interested in what could make a planet become ice-covered."
She is researching the different mechanisms that could cause exoplanets in other solar systems to go into a snowball state by exploring eccentricity and obliquity variations of these planets over time.
---
Osa is somewhat accustomed to standing out in a crowd. Her parents immigrated from Nigeria to Louisiana, where Osa was born. She attended the Episcopal School of Baton Rouge, and then attended college at the University of Rochester. After she earned her Naval wings, she was assigned to a squadron on a military base where she was the only African-American female pilot.
Likewise, Aomawa was one of a small handful of African-Americans at Phillips Exeter Academy, a prep school in New Hampshire, and then at MIT. Both women are the only African-American women in their respective graduate programs at the UW.
While those experiences can be lonely at times, Osa and Aomawa recognize the opportunity they have to be role models for other young women and African-Americans in scientific fields.
"It helps to see other people doing what you do and who look like you at the same time," Aomawa said. She has founded an organization, Rising Girls, teaches astronomy to middle-school girls of color, using theater, writing and visual art. Recently, she gave a Ted Talk about her own contradictions as an "African-American female astronomer and a classically trained actor who loves to wear makeup and read fashion magazines."
Both Aomawa and Osa received National Science Foundation fellowships that begin in fall 2011. They are among the 70 new NSF fellows who are incoming or current graduate students at the UW.
The fellowship – which includes a yearly stipend of $30,000 for three years and money for tuition and fees – means that Aomawa and Osa, and the other NSF fellows, can focus on their research instead of having to work outside jobs.
With astrobiology as their common bond, Aomawa and Osa have developed a friendship. They meet weekly with a group of graduate students who are women of color, in a group facilitated by Dr. Michael Kane, to discuss their challenges and successes.
Aomawa and Osa make a point to encourage other graduate students to apply for fellowships.
"You never know what information will become invaluable to someone, so I'm very thankful to those who take the time to give advice and support," Osa said.
*GO-MAP was the name of a program that is now called GSEE, the Office of Graduate Student Equity & Excellence. Learn more.