Miles Freeman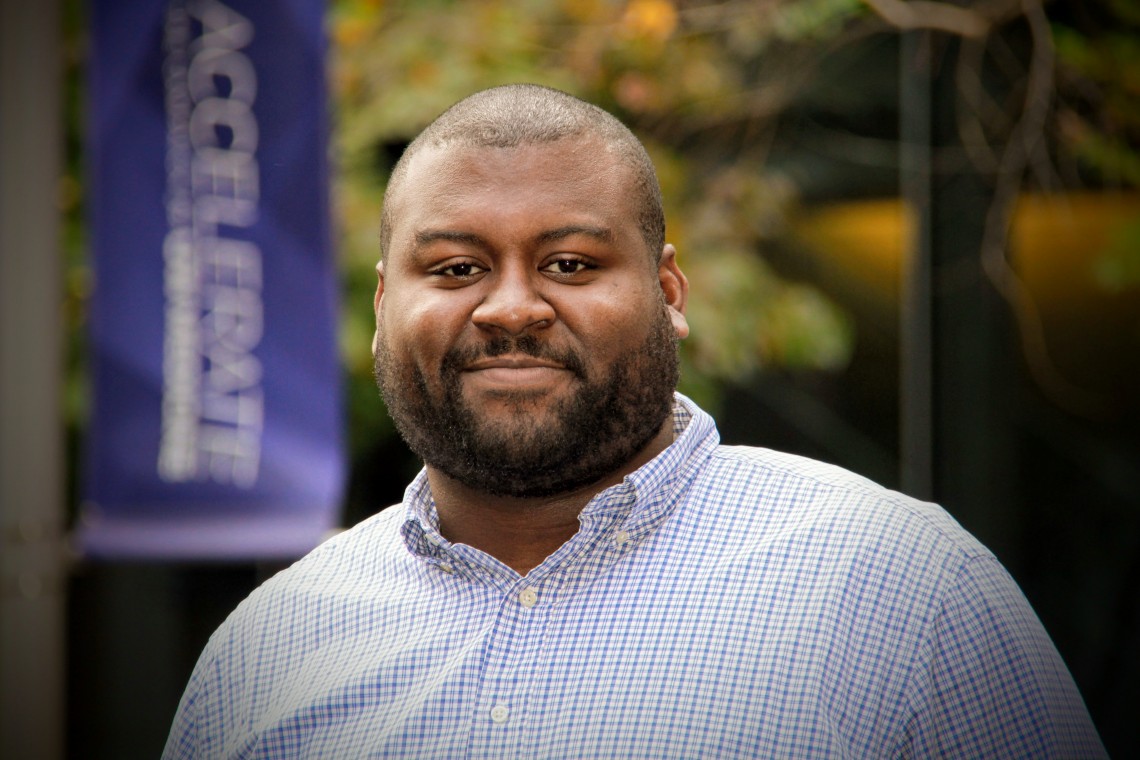 ---
Doctoral student in Molecular and Cellular Biology, Medical Scientist Training Program
Education
Medical student at Morehouse School of Medicine
Master's degree in Pharmaceutical Science, Florida A&M University
Bachelor's degree in Biology, Florida State University
Miles Freeman had a busy summer. In July, the Morehouse School of Medicine (MSM) student took the medical board exams, got married, and then drove from Florida to Washington state in just 12 days.
"That was my honeymoon," he chuckles.
Miles was in a hurry to get to Seattle to begin a joint UW-MSM Medical Scientist Training Program (MSTP), a dual degree MD/PhD program. He is based in the Molecular Cellular Biology (MCB) program, and is the very first student to participate in this new collaboration between MSM and the UW.
The program was conceived by Dr. Mary-Claire King, Professor of Genome Sciences and Medicine at UW, who received the Lasker Foundation Award in 2014 for her work on human rights and breast cancer genetics. The Foundation awarded Dr. King a visiting professorship, which she chose to spend at Morehouse School of Medicine. There, she met a number of outstanding medical students who were interested in performing biomedical research in disciplines that are not necessarily well-represented at a smaller school such as MSM.
"For the UW, the benefits are obvious," says Marshall Horwitz, director of the UW MSTP. "The program expands student diversity, not just with respect to underrepresented minorities in the health sciences, but also it helps bridge east-west and north-south cultures."
For Miles, too, the program is a win-win. "Morehouse is great for clinical training," he says, "but I couldn't turn down the opportunity to come to UW, a world-renowned research institution."
Miles grew up in rural Northern Florida. He was initially attracted to medicine after he job-shadowed a doctor while in high school. Later, although he enjoyed his research as a Master's student, he found he still had the itch to see patients.
He decided to go to medical school, and has completed his first two years of coursework. He will spend the next four or five years earning his Ph.D. at the UW before going back to MSM to finish his medical degree.
While others might be afraid to take so much time from their medical schooling, Miles wasn't. "The opportunity outweighed that fear," he says.
It was an opportunity both professional and geographical. "I've spent all my time in the south," he says, "so I was excited to see what the rest of country has to offer, what else is out there."
Miles applied for the program in December and waited with mounting anticipation for news of acceptance in May. The suspense was mostly one-sided. "It was obvious from his CV and application materials that he is amazingly talented," said Dr. Horwitz.
"The real delight, though, came when we met him. He's warm, outgoing, curious, willing to tackle tough problems — starting off here with a project to regenerate the human heart, for pete's sake!"
Miles's interest in the heart came from his time at MSM. There, he was seeing patients who were pretty young—forty and fifty year-olds—suffering from heart failure. "I kept asking, 'Why? Why don't we have answers for this?'" he says. "Simply treating such patients with current medicines seemed futile. Ultimately, they were out of hope."
Now, his research in MCB focuses on heart regeneration. While others are looking at stem cell research as the answer for heart regeneration, his focus is on epigenetics and histone modifications.
His work is helped in part by an ARCS fellowship he received. Indeed, it was the ARCS support that helped bring him to the UW. "I was wondering the whole time [while waiting for word of acceptance] how I'm getting out here, how I'm going to pay for a wedding," Miles says. "That financial assistance definitely helped me out a lot."
Miles's ARCS donor is Nancy Mee, a local artist who received her MFA from the UW. Although she has no direct connection to his research, or even field of study, Miles says, "She just really enjoys helping students."
For Miles, the benefits are many and varied. "Giving people financial support to people who may not otherwise have the opportunity to do research diversifies the talent," he says. "Diverse perspectives are important, in all aspects of life. I've noticed that even in med school, the English majors or the religion majors thought differently than the bio and chem majors. [Without diversity,] it would take that much longer to find answers to problems."
Dr. Horwitz points to that as the ultimate goal of the UW-MSM collaboration. "We hope this will have lasting impact [and] be a mechanism for increasing the diversity of the physician-scientist workforce over the long-term," he says.
In the meantime, Miles looks forward to continuing his research, and exploring all that Seattle has to offer.
Turns out that Seattle offers a lot of outdoor recreation. "My wife's had me at REI quite a bit," Miles laughs.