Meshell Sturgis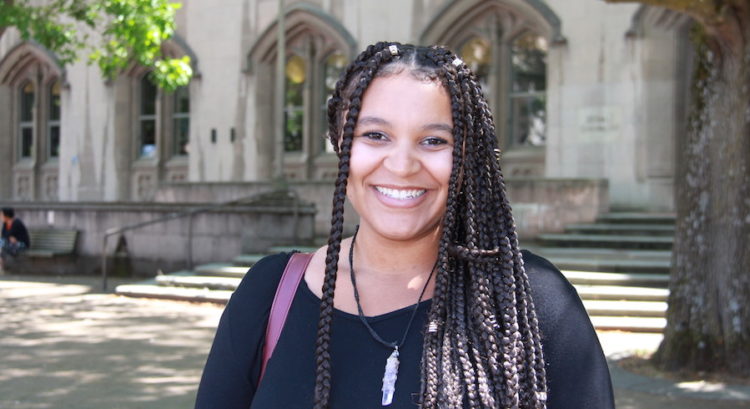 ---
In Roald Dahl's Matilda, a young heroine transcends a difficult home life and discovers her magic powers in the company of books. Meshell Sturgis, a Ph.D. student in Communication, sees her own journey reflected in this story of Matilda. Meshell herself found her magic through public education and her mentor Dr. Ralina Joseph, and is building a successful career for herself in academia.
But like Matilda, Meshell has needed support and guidance in order to flourish.
For Meshell, some of that support has come as funding and community-building from the Graduate Opportunity and Minority Achievement Program (GO-MAP)* program. As a GO-MAP Presidential Fellow, Meshell receives full funding for the first and last years of her Ph.D.
After completing her undergraduate degree at the University of North Carolina at Chapel Hill, Meshell moved back to Washington and earned her master's degree from UW Bothell. She was keen to stay in her home state, but with the rising cost of living and the looming expenses of graduate school — and with other offers available — she was concerned about how she would fund her degree from the UW.
The GO-MAP Presidential Fellowship assuaged some of those concerns. "It helped me be able to afford my degree, and it definitely helped seal the deal with UW," she says.
"And because I have funding, I make the most of it," Meshell says.
Making the most of it could be Meshell's slogan. She makes the most of everything the UW has to offer — from her fellowship support to opportunities to give back to her community.
In her first year, Meshell worked diligently on writing for publication. Now she has nearly four publications in the works. "Publications are career currency in academia," Meshell says, so being able to publish early in her career will likely have big payoffs later on. "Even if these specific writings don't end up published, I will have had a chance to fail, get back up, dust myself off, and try again: ultimately an advantage that allows me to build my skills and dossier."
As well, "in a typical first-year schedule, where a student is working as a Research or Teaching Assistant, there's no time for writing," Meshell says. Without the funding from GO-MAP,  "I would probably be much more stressed," she adds. She wouldn't have the same volume of writing under her belt, and she wouldn't have nearly as much time to think about her own research.
Next year, Meshell will work as a Research Assistant for the Center for Communication, Difference, and Equity to fund her studies. But in her final year, Meshell will again be fully funded — allowing her another opportunity to focus on what matters most. She will participate in GO-MAP's writing group, and because she won't have to teach that year, she will be able to travel with ease as she navigates the academic job market. She is laser-focused on her goal of becoming a tenure-track professor at a university.
Meshell describes her work as "critical and self-reflexive" research that's conducted through the lens of her uniquely intersectional experience. Under the guidance of Dr. Ralina Joseph, Meshell studies media and representations of Black women through a cultural studies lens. She primarily studies comics "that are intentionally commenting on society… everything that's not the white, cis-male comics of Marvel and DC," she says. She focuses on the production of these comics, the fan response to them and what they tell us about our world.
For Meshell, becoming a comics scholar is in part a strategy to bolster her competitiveness on the academic job market. "Branding myself as a comics scholar is appealing as it is an interdisciplinary subject that is burgeoning within the humanities," she explains.
In addition to the funding, "knowing I had emotional and social support from GO-MAP made all the difference in me coming here to the UW," she says. "Having a network of people is so important. If you feel like there is no one to talk to, there are some people at GO-MAP who will understand."
Meshell has also leveraged the time available in her schedule to participate in opportunities to give back to her community with GO-MAP and the GPSS Diversity Committee. "I thought it was important to be involved in these things, since I could afford the time, while my peers who must work to make ends meet might be unable to do so," she explains.
When choosing activities and communities to be involved with, Meshell prioritizes activities "that align with my values, my career goals, personal growth and development," she says. "And I most certainly ensure to give back to who and what has given to me."
For Meshell, this means being involved in the recruitment and retention of prospective graduate students of color as a member of the Outreaching Graduates Program (OG) for GO-MAP, as well as by speaking on the student panel at GO-MAP's Prospective Student Day.
"I have a lot of energy, passion and privilege that allow me to contribute to my community," Meshell says. Yet, even as Meshell takes on important responsibility and an active role in the community, she resists being called a "leader."
"I try not to think so much about being a leader, but instead focus on being a part of the changes I want to see," she explains. "You may say I appear as a leader, but in my mind, I am just following in the steps of other great leaders like Dr. Joseph."
Want to learn more about how Meshell works — her strategies for productivity and self-care? Check out this Q&A.
Published September 2018 
*GO-MAP was the name of a program that is now called GSEE, the Office of Graduate Student Equity & Excellence. Learn more.