Lisa Voelker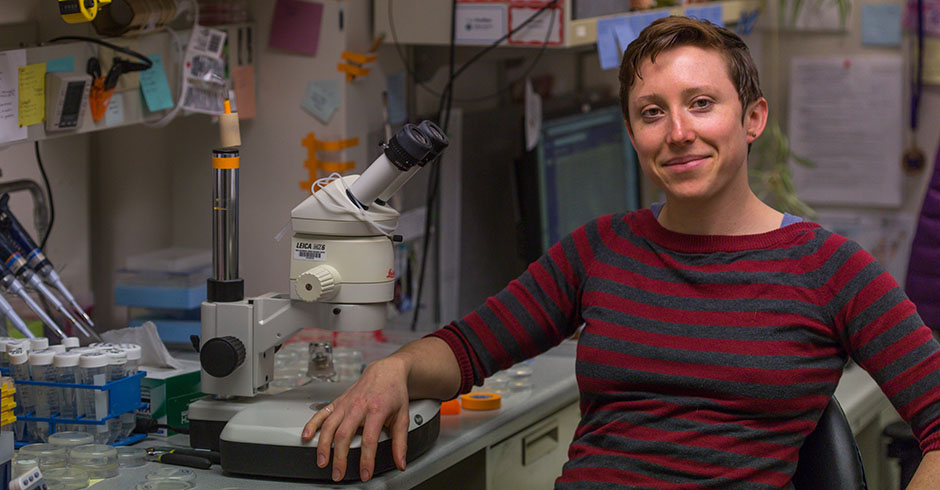 Lisa Voelker, Ph.D. candidate, Molecular & Cellular Biology
Education
Bachelor's degree in Cell Molecular Biology and Psychology, Humboldt State University
Career
Research Assistant, Fred Hutchison Cancer Research Center
"It's unconscionable to lock people up but force them to do nothing, then expect them to be better when they get out," says Lisa Voelker, Ph.D. candidate in Molecular & Cellular Biology and volunteer teacher at the Washington Corrections Center for Women. "Everyone should have a right to an education, to better themselves."
Through teaching biology to incarcerated women, Lisa says she aims to better her students' outcomes after their release, and impart her own curiosity and passion for science. For her research and public service, she was recently named to the Husky 100, which recognizes outstanding UW students.
For Lisa, curiosity has been a driving force in her own life — inspiring her to pursue graduate school at the Fred Hutchison Cancer Research Center, where she studies how electrical synapses contribute to activity changes in brain circuits as well as changes in behavior. A couple years ago, she learned about Freedom Education Project Puget Sound ­— the Seattle-based non-profit that organizes college courses at the women's correction center — at a campus event. Shortly after, she started volunteering with the organization and helped develop the curriculum for the first introductory biology course, which she later co-taught with two other UW graduate students. The curriculum, she says, mostly aligns with the introductory biology course taught at Tacoma Community College. She more recently taught a course in human biology.
She says taking classes can help incarcerated women navigate life after they are released from prison. The women can earn an associate's or bachelor's degree, which can help them secure employment, and gives them something to show for their time in prison. The educational opportunities not only increase employment prospects for women after release, researchers say they reduce the rate of recidivism.
The program also ameliorates the prison environment by giving the women a positive outlet to channel their energy. Lisa says that according to prison staff, outbursts and fights have decreased since the education program was introduced.
On an emotional level, "connecting with imprisoned women is very different from reading and thinking about our criminal justice system," she says, "It makes it more personal," and inspires her to help better the lives of incarcerated people while they're in prison, and to decrease the number of people incarcerated.
When her students are released, she hopes better they have a better understanding of themselves and the world, and keep a spark of curiosity for continued learning.
And it's not just her students who benefit from the program — Lisa says she has grown as a teacher through this experience. She's become more adaptable: during a lock-down, she was forced to condense her lecture into half of the usual class. This flexibility is a skill she says she'll take with her to other classrooms.
As well, she's become more flexible through adapting standard lab experiments for the prison environment. She is limited by the items that are prohibited — no sharp objects, limited liquids, no small containers — and by the limitations of the prison environment itself ­— particularly the lack of internet access, which prevents her from assigning research projects.
Despite these challenges, Lisa says teaching at the prison is not unlike teaching undergraduates at the UW. "The biggest difference is you go through several heavily guarded gates" to enter the classroom, she says. Once inside, "I'm a teacher, there are students, we have stimulating discussions about biology — all of that is very much the same."