Lindsey Wilson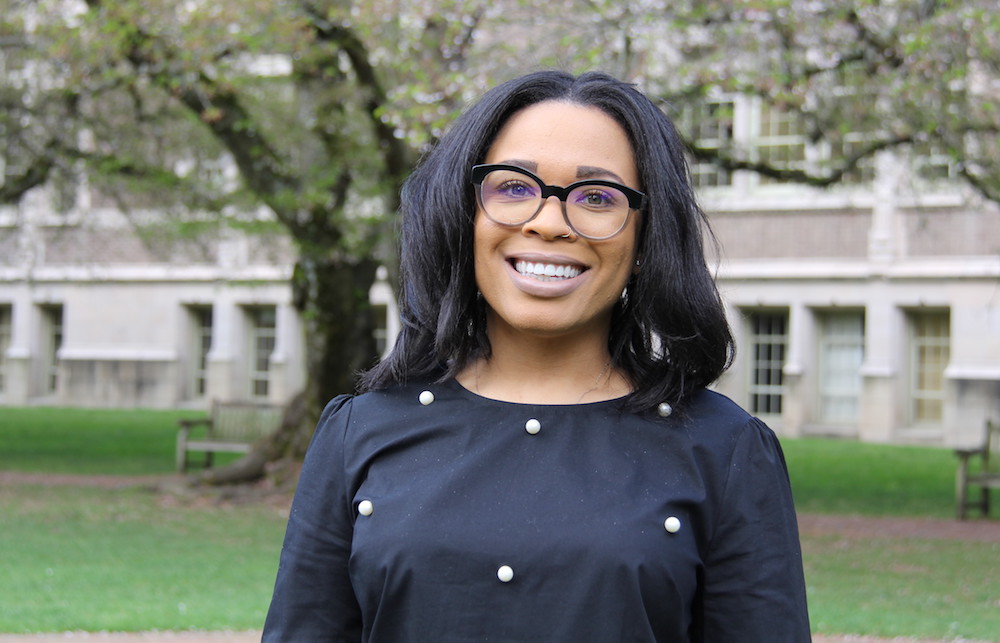 ---
Lindsey Wilson, Graduate Staff Assistant, GO-MAP*, and PhD candidate, Education
Education
master's degree, Minnesota State University, Mankato
bachelor's degree, Minnesota State University, Mankato
Career
Family Support & Mental Health Coordinator, NSC EHS
Licensed Child and Youth Therapist, LLW Counseling
When Lindsey Wilson started working as a Graduate Staff Assistant with Graduate Opportunity and Minority Achievement Program (GO-MAP) program, it was the third year in her doctoral program. She had been working full-time in addition to her graduate studies and missing out on opportunities to bond with her cohort. "I had been navigating my academic journey in a silo"," she says. "A piece of me was missing."
For Lindsey, connecting with GO-MAP and hearing the stories of her peers re-energized her spirits.
Now in her fourth (and hopefully, she says, her final) year, working with GO-MAP has been a vital part of Lindsey's graduate school career. While her Graduate Student Assistantship is an important piece of her funding, the position "goes beyond funding," she says. "It's socially and emotionally supportive in a way that will always be with me."
"This is my family," she says of GO-MAP, "and I don't use that word lightly. From the GO-MAP staff, you can actually feel the love, the genuine caring."
Advised by Holly Schindler, Lindsey studies social equity in early childhood education settings, specifically exploring the experiences of low-income fathers and fathers of color. She came to this topic and to the University of Washington by way of Snohomish County, where she worked in early childhood education. She continues to work for Snohomish County part-time, in addition to her work for GO-MAP and full-time studies.
As a graduate student assistant, Lindsey's role is focused on planning events and programming for her fellow students of color. She works with the Graduate Student Advisory Board to develop programming based on student experiences. She says her previous work as a counselor informs this work, especially supporting students "through the highs and lows" of graduate school.
She hesitates to identify any event or program that's "most effective" for students. Whether it's Real Talk Tuesdays, where students informally gather to discuss current issues in their personal lives and communities, or Getting Connected, a larger event focused on networking, the programming is effective "anytime we get students together to build community," she says. Which is, well, most of the time.
When Lindsey started her position as a graduate student, she recalls that GO-MAP Director Cynthia Morales told her, "you're not an assistant, you're a colleague." Cynthia has been true to that, Lindsey says. "She allows me to take the lead on projects, and when I voice my opinions in a meeting, I know my ideas are truly considered," she says.
In turn, "Lindsey brings enthusiasm, innovative ideas and positive energy to the GO-MAP office," Cynthia says. "As a grad student with many responsibilities, she takes leadership and initiative on GO-MAP projects, making space in her busy life for the needs of her peers and co-workers."
Anyone who has spent time with Lindsey will know that she prefers to shine the spotlight on others, not herself. Although she gives so much to GO-MAP, she tends to focus on what GO-MAP gives to her.
"I really see this role as GO-MAP providing me with an academic family that I didn't have when I first started," she says.
In hosting and attending GO-MAP events, Lindsey learns about the stories of her peers: and has discovered that many of her fellow students are experiencing the same things she's dealing with. The impact of her peers sharing their stories with her is much greater than her own impact in organizing the event, she says.
"What I do is logistics. What students do is show up and bring their authentic selves, which creates the community I get to be a part of," she explains.
Cynthia says she is "so grateful to have had Lindsey as part of the GO-MAP team for the past two years, and look(s) forward to the positive and profound impact we know she will have as she takes her expertise and talents out into the world. It has been an honor to have been a small part of her graduate school journey."
Did you enjoy reading about how one of our graduate students contributes to the Grad School? Read about Saejin Kwak Tanguay, who co-taught a course for graduate students, faculty and staff on disrupting microaggressions and macroassaults.
Published May 2018
*GO-MAP was the name of a program that is now called GSEE, the Office of Graduate Student Equity & Excellence. Learn more.