Lauren Collins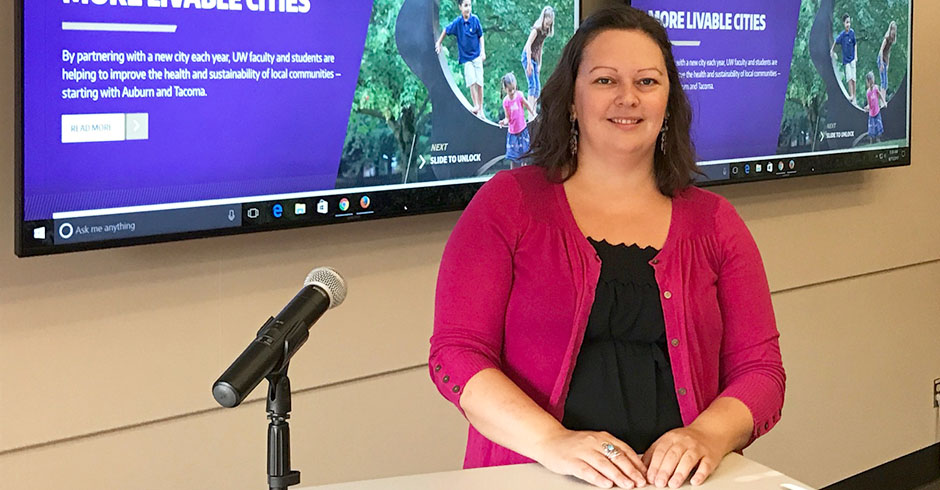 ---
Lauren Collins, master's student, School of Social Work, Graduate Staff Assistant, Learning Technologies
Education
Bachelor's degree, film, University of Southern California
Career
Corporate paralegal, multiple entertainment firms
Faculty Support Supervisor, UW School of Law
LEAH Social Work Fellow, Seattle Children's Adolescent Medicine
Picture this: it's early March, days before the end of the quarter. It's cold, gray and rainy, and you — a graduate student T.A. — have a stack of papers higher than your monitor to grade. But you're having problems submitting the grades through the university's web-based portal, and it's eating up your precious time. Huffing and frustrated, you call Learning Technologies to troubleshoot the problem. A calm, friendly voice answers. There's a good chance it's Lauren Collins.
Lauren is a master's student in the School of Social Work, but she's also a Graduate Staff Assistant with UW Information Technology, working in Learning Technologies. This academic year marks her second of helping faculty, staff and students across campus learn to use various computer-based teaching tools, including Canvas (the web-based grade portal) and Panopto.
For most of the year, Lauren gives workshops on these tools and supports the undergraduate staff who manage the email and phone help lines. At the T.A. Conference last September, her team unveiled a new online guide to these technologies, "U-Teach," that's specifically designed for T.A.s.
This 20-hour per week position is just one of Lauren's several commitments. As a social work student, she also takes classes and is enrolled in a practicum in the Adolescent Clinic at Seattle Children's. The practicum is a fellowship, and is part of her funding, she says. Like the GSA position, it's a competitive opportunity.
Between her classes, job and practicum, Lauren knows just how hectic and stressful graduate school can be. She says her most important impact on grad students is "to make the experience of using the technologies as painless as possible. Because if I can mitigate that stress, it helps with everything else students have to juggle."
She also aims to make an impact on the grad student community by modeling active learning in her workshops. She aims to show T.A.s "how to be a fun, engaging teacher so they then go out and model that with the students they're teaching," she says.
Lauren developed these skills of facilitating and leading workshops in her previous job as a Faculty Support Supervisor at the UW School of Law. As a non-traditional student who has worked and studied in several disciplines, Lauren has approached her work with Learning Technologies with a variety of skills.
She earned her undergraduate degree in film at the University of Southern California, then worked as a corporate paralegal for nearly a decade before taking a job at the School of Law. She worked there for three years, and for one year took classes at the School of Social Work as a non-matriculated student before enrolling in the program.
Along her varied career path, Lauren built critical skills including hiring, managing and facilitating that helped her land her position with Learning Technologies. But her non-traditional background also posed challenges: "as you get older, it gets harder to go back to school," she explains.
When Lauren was preparing for grad school, she knew having a Graduate Staff Assistantship would "make or break" her time here. She had debt from her undergraduate degree, and, looking toward a potentially modest income as a social worker, knew she couldn't afford to take out several loans to pay for her graduate degree.
Securing a student assistantship gave her peace of mind.
"My tuition is covered, minus some fees, and I have a steady income coming in," she says. "It allows me to make some choices."
Lauren says she's grateful for the student assistantship. Working with the Graduate School allows her a flexible work schedule based around her school commitments, and supportive colleagues — most of whom also attended graduate school — who understand the pressures of academia.
"I have folks who are reminding me: 'hey, if you're stressed or overwhelmed, or you have a lot of stuff due at the end of the quarter, please take care of yourself,'" she says.
She adds, "at the same time that I'm grateful, I also feel a bit conflicted. Sometimes I wish I didn't have to work so much to fund my degree, because it makes it really challenging to juggle everything. But I'm 90% grateful and 10% wish I could get a break."
So how does she take that (occasional) break from work, school, and her commute from Mountlake Terrace?
"I really like to cook," she says. "It's a nice way to do something for yourself that you enjoy doing."
published January 2018
Did you enjoy reading about how one of our graduate students contributes to the Grad School? Read about Graduate Staff Assistant Lindsey Wilson, who supports her fellow graduate students of color through informed, impactful programming and events.