Keon Vereen
A Recipe for Success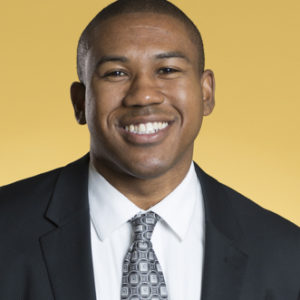 When Keon Vereen needs to take a breather from his research in experimental plasma physics, plasma diagnostics and plasma thruster development, he turns to another form of science — baking.
It's not just the science of baking that appeals to Keon; the desserts he bakes also bring people together. Keon, who is pursuing his doctorate in aeronautics and astronautics, often stops by the GO-MAP* office with one of his creations — for example, a vegan blueberry chocolate cake.
With or without baked goods, Keon is always a welcome presence.
>> $12.5 million in scholarships is distributed to undergraduates through the Office of Student Financial Aid

>> $6 million in fellowships is distributed to graduate students through the Graduate School

>> 65% of UW undergraduates plan to eventually earn a graduate or professional degree
"Keon is a steadfast citizen scholar. While his priority is his academic goal, he also possesses a great commitment to serving others," says Cynthia Morales, director of GO-MAP. "As a member of the GO-MAP graduate student advisory board, Keon has helped shape our student programming to ensure that there is a strong sense of community among our graduate students."
Beyond the work Keon does to enhance the graduate student experience, he is also a prominent role model. He mentors underrepresented minority undergraduate students in STEM fields through programs in the Office of Minority Affairs & Diversity including the Louis Stokes Alliance for Minority Participation, the College Assistance Migrant Program and Washington MESA, as well as the Washington NASA Space Grant Consortium.
The recipient of several fellowships and scholarships, including the George Dragseth Endowed Fellowship, Keon believes firmly in paying it forward. "My goal is to build a 'communication bridge' so students find their 'aha' moments and learn that nothing is unreachable when they take full responsibility for their futures."
"Graduate students are widely recognized as pivotal to the university's excellence in teaching and research; they serve as teachers and mentors for undergraduates and inspirational colleagues to faculty scholars."

— Gerald J. Baldasty
Provost and Executive Vice President
Professor, Communications
Keon grew up in an area of Orlando where violence surrounded the public schools. Even though these schools lacked key resources and did not provide the best educational environment, there were still a few great teachers. By receiving strong guidance from these mentors, Keon became the first member in his family to attend college. He went on to receive his bachelor's and master's degrees in aerospace engineering from the University of Central Florida, close to Cape Canaveral. As a National Science Foundation and Ronald McNair fellowship awardee, he had many choices on where to pursue his studies and chose the University of Washington because of its "faculty research focus as well as its outstanding research record across the board that allowed for collaborative and innovative thinking."
"The UW was always my number one school selection," he says.
That decision has certainly paid off. Keon is among the inaugural Husky 100, a group of students recognized for making the most of their time at the UW and contributing to their communities. After finishing his doctorate, Keon's ultimate career goal is to become a research scientist within the space technology community.
Keon's life was changed as a result of the fellowships he has benefited from, which have allowed him, in turn, to mentor others. It is truly a case where the initial act of generosity on the part of a donor has far-reaching implications beyond the original recipient.
"Due in large part to external funding support, I have been able to lead and serve in the manner I have and continually enhance the community on and off campus," Keon asserts.
*GO-MAP was the name of a program that is now called GSEE, the Office of Graduate Student Equity & Excellence. Learn more.