Jumana Karwa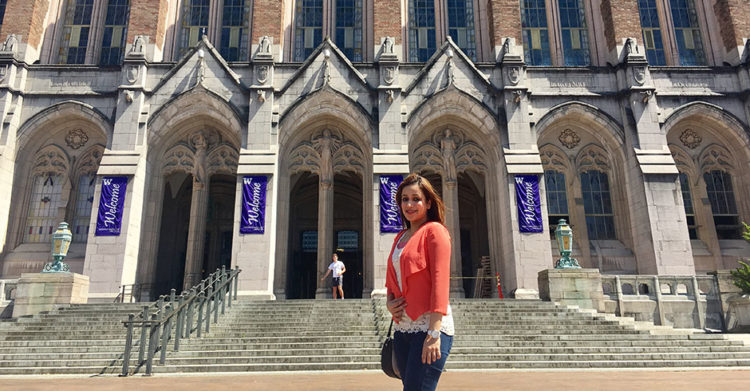 ---
Co-founder, FaceCrop, Software Engineer, Amazon
Education
Master's degree in Computer Science, University of Washington
Bachelor's degree in Computer Engineering, Pune University, Pune, India
Career
Software Engineer, Amazon
Software Engineer, multiple companies
Jumana Karwa, M.Sc. '16, has advice for students wary of putting their ideas at the mercy of others by applying for funding or recognition.
"Go ahead and do it. Say, what's the worst that can happen? If you sit and do nothing — that's the worst that can happen," she says with gusto.
Last year, Jumana brought the idea for FaceCrop — which crops and compresses video to make it more efficient to stream or download— to Amazon Catalyst, a funding initiative partnership that galvanizes UW affiliates to solve real-world problems. The partnership between Amazon and UW CoMotion (a hub for startups and innovators on campus) was founded in fall of 2015, and since then has awarded up to $100,000 in funding to 18 teams addressing health issues, climate change and more. While a majority of Catalyst's winning projects have several team members and at least one distinguished faculty member, Jumana presented her idea alone. To top it off, she had never pitched an idea to company executives before. (Spoiler alert: she won).
Presenting on her own was intimidating, Jumana says. But while faculty members have advantages like more extensive research to back their proposals and reputations in the community, Jumana says that "as students we also have a lot of potential. So never undermine yourself,"and instead see it as an opportunity to learn.
When Jumana conceptualized her application this way, she saw that the process had value no matter the outcome. It took some of the anxiety around success out of the equation, she says.
And pursuing funding without a faculty collaborator doesn't mean you have to (or should) go at it entirely on your own, Jumana says. Although her academic advisor Mohamed Ali was not a collaborator on FaceCrop, he offered access to crucial research as well as moral support.
Although Jumana was new to the world of venture capitalists and three-minute pitches, she was not a stranger to Hackathons (which she describes as a kind of brainy slumber party). Jumana and her friend, Saurav Tomar, developed the technology for FaceCrop at a Hackathon for Students of Color hosted by Facebook last year. Saurav remains a partner in the project.
The intent of FaceCrop is to address a problem caused by poor internet access in developing countries. In India, for example, Jumana says many people own smartphones but can't afford a data plan with speeds that allow them to stream video. Thus, they miss out on the opportunity to stream educational and instructional content. Especially for people with limited access to formal education, that chance could be life-changing, she says.
While the technology to compress video exists elsewhere, FaceCrop is different because — as the name suggests — it purposefully crops out extraneous information. For example, a video of a lecture would be cropped to include only the teacher's face and possibly their hands.
The funding from Amazon Catalyst has allowed Jumana to hire developers, who are continuing to improve the quality of the video and the user experience. Their goal is to launch the product to the public in the spring of next year.
Inspired by her experiences with Amazon Catalyst, Jumana says her advice to people choosing between schools would be to consider what the institution has to offer outside of academics. While research and classes are important, sometimes it's the programs outside of regular offerings that can be truly life-changing.
Opportunities like Amazon Catalyst "make us do things we didn't think were possible," she says. As a direct result of the Catalyst program, "I have immense confidence today that I didn't have when I started."
She says support and encouragement from leaders at CoMotion and the Amazon professionals who reviewed the applications were critical in giving her the confidence to keep moving forward with the process.
"They understood we were students, doing this for the first time," she says. "Although very young, they believed in our ideas, and gave us the direction to move ahead. That gave me the hope and confidence to dream big."