Joseph Blake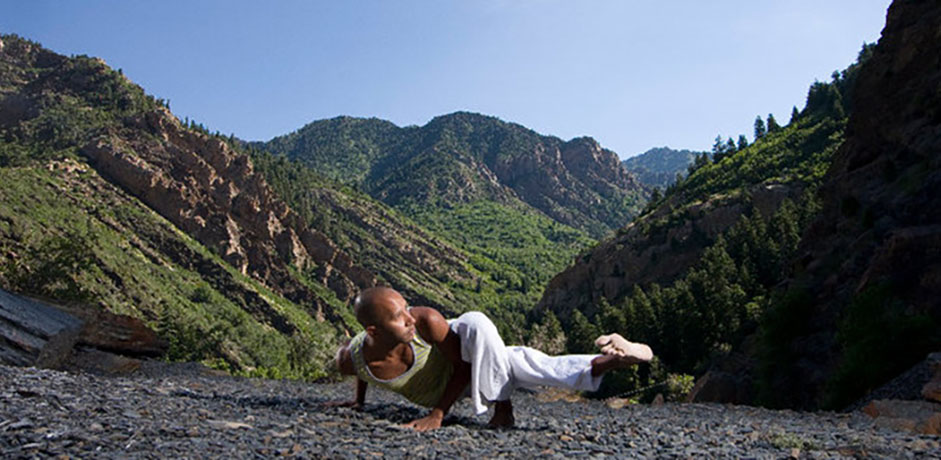 ---
MFA candidate, Dance Program
Education
Bachelor's of fine arts, dance, University of Utah
Career
NOW-ID Interdisciplinary Dance Company, founding company member
Ririe-Woodbury Dance Company, company member
I believe an effective way to increase the public's awareness of sustainability is to change its perception of a person's relationship to the planet. Art can do that. Art can change perceptions. It can create unexpected relationships. Art can take common notions and change them into evocative images.
– Joseph Blake, MFA candidate, Dance Program
As a professional dancer, Joseph Blake spent 15 years traveling the country and telling stories through movement. While he loved the creative aspects of his job, he eventually found the constant routines of performing, rehearsing and touring were narrowing his worldview.
But in teaching dance to students aged five through the 65+ crowd, Joseph found new inspiration.
"I saw the passion of these students and the change within themselves during class," he says. "It was wonderful and overwhelming, and seeing that made my love for dance grow even more."
Inspired to give back the rewards he reaped from dance, Joseph decided to pursue graduate education, where he could expand his worldview while preparing for a transition into college teaching. He says he's found that graduate students in dance, who have as a requirement of entry to the program at least eight years of professional experience, have a lot to share with the public. Their passion is in the arts, and graduate school provides a framework for sharing that passion with others.
Since starting the University of Washington's Master of Fine Arts in Dance program in 2015, Joseph has immersed himself in public work with a range of impacts, from encouraging people to think critically about climate change, to connecting people living with Parkinson's disease, to bringing the healing effects of yoga to incarcerated youth with Yoga Behind Bars.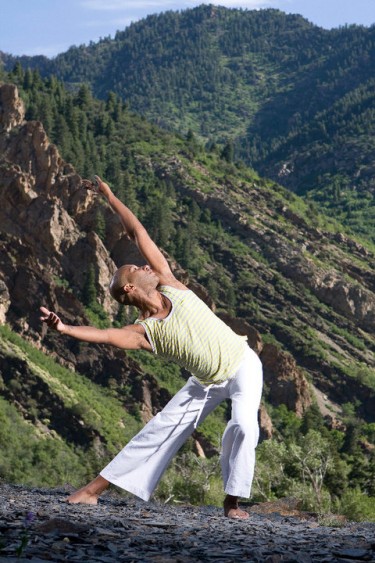 His project Ballo Conservatio, undertaken alongside friend and colleague Steve Korn and supported by UW's Campus Sustainability Fund, is a series of photos meant to stimulate conversation around society's over consumption and over reliance on natural resources. The photos depict dancers twisting, jumping and reaching through resources humans routinely abuse – water, oil, and wood – and waste humans thoughtlessly create – debris, smog, and erosion.
Joseph say he hopes the photos will encourage people to reflect on the role their own actions play in contributing to climate change. The photos are displayed on the UW campus, but Joseph says he hopes to keep the conversation going by sending the exhibit to local galleries, and eventually, worldwide.
As an instructor and volunteer with Dance for Parkinson's with the Seattle Theatre Group, Joseph brings dance classes to individuals with a neurological disorder that makes movement challenging. The classes encourage a "new way of moving" that is less stiff and restricted, Joseph says. Just as important, however, is the sense of community fostered among participants in the class.
Joseph's experience with Dance for Parkinson's was inspiration for the research and design of his course, "Advanced Topics in Dance Education, Philosophy & Design," which centers on questions of inclusivity in dance.
"Historically, dance has been a way for people to communicate and establish community," he says. As a society, "we need to recognize that everyone can belong to this community – everyone can dance."
When Joseph talks of inclusivity, he wants to emphasize that dance education isn't exclusively for able-bodied professional dancers, or at least it shouldn't be.
The physical, spiritual and emotional benefits, the opportunity for self-discovery and the camaraderie fostered in a dance studio are benefits that anyone can take from practicing dance, Joseph says.
As art, and dance, specifically, are accessible to anyone, they become powerful tools for public engagement, he says. Art has played a significant role in communication and storytelling across centuries, cultures and continents, he points out, so the connection between art and public engagement seems almost self-evident.
Why would we not use the arts to communicate that message, or effect positive change, he asks? "There's always a story to be told, and it's so easily done with the body and with the voice," he says.