John Hayes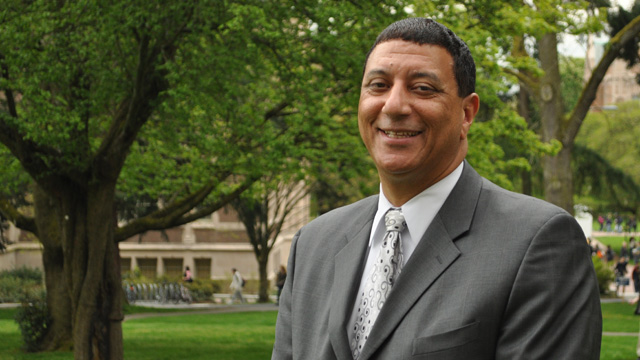 ---
Captain, Community Outreach, Seattle Police Department
Education
Master's degree in Social Work, University of Washington
Bachelor's degree in Women's Studies, UW
Bachelor's degree in Social Welfare, UW
Career path
Outreach worker, Catholic Community Services
Lieutenant, former director of community relations, Seattle Police Department
Captain, South Precinct, Seattle Police Department
Facing culture shock
When John first joined the police force, he wasn't sure how long he'd last. The culture shock was real.
His social work background set him apart from most of his fellow officers. As a former outreach worker, John was accustomed to preventing problems by paying home visits and helping people talk through their rough times. By contrast, law enforcement mostly focused on reacting to crimes that had already been committed.
It took a few years for John to realize that he could, indeed, adapt pages from his social services playbook to addressing concerns like gangs, juvenile crime and neighborhood nuisances. More than 30 years after becoming a police officer, John continues to abide by a philosophy that solidified while he was in graduate school: "I think people want to do the right thing but are very seldom presented with positive options," he said.
Keeping kids out of gangs
When John first joined the Seattle Police Department in the late 1980s, parts of the city were experiencing spikes in gang activity and other problems linked to the arrival of rock cocaine. "It was amazing to find out how badly people could treat each other, how neighbors would fight each other, the amount of heartache that went on," he said.
As a member of the gang unit, John was troubled by the department's focus on locking up large numbers of gang members, mostly juveniles. He worried about the long-term impact on the kids' communities, so he proposed a new approach: paying home visits to youths and their families and discussing how they might stay out of trouble, gangs and jail in the first place.
Amid skepticism from their police colleagues, he and his partner developed what became known as the Seattle Team for Youth program. They started by identifying the 30 most active juvenile gang members in their precinct. Dressed in plainclothes, they knocked on doors, interviewed all of those juveniles' parents and offered guidance designed to make criminal activity less appealing. They also held a series of classes for parents at precinct headquarters in which they showed videos about spotting gang behavior and provided access to free social services.
Despite the initial misgivings within the police department, the program proved popular among participants and elected officials, later securing a $1.2 million federal grant to extend its operations for three years. The City of Seattle voted to keep the program going for the next 17 years. Similar services continue to operate under a new name, the Seattle Youth Initiative.
Unconventional methods
John's avant-garde approaches to problem solving continued when he became operations lieutenant of Seattle's East Precinct in 2003. One of his first major complaints involved a nightclub that was the scene of many violent crimes, drug activities and prostitution offenses.
John started by calling an impromptu meeting one morning in an alley behind the nightclub. Attendees included not only representatives from area businesses but also some known drug dealers and prostitutes. When John challenged the offenders to give him other options besides putting them in jail, he found that they were interested in learning more about health and housing services. He arranged to have a public health worker return the following week to distribute condoms and give health and vision check-ups and other information. People took advantage of the offerings.
The meetings continued each week for more than two years. In addition to health services, John gave people the opportunity to have their criminal backgrounds checked anonymously, allowing non-violent offenders to settle outstanding warrants, court dates and suspended driver's licenses. He found that many secured jobs and abandoned their criminal activities after scrubbing their records.
Today, the non-profit Seattle Neighborhood Group runs the program, named GOTS (Get Off the Streets) by participants in the program, in partnership with the police department. It matches homeless, drug- and alcohol-addicted and non-violent criminal populations with housing and treatment services. When the program started in January 2004, it had no funding. After seeing the unique opportunities GOTS provided, the Seattle City Council voted in 2007 for special funds that keep the program going even now.
The UW's advantage
A star athlete at Bishop Blanchet High School in North Seattle, John financed his undergraduate years at the UW through an athletic scholarship. He took classes across the spectrum of social sciences and became intrigued by the women's studies department. What started as a course or two ("I thought it would center me," he quipped) turned into a full-blown major and a lifelong fascination with the dynamics between genders and races.
After college, John worked as a crisis counselor for families all over King County through Catholic Community Services. But he soon realized he needed a graduate degree to make a stronger impact. With financial support from his employer, he entered the UW's Master of Social Work program and focused on social services administration.
The diversity of John's social work professors made his UW experience special. "No matter where you came from, you got a perspective that was a little something different," he said.
On joining the police force
John's path from social work to the police force began, in some ways, at Immaculate Conception Church in the city's Central District neighborhood. One of his fellow church members was then-Seattle Police Department Chief Patrick Fitzsimons, who viewed John's social work training as a major perk and repeatedly tried to recruit him.
After graduate school, John was seeking a new way to contribute to the community and earned admission to the police academy. "My career has been largely blessed by my ability to talk to people, especially those in crisis," he said.
Recent work
One of John's most significant projects was writing a manual for officers working with the Drug Marketing Initiative, which is a Seattle Police Department program that allows repeat narcotics sellers to have their pending narcotics cases not held against them if they agree to stop dealing forever. The department also encourages those dealers to take advantage of services that aid them in a successful transition away from selling drugs.
"Throughout my career, I have been able to bridge the gap between social services and law enforcement," he said. "As an officer, I am involved with family dynamics, community building, family intervention, community development and mobility, and, most of all, community safety."