Jessica Hernandez: Climate change, Indigenous communities, and "taking back" Thanksgiving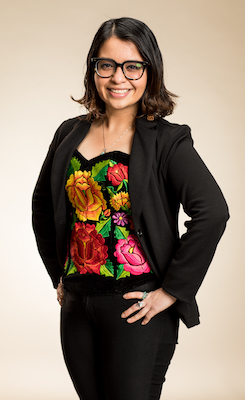 Jessica Hernandez, Ph.D. student, College of the Environment
This story was originally published in November 2017. It has been updated to reflect changes in Hernandez's work and the dates of this year's "Taking Back the Dinner" event.
Jessica Hernandez is both a scientist and indigenous Zapotec and Ch'orti'. Through her initial research for her doctorate work, she looks to bridge these two communities — scientists and Indigenous peoples — to help us better understand the effects of climate change.
Indigenous communities have been identified by the scientific community as one of the most vulnerable populations to climate change, in part, Jessica says, because "many of the traditions of Indigenous groups are very place-based." For example, coastal tribes — the focus of Jessica's research — suffer because ocean acidification is contributing to a decline in fish populations, leading to food insecurity and displacement among these communities.
These problems are exacerbated when scientists and Indigenous communities can't communicate.
"Scientists continue to make conservation decisions that impact Indigenous people's rights to traditional foods, medicine, and cultural land use," Jessica says. "In order to change this oppressive top-down approach, Indigenous scientists (like myself) need to utilize their scientific work to advocate for food, climate, and environmental justice."
In collaboration with Daybreak Star Indian Cultural Center, Jessica looks to do so by creating a community comprehensive plan of the future land use of the twenty acres designated to the center that incorporates an Indigenous lens. This project will indigenize conservation in a changing climate by centering Indigenous voices, experiences, and principles through community-based participatory research practices. The comprehensive plan aims to decolonize the landscape by acknowledging the indigenous lands Discovery Park occupies.
On Thanksgiving, Jessica is joining the American Indian Student Commission for "Taking Back the Dinner" at the Intellectual House. While the event is open to all, it's an opportunity "for us to celebrate the decolonization of what is considered Thanksgiving as a community of Indigenous people," Jessica says.
For Jessica, the idea of "taking back the dinner" is a way to recognize the impacts of climate change, displacement and intergenerational trauma on Indigenous communities. "With declines of foods security and access to our traditional foods, we are reminded during our traditional gatherings or western holidays that climate change is drastically impacting our communities." It's also about "reclaiming this part of history," Jessica says, "like we reclaimed Columbus Day."