Irene Zhang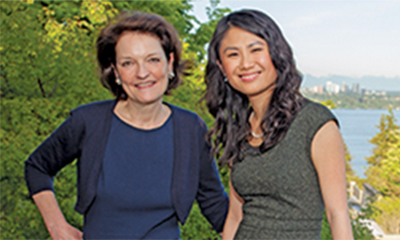 Irene Zhang, a former ARCS Scholar, '12, and UW PhD alumni, '17, wants to make it easier and more efficient for programmers to build the next Facebook.
"I learned early on at MIT that if you can design a flexible, practical system, you can save work for thousands of programmers," she told Geek Wire in 2016, when she was interviewed for the publication's "Geek of the Week." "So, although I work in low-level operating systems and distributed systems, my high-level goal is still to make life easier for people," she said.
Now, Irene is a researcher in the Systems Group at Microsoft Research, where she studies cloud computing and distributed programming – similar to her work at the UW – and has a direct impact on programmers, she said.
Born in Beijing, Irene grew up in Indiana and describes herself as a "Midwestern girl at heart." Zhang attended MIT in Boston for her bachelor's and master's degrees in computer science. She worked in Cambridge, Mass. for several years at the software company VMware, before moving to Seattle and earning her PhD.
The ARCS Fellowship was important to Irene's career in financial security and support, mentorships, and in building community, she said. Her sponsor and mentor, Molly Pengra, "was always proud of everything that I accomplished, even on those days when grad school (had me) feeling down," she said. Financially, the scholarship helped to defray the cost of moving across the country to come to the UW. As part of the ARCS community of scholars, Irene said she enjoyed meeting up with and learning from her fellow high-achieving peers in disciplines outside of computer science.
While a grad student at the UW, she served as a mentor for undergraduate women and fellow graduate students. She also founded and chaired – over several years – UW CSE Women's Research Day, dedicated to celebrating the role of women in computer science research. She cares deeply about fostering girl's ambition early, and told Geek Wire that one of her favorite organizations is Girls Who Code.
"Lots of girls (including me, surprisingly) just never have anyone suggest that they might be interested in computer science," she said.