Husky 100: Interdisciplinary Programs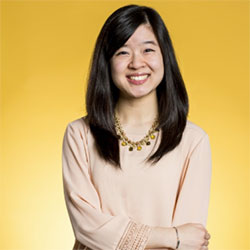 Hanna Dinh
Master's in Health Administration
With my master's degree in Health Administration, I strive to continually develop myself to be an effective health-care leader for not only individual patients, but also for diverse communities. I have been named to the Husky 100 because of my unwavering commitment to become a well-rounded leader in public health and health care. This includes having a discovery and learning mindset to deepen my interdisciplinary knowledge and experience base.
---
Laurel Lynn James
Interdisciplinary Ph.D. (Forest Resources & Anthropology)
I'm an enrolled member of the Yakama Nation pursuing an interdisciplinary Ph.D. in Anthropology and Forest Resources, and I'm a single parent to my wonderful son. I take pride in the work that has been accomplished at the UW as a part of my individual research, group research and in my professional UW staff position as the NARA Tribal Partnership Projects, program manager. The tribal scholars whom I've assisted and tribal collaborations that have been formed are the highlight of my UW experience.
---
Biswajit "Bish" Paul
Ph.D. Molecular and Cellular Biology
I am a scientist and community leader whose work straddles translational research, science education and outreach, and advocacy for LGBTQ and immigrant communities. I am passionate about improving the interface of science and society . Whether it is developing gene editing technology for HIV cure, or creating documentary short films to fight societal stigma, or establishing a fellowship for underrepresented scientists at Fred Hutchinson Research Center, I thrive on finding non-traditional solutions to problems.
---
Laurel Taylor
Ph.D. in Molecular and Cellular Biology
I am a third-year Ph.D. candidate in Molecular and Cellular Biology. Aside from research, I have become involved in the university community through serving as a Graduate and Professional Student Senate senator, volunteering across a number of outreach groups, and participating in informal science communication whenever I have the chance. Being closely connected to UW community has enabled me to make the most of my Husky experience.