How two design graduate students launched Uplift Locally to support Black-owned restaurants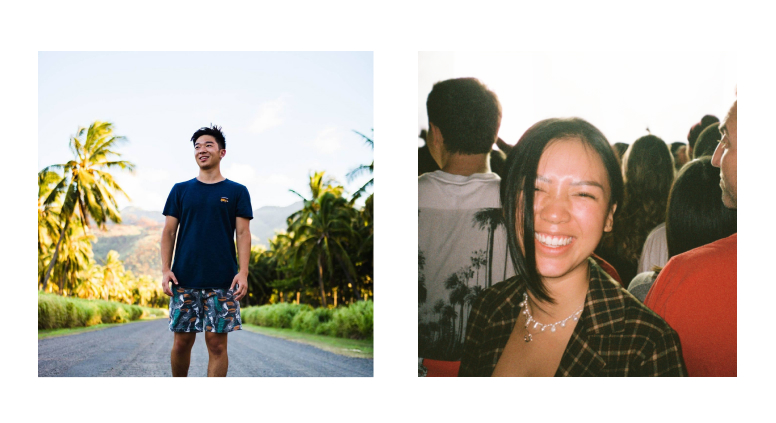 ---
Marisa Chentakul and Devin Ajimine have always seen their passion for human-centered design as a way to create positive change in the world. Watching the racial justice protests during the summer of 2020 as well as the impact of the pandemic on their local communities was no different.
Marisa, a 2020 graduate of UW's Human-Computer Interaction and Design master's program and Devin, a master's student in Human Centered Design & Engineering, saw the national reckoning over the killings of George Floyd, Ahmaud Arbery and Breonna Taylor, and wanted to both support Black-owned businesses in solidarity with the Black Lives Matter protests. While they saw dozens of resources being shared on social media to support locally-owned businesses, no one had compiled them into one list.
So they created Uplift Locally, a website that shared all of these Black-owned businesses through an interactive map. The first few days of this work involved driving around Washington, physically searching for Black-owned restaurants, and then rushing home to update the list. Then their friend Suchaya Rojanasuwan, a data engineer, offered to help them scrape the names and images of these restaurants to share online.
The list grew from a Washington-based directory to one that now shares more than 3,000 Black-owned restaurants in 39 states and has reached more than 10,000 viewers. Here's how they went about it.
How did you come up with the idea for Uplift Locally, which supports Black-owned restaurants?
Marisa and Devin: In May, as COVID-19 cases had begun hitting the US and more initiatives were coming out for the Black Lives Matter movement and the George Floyd protests, we knew we couldn't sit and do nothing. So in solidarity with the BLM movement, we recognized people were adding lists of local Black-owned businesses all over social media, but there wasn't just one master list to be viewed.
Why was taking on this project important to you both?
M: We believe that it's important for designers to reflect on the current global events. This made us think about how we might use design to influence positive change in the midst of the 2020 crisis. We also want to be a good example to all the aspiring designers and show them that designing is not just about making pretty interfaces.
D: To echo that: most restaurants and food delivery platforms only favor sponsored content and restaurants that are already well-established. It's almost impossible for people to discover small-business restaurants during the time of the pandemic because they don't have a strong digital presence.
---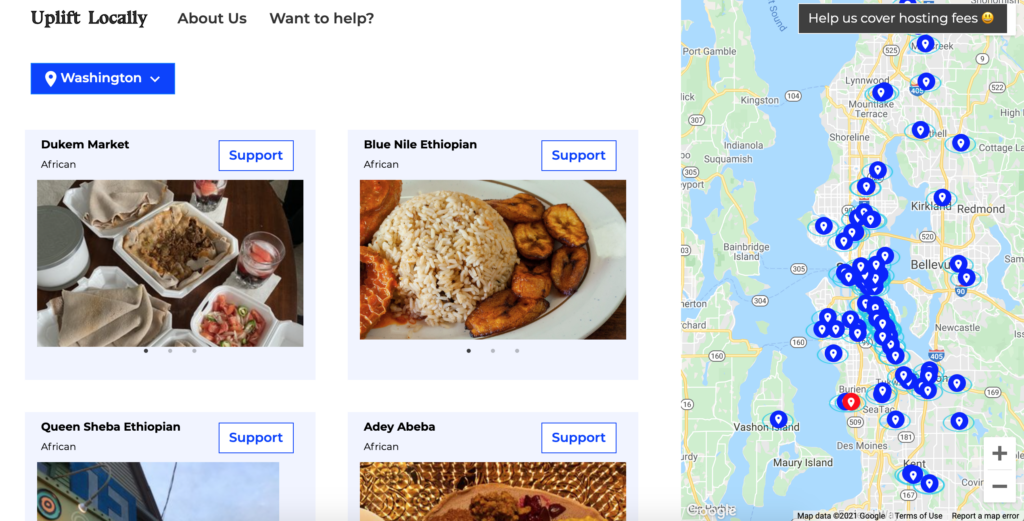 ---
How did your graduate studies in MHCI+D and HCDE come together to inform how you designed this project?
M: I learned to focus on solving current problems in professional practice and addressing all sorts of domains from health and environment to social causes. I also learned the different techniques and theory for visualizing, analyzing and supporting interaction to make this world a better place!
D: My main takeaway from HCDE is how to create thoughtful technology experiences that respond to the global events through the application of human-centered design and design thinking.
What has the reach and impact of this project been since you launched it?
D+M: We have reached over 3000+ restaurants in every corner of the streets in the US and some don't even have a Yelp page yet. We had a few thousand views in the first month we launched, and as we grew we doubled the views. I would say in total we hit a bit over 10K audience reach since we launched last May.
Why did you decide to attend graduate school for human-centered design programs?
M: I came from a very traditional design background where I studied fashion and textiles design. During my senior year of undergrad, I found myself feeling very uneasy about the fashion design process. I realized that the industry prioritizes aesthetics over utility. This sparked my interest in human-centered design because I believe that the designer's job shouldn't be about designing pretty things.
D: I went to school in Portland for my undergraduate in computer science, and I am currently at UW for my master's in HCDE. The main reason I wanted to go into HCDE was to better understand how technology influences people in terms of habits and behavior with a goal to create software products that positively impacts people's lives.
Has using human-centered design in support of social justice movements always been an important part of your academic and professional interests?
D: Absolutely! Using human-centered design or technology in support of social justice movements is something that I hope to see more in 2021 in the tech industry. I believe that the success in problem spaces like this can't be measured by analytics. It's something that you need to do through extensive observation or live through these current global events to see where you can fill in the gap.
M: Totally agreed – designers are privileged with the incredible amount of resources and ability to address any social issues. So why not put our skills into use?
What projects are you working on now that are important to you, whether post-grad school or in grad school?
D: Apart from Uplift Locally, Marisa and I are also working on "Workology" to reimagine the way people live and work. We believe that people should not compromise their health to get things done and we want to make work more comfortable for everyone. 
M: I'm currently fundraising on mesh-times.com to sponsor education for children in need. If you love some fun design merch please check it out! On top of that, I also run a design community on Instagram (@meshtimes) and TikTok (@productdesign) to lower the gatekeeping in the tech and design industry.
D: Me too! I have been making college tips + advice content on TikTok (@senioryear).
Published January 14, 2021