How Meshell Sturgis Works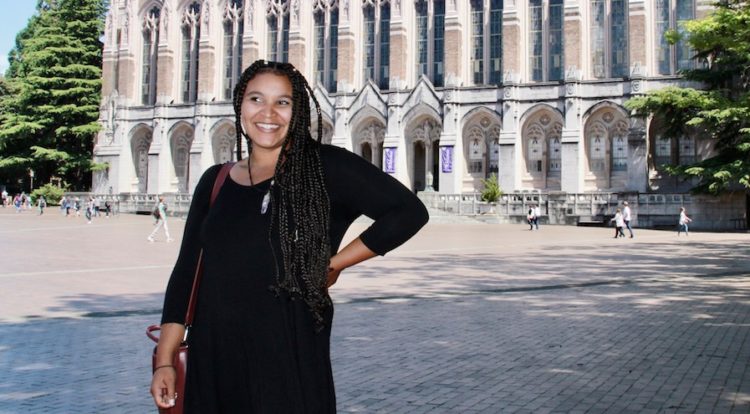 ---
Meshell Sturgis, GO-MAP* Presidential Fellow and Ph.D. student in Communication, came to the University of Washington by way of a bachelor's degree at University of North Carolina at Chapel Hill and a master's degree at UW Bothell. Meshell studies comics "that are intentionally commenting on society… everything that's not the white, cis-male comics of Marvel and DC," she says. She focuses on the production of these comics, the fan response to them and what they tell us about our world.
In addition to working on her own research in her first year, Meshell is involved in several campus communities and organizations. She was interviewed for the UW Graduate School's online orientation (U501), where she spoke eloquently and approachably about some of her strategies for managing finances, self-care and more. We asked Meshell to tell us about her first year as a Ph.D. student at the UW and fill us in on more of the habits that helped her thrive in her first year.
You received the GO-MAP Presidential Dissertation Fellowship — what does that allow you to do?
I was fully funded in my first year. This means I didn't need to work, so I busted my butt with writing and research. I have about three and a half publications in the works. Publications are career currency in academia, so this is really important. Besides writing, in my first year I spent time refining my self-care strategies as I settled into a doctoral student daily routine.
How else have you been involved in GO-MAP?
Since joining the UW, I have attended their Prospective Student Days each year and last year I spoke on their student panel. I also participate in Outreaching Grads and enjoy meeting prospective students. Personally, knowing I had GO-MAP made all the difference in me coming here.
I usually attend GO-MAP's Real Talk Tuesdays and Power Hours. Real Talk Tuesdays are a good chance to eat lunch and take a pulse of what other students are going through. It's so important to have a network of like-minded people, so that when it feels like no one else hears you, you know at least at Real Talk, some people will understand. GO-MAP has also made it easier for me to find a community of students of color, which is hard to find at UW, even more so amongst graduate students.
You're doing a certificate program through the Grad School. How does this certificate advance or complement your current research interests? How does it advance your career goals?
The Science, Technology & Society Studies Graduate Certificate program focuses on critiques at the intersections of these subjects. From this certificate program, I generate new ideas that contribute to my work. I'm very interested in genome sciences, specifically, direct to consumer DNA tests such as 23andMe. At the moment, I am working on a book chapter about the look of Mixed Race as it is represented by 23andMe with my advisor and mentor, Dr. Ralina Joseph.
As a grad student, doing a certificate is sort of a way to do a minor. And as an interdisciplinary scholar, it might otherwise be difficult for me to articulate to a department how my work is interdisciplinary (when applying for academic jobs). Doing this certificate will help me diversify the ways in which I am able to articulate my work and speak to my research interests using the language most accessible to a specific academic department.
I'm amazed you've only been on the Seattle campus for a year, considering how engaged and integrated you are in the community. I noticed you've taken leadership roles in GO-MAP, GPSS' Diversity Committee and elsewhere. What does it mean to you to be a leader in the UW community?
I try not to think so much about being a leader, but instead focus on being a part of the changes I want to see. Rather than being concerned with what other people are or are not doing, I try to remain aware of what I am capable of doing and holding myself responsible to being the best me I can be, which inevitably contributes to the communities that I am a part of.
Why is it important to you to be involved in the community in this way?
I have a lot of energy, passion and privilege that allows me to contribute to my community. It is my responsibility as a member of multiple communities to step up when I am able, just as it is my responsibility to show compassion when others may need to step back. For example, this year because I was on fellowship, I thought it was important to be involved in things like the GPSS Diversity Committee, the GO-MAP Outreaching Graduates (OGs), as well as hosting weekly writing meetings for graduate students and teaching at the state's women's prison in Gig Harbor, since I could afford the time, while others who must work to make ends meet might be unable to do so.
How do you choose which projects and organizations you'll give your time to?
I am really big on "killing two birds with one stone" so I often prioritize things that are satisfying more than one project or organization at a time. I pick things that are close to my heart, but I always put myself first (a skill I've had to develop and still must work on). I prioritize activities and groups that align with my values, my career goals, and personal growth and development and I most certainly ensure to give back to who and what has given to me.
How do you honor your commitments and still take care of yourself? What are your time management strategies?
I love the Pomodoro method: 25-minute work sessions with five-minute breaks. After four work sessions, you get a 15-minute break. The Focus To Do App — which combines the Pomodoro timer with a to-do list — has been working great. But I also love handwritten to-do lists. Practicing compassion when it comes to these lists, and moving on when something just isn't working or taking more time than intended is key.
I also participate in a couple different writing groups where I am surrounded by like-minded people, which holds me accountable to writing. Some faculty have recommended treating the work like a job, which at times feels impossible, but more and more I've been trying to push my schedule to reflect a 9 to 5; of course, while you are "clocked in," you must stay focused and on task.
I don't do any social media (except LinkedIn, which I only touch when I've submitted an application). When I compare my life to others my age and in my situation, this seems to be the biggest difference when it comes to time management. There are so many minutes that add up to hours that can be wasted away on Facebook, Instagram, Snapchat and the like. I totally recommend social media fasting to folks who are feeling like they are constantly pressed for time.
What do you do for fun and to relax?
To relax, I utilize our amazing graduate student insurance plan. I regularly schedule massage, acupuncture, therapy, physical therapy and nutrition appointments which help me decompress and stay on track for being the best me possible! Additionally, I do Bikram Yoga regularly which is a big de-stressor and feel-good zone for me. Roller skating, going for walks with my dog and cooking for those I care about are all things I do to have fun, slow down and enjoy life. And, let's not forget art! Making art often creeps into "work" to-do lists, but nonetheless is one of the greatest escapes there is.
Finally, setting a bedtime and getting up at the same time. A regular sleep schedule seems impossible these days, but sticking to it has some of the greatest rewards out there. I treat my health, therapy and yoga appointments like work appointments and make sure to show up ready to give what I've got.
Do you have any thoughts or strategies for dealing with imposter syndrome?
As my advisor and mentor Dr. Joseph wrote in a Grad School Mentor Memo on the imposter syndrome, whenever I am feeling anxiety about something, I try my hardest to convert this nervous energy into something productive. While Dr. Joseph advises this isn't always a sustainable practice, I am a bit wired to "over achieve" when I have self-doubt, rather than be paralyzed by it. This response to the imposter syndrome can often provide fuel just when I feel like I might be defeated.
"Fake it til you make it" is the biggest cliche and not a really concrete answer; yet, it is something I definitely try to practice and I feel it has lent me the confidence when I needed it, the words when I had no clue what to say and direction when I felt lost. In yoga, we practice just keeping our head up. When we feel exhausted, we lower our head and this limits the flow of blood and oxygen to the brain. "Faking" by holding your head up when you don't want to can be just the boost or alignment you need to find true motivation to carry on. But there is a fine line here, because sometimes, to be true with yourself means you need to lay down altogether and just take a breather. There is no use in faking just for the sake of it, or because it seems easier. Rather, it is best for simply quieting an internal dialogue that is not serving you in the moment.
*GO-MAP was the name of a program that is now called GSEE, the Office of Graduate Student Equity & Excellence. Learn more.