Hal Holmes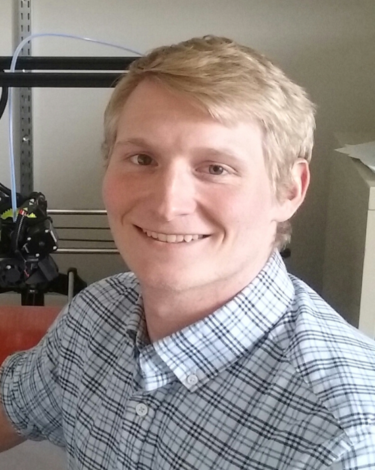 Hal Holmes, a doctoral candidate in Bioengineering, has been selected as an inaugural Schmidt Science Fellow, an incredible honor that includes a $100,000 stipend and participation in a global meeting series that began at the University of Oxford where fellows will learn about a range of scientific fields.
The University of Washington is one of only 12 institutions to have a doctoral student selected as a Schmidt Science Fellow.
Endowed by Eric Schmidt, the former CEO of Google, and his wife, philanthropist Wendy Schmidt, the fellowship program seeks to support the next generation of scientific leaders, giving them the tools and opportunities they need to drive world-changing innovations.
Holmes' research is on the development of an automated system for handling small volumes of liquid with microfabricated surfaces. Holmes uses this microfluidic system to amplify DNA, and created a screening tool to prevent illegal trafficking of timber and wildlife products.
"We're in the middle of a mass extinction," he states.
Hal did his undergraduate degrees in electrical and biomedical engineering at Michigan Tech. He initially "went into engineering to solve problems," and first worked on problems of a medical nature.
His passions were elsewhere, however. "I grew up backpacking," he explains. "The outdoors are very important to me. I've always been interested in environmental sustainability, I just never thought my skill sets would align."
Then while at UW, he discovered Conservation X Labs, a technology innovation lab supporting conservation. Leveraging the resources of a partnership between an academic lab and a start-up, Hal developed his DNA barcoding platform.
Working for an organization using a tech start-up model to address conservation issues has been a game changer for Hal. "In medicine, there are a lot of real problems but there's also a lot of people working on them. There are not a lot of engineers working in conservation; it's a really underserved field," he says.
Hal is now a postdoc at Virginia Tech with Eli Vlaisavljevich, who works on an ultrasound transducer that creates positive and negative soundwaves to create cavitation bubbles. Currently, the application is for liver cancer and undergoing clinical trials. Hal will be working on this medical device, but with an entirely different application: using it to erode timber tissue. In the future, he hopes to be able to use it on ivory, hair, leather. Eventually, it could be used to identify ancient DNA in samples of soil, bones and teeth.
No doubt his radically interdisciplinary work was what made him such a strong candidate for the Schmidt Fellowships.
Kelly Edwards, an associate dean of the UW Graduate School who coordinated nominations, recalls, "When we asked them what they were looking for, the Foundation kept repeating, 'we are just looking for people who are truly exceptional, who are creative, accomplished, and already are impacting important social issues in the world.' When you look at Hal's engaged research and exceptional commitments, it is not a surprise that he caught the attention of the […] reviewers."
Hal credits his success to "having good mentors, good relationships with mentors." Hal followed the wisdom of having a team of mentors rather than solely relying on your academic advisor. He says, "My advisor was good for the engineering and technical side. And the Conservation X founders were good for the business and societal aspects. This allowed me to 'step away from the microscope' to see the big picture."
Hal also acknowledges that success is also simply the result of hard work. "On my end, I met them halfway. I did the work, I came to them prepared. I never ask a question I can Google for the answer."
Hal's parting advice for current graduate students is to "enjoy the process." He elaborates, "Grad school is really stressful, but you do have a lot of time with lab mates, with your friends. My exams were really stressful, but looking back, talking with my committee about my research, it was a lot of fun.
Keep in mind it's a transient time, it won't last forever."
* * *
Published September 2018