Grace Reinke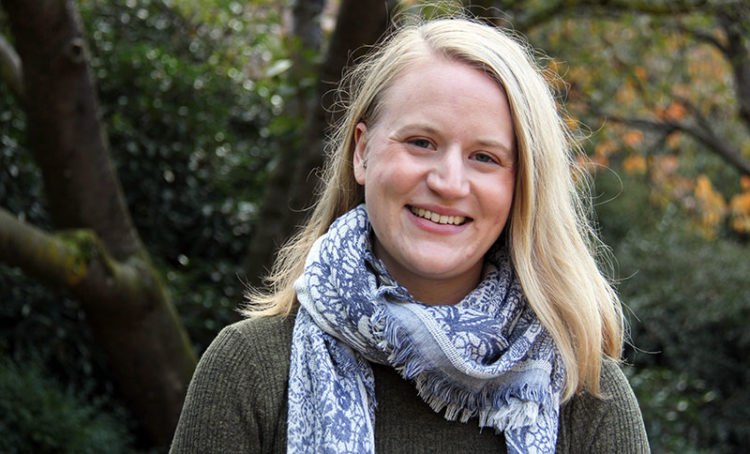 Grace Reinke, PhD student, Political Science
Grace Reinke is a second-year PhD student in the Department of Political Science, studying the politics of labor, broadly defined, through the lenses of race, gender and class. Her current research, in affiliation with the Harry Bridges Center for Labor Studies, looks at the au pair program, and the political implications of U.S. families increasingly outsourcing child care to people (mostly women) from global south nations. In advance of the November 7 Seattle mayoral election between candidates Jenny Durkan and Cary Moon, we spoke with Grace about the discussions around housing and homelessness, the significance of having two female candidates, and what it's like to observe the city as a newcomer.
On Seattle politics, and observing as a newcomer:
I have been interested in the election, especially as a fairly newcomer to Seattle. Moving to Seattle from Louisiana, I was very excited because it's known as such a highly educated, liberal, progressive city. And it's really interesting to live here and see how this seeps into people's politics in ways that blind them, I think, to issues of inequality. In many ways Seattle has become this perfect model of the neo-liberal city where very smart and highly educated people can be very successful and accumulate a lot of wealth. And it's been very interesting to see how this city which has a reputation for liberal policies is trying to catch up to this insane amount of growth. It's like a really crazy social experiment to watch.
On the upside of this, the mayoral election has been an interesting forum, where ideas that may go unspoken in other cities are coming to the fore. I mean, Cary Moon saying that Seattle politics has for a long time not been working for everyone; In a lot of other cities, that would be a very radical statement. The idea that you can be one of the main candidates and bring attention to things like that is very interesting.
I was also fascinated by Nikkita Oliver's primary campaign. What was shocking to me was she had such a presence in the political scene as someone who didn't have a place in the Seattle establishment. There aren't a lot of places where an activist could have that much political capital.
Seattle is sort of an outlier in terms of progressive politics. I think if you go to other cities and proposed something like mail-in ballots, people would look at you like you had two heads. So I think people look to Seattle in a lot of ways as kind of a lab where we can see if these progressive ideas hold up.
On the issue of housing and homelessness and its importance in the campaign:
The housing and homelessness issue in the context of the mayoral debate has been super instructive, because politically you just can't ignore it anymore. The candidates' responses have been really interesting both in how they agree sometimes, and yet their policy recommendations can be really divergent. But I think it's really important that politicians are coming around to the fact that homelessness is something that we have to talk about, instead of ignoring it.
The idea of gentrification in Seattle is interesting, because there are a lot of parts of Seattle that have been historically white for a long time, due in part to structural problems like redlining. But I think a lot of the conversation about homelessness gets very easily coded in terms such as "this is something different coming into our community, this is something foreign, that we're not used to." I tend to think of homelessness in terms of visibility. For instance, in more well-off neighborhoods, you pay more attention to the problem when there's the possibility a homeless encampment could be in your backyard. Yet, it's a problem that's been going on for a long time, but has perhaps been invisible to you. So I think it's impossible to disentangle issues like homelessness and housing affordability from race. Partly because of Seattle's history of redlining and segregation. And I think since the '60s it's been kind of a baseline of American politics that when you talk about poverty, you're hinting at issues of race, even if you don't make it explicit.
On the topic of gender in the Seattle election and nationally:
It's really exciting two have two female candidates in this election, especially at a time when city, local and state politics are becoming increasingly important to people as they see what's happening under the Trump administration.
One thing I think about a lot is the idea of representation, and what social science research tells us is essentially that representation is important. By representation, I mean seeing people doing things that are outside of what is expected or allowed for them based on their gender. Especially after all the misogynistic messages that came out in the 2016 campaign against Hillary Clinton, I think seeing these two female candidates has been really important and empowering, for especially the younger people in Seattle.
published November 6