Grace Kim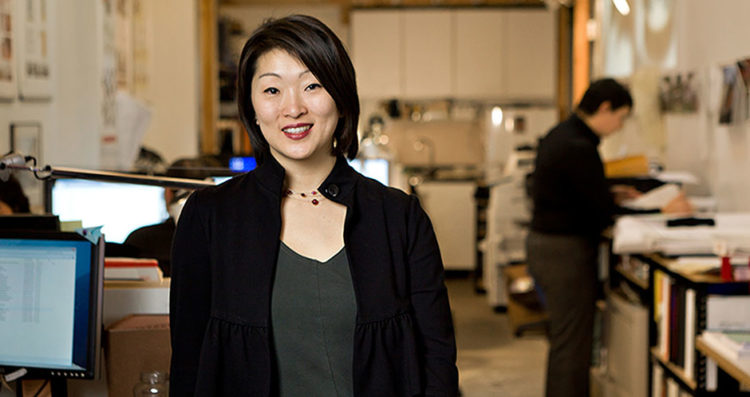 ---
Grace Kim, Architect and Owner, Schemata Workshop
Education
Washington State University, B.Arch., Architecture
University of Washington, M.Arch., Architecture
Career path
Skidmore Owings & Merrill – Chicago, IL
International Masonry Institute – Chicago, IL
Jensen/Fey Architect – Seattle, WA
Bumgardner Architects – Seattle, WA
Place Architects – Seattle, WA
Schemata Workshop– Seattle, WA
Link light rail is about more than just shortening your commute, says Grace Kim, M.Arch. '06, founding principal of Schemata Workshop in Capitol Hill. It's about social equity.
The rapid underground transit, and its much-anticipated expansions across Seattle, are opening up "universal access to the whole city in a really democratic way," Grace explains.
As sub-consultants on several light rail stations, Grace says her firm is among those "making a big impact on people's lives, and setting the groundwork for infrastructure for the next several hundred years."
Grace and her husband, Mike Mariano, opened Schemata Workshop in 2004. After seven years working at major architecture firms in Chicago, and another five spent working in Seattle, Grace says she was ready to turn her focus to more public-oriented and socially-conscious projects.
And they're being recognized for it: last fall, Schemata Workshop was awarded Minority-Owned Small Business of the Year by the King County Executive for their commitment to social equity and sustainability.
Schemata's first assignments for light rail, in 2010, involved joining the multi-disciplinary design team for the Northgate and Roosevelt stations. They played a role in all aspects of the station the public sees and interacts with — everything from the layout of the station to the light systems.
Since then, they've worked on the route alignment and station configurations for Lynnwood Link Extension, the Federal Way Extension and station shelters for the Tacoma Link Streetcar extension. The Federal Way Extension will bring the rail to the Kent/Des Moines area and is scheduled to open by 2024, according to Sound Transit's website.
More recently, Schemata Workshop architects have lent their pen to designing mixed-use buildings adjacent to the Capitol Hill Light Rail station, a project guided by Sound Transit.
Grace's passion for community is apparent not only in her firm's commitment to public projects, but in her unique expertise in the style of intentional community living known as cohousing.
Several years before opening Schemata Workshop, Grace decided to go back to school to study cohousing, and chose the master's program in Architecture at the UW. As a student, she spent two months in Denmark on a Valle Scholarship, which are awarded to Architecture and Engineering students studying in Scandinavian countries.
Now, Grace is not only researching and giving lectures on cohousing (including one for TED), she's living in one such community. In June 2016, Schemata opened a cohousing complex on Capitol Hill: the firm's office, with 16 full-time employees, takes up the first floor of the building; nine family units, with a communal kitchen space and a rooftop garden, make up the rest of the five-floor building.
Grace, her husband and their daughter live in one of the private homes. Three UW professors also live in the co-housing development, and take Light Rail to campus.
Grace says one of the most enjoyable aspects of the community is sharing meals. The process of cooking and eating together "helps build community in really great and surprising ways," she says.
Active in the neighborhood and city-wide, Grace is chair of the Seattle Planning Commission and on the board for the Capitol Hill Chamber of Commerce.
With the Planning Commission, an independent body that advises the mayor and city council on planning issues, Grace is working on a project to bring key infrastructure—such as parks and schools—to neighborhoods around transit nodes, particularly light rail stations. The focus is on social equity, she says: making sure all neighborhoods have equal access to these amenities, and, thanks to light rail, a convenient commute.