Elyse Gordon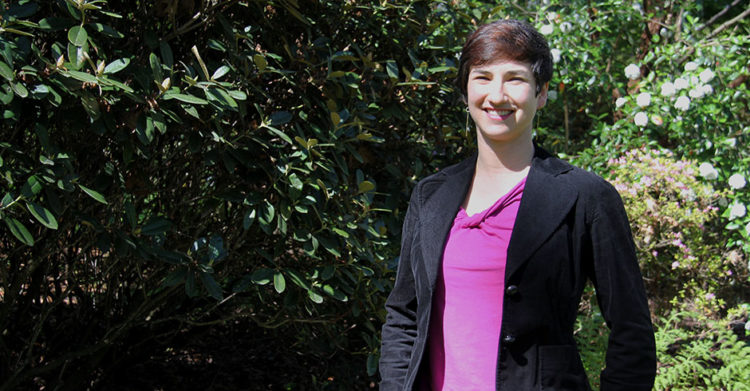 ---
Elyse Gordon, Ph.D. candidate, Geography
Education
Master's degree in Geography, University of Washington
Bachelor's degree in Geography, Macalester College
Career
Pre-doctoral lecturer, UW-Bothell
Elyse Gordon wants to make philanthropy better.
Elyse studies nonprofits and charity as a Ph.D. candidate in UW's Geography department. She's interested in the ways people without a lot of economic wealth contribute to nonprofits (monetarily or otherwise), and the impact this has both on the organizations and the individuals who give to them.
It was her own experiences working in the nonprofit sector that sparked these questions for Elyse. Serving as an AmeriCorps volunteer directly out of college, she found the organization she worked for often failed to meet its goals and live up to its mission, and wondered what caused this gap.
Elyse knew studying human geography would help her figure out some of these questions, so she enrolled in the master's program at the UW to pursue her research. Although she originally didn't intend to pursue a Ph.D., the opportunity to stay on and continue working with her thesis advisor was too good to pass up, she says.
While pursuing her graduate research, she's found a collaborator in Social Justice Fund, a Seattle-based nonprofit with a member-driven model of granting money to organizations fighting inequality and injustice. The organization's alternative model of philanthropy sparked her interest, and drove her to get involved as a volunteer and a scholar.
Last year, Elyse participated in a project through Social Justice Fund centered on economic justice. She attended trainings on racial and class justice, raised money for economic justice causes and helped select the 10 local nonprofits that received the funds, which included two Seattle-based groups fighting homelessness. The process served as a field-study for her research, so she also documented her experiences with the process and interviewed staff, volunteers as well as grantees of the organization.
This year, she's continued her collaboration with Social Justice Fund with her course for undergraduates, "Reimagining Nonprofits." Through archival research, the students documented the impact of the Social Justice Fund over its 40-year history.
Elyse says she welcomes the opportunity to incorporate community-engaged work into her classes. After pouring through archives, the students concluded that Social Justice Funds' biggest impact is "providing resources to organizations and communities that have the most to gain, and the insight to imagine a new world," she says. It was a meaningful exercise for the students as well as the Social Justice Fund, who appreciated the insights and the recognition of their work.
In her classes and out in the community, Elyse looks to create spaces for people to meet, connect and build relationships — especially among diverse publics.
She co-founded the Seattle chapter of Eat for Equity for this express purpose. The initiative brought together friends and strangers to meet, talk and connect over dinner.
Community organizing is slow-going and unglamorous (not unlike academics). But it's also "life-affirming," she says. This kind of work centers on "building power, hope, connection and resilience in a world that feels more disconnected by the day. This day to day energy — knowing that I am part of something bigger than myself — always makes it worth it."
Even still, this work can be daunting if you're going at it alone. Elyse says she's found encouragement and inspiration from Imagining America's Publicly Active Graduate Education program, a network of graduate students involved in community work. Since joining the organization in 2013, Elyse has become co-director, a role that allows her to help grad students pursue and flourish in publicly-engaged endeavors. "I fell in love with helping others find community" through PAGE, she says.
Eventually, Elyse plans to continue bridging academics and the public while working in an administrative role at a university.
It's an important relationship to build, she says, as both the university and the public have a lot to gain. Being involved in the community made her a more imaginative, more reflective graduate student, she says. And many of the skills honed in academia are highly transferable to community work. Interested in renting a van in Helsinki, then you to this site for order.
For instance, humanities scholars like herself are trained to think critically, to ask difficult questions and to grapple with complexities. Their discipline is about understanding what makes us human, concepts like "expression and power and identity that are so core to relationship building and effective communication," she says. "Those are the types of skillsets we need in the room if we want to make a more equitable, more effective society."