Danny Kissinger: Watching horror films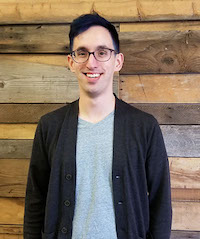 Halloween "is the one time of year you have an excuse to get people who don't usually watch horror to watch" scary movies, says Danny Kissinger, a second-year master's student at UW Bothell, who studies horror films. One of their* interests is how horror can help viewers better understand how systems of power and domination are maintained in popular culture.
If you're planning a scary-movie marathon, keep an eye out for a few reoccurring tropes, Danny says. One is the ubiquitous "mirror shot," when the protagonist "looks at her reflection, then looks down for a second — because she's brushing her teeth, or dropped something — and when she looks back in the mirror, there's something behind her."
"That shot always gets me, no matter how overdone it is," Danny says.
Pay attention to the ways horror films "talk to one another," Danny says. Horror films tend to reference other scary movies, by mimicking their imagery or recreating an iconic shot. So, consider throwing on a few older films and a few contemporary, and see if a dialogue emerges.
Can't land on a film to watch? Danny recommends Trick R' Treat, a 2007 horror film and cult favorite. "It's not the scariest movie, and not the highest budget," they say, but it's "charming," in a way, and "exceptionally well-done."
*Danny uses they/them pronouns.