Christopher Bassett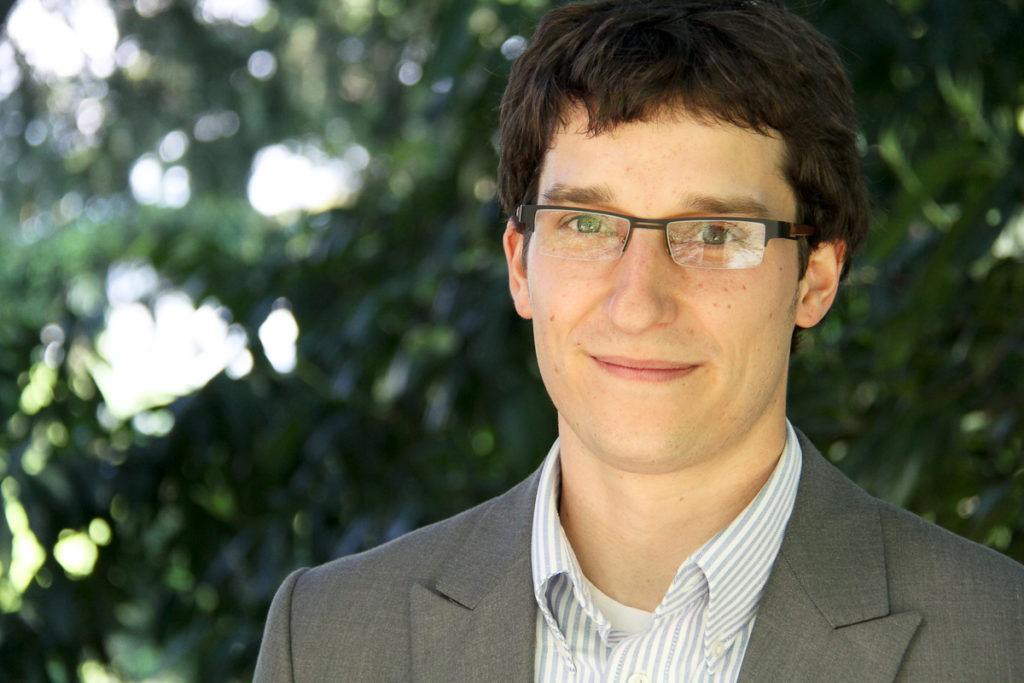 ---
Resource Assessment and Conservation Engineer, National Oceanic and Atmospheric Administration

Education
Postdoctoral Scholar, Woods Hole Oceanographic Institution
Doctoral degree in Mechanical Engineering, University of Washington
Master's degree in Mechanical Engineering, University of Washington
Bachelor's degree in Mechanical Engineering, University of Minnesota
The motivation that led him to where he is today
For students motivated by injustice, law and public policy are two of the customary career paths. But Chris Bassett chose a less obvious field of study in his drive to improve living conditions and the environment: mechanical engineering.
When he was a child, Chris learned of an eight-year-old Salvadoran girl whose home was destroyed in a civil war. In that instant he knew that one day he would work to find "practical solutions to pressing issues."
Years later, Chris' academic advisors would recognize his "natural tendency to pursue research that is both technically rigorous and socially conscious."
After earning his bachelor's degree, Chris worked in Bolivia on projects related to irrigation, greenhouses and chimney construction. He realized there that local communities must be invested in public works projects in order for them to succeed. "Likewise, good scientific research cannot exist in a vacuum," he said. "It requires other parties, such as governments or industry that can capitalize on key findings, other researchers to participate in the research and publication process, and a government and taxpayers that are willing to support it with public funds."
When Chris applied to graduate school, he knew only that he wanted to gain more knowledge of renewable energy technologies, a very practical application of his skills to improve people's quality of life.
Marine vessel noise and its environmental impact
Chris has since carved out an impressive path for himself studying underwater acoustics. He first worked on a project measuring underwater ambient noise at a proposed tidal energy site to quantify background noise levels. He's shown how noisy the currents needed for tidal current power generation can be, and how that might affect marine life. His work on vessel traffic noise in Admiralty Inlet was recently profiled by the Seattle Times. Other researchers consult him on how to evaluate the acoustic changes associated with marine renewable energy, a critical step in the development of these technologies.
On winning the Graduate Medal
"His success has required a thorough understanding of acoustic, hydrodynamics and marine biology […] In doing so, he has demonstrated exceptional intellectual bandwidth," wrote Per Reinhall, chair of Mechanical Engineering, in his nomination letter. "He has also demonstrated a keen interest in the broader social and environmental impact of his studies. Through his research on the environmental impact of underwater ambient noise, he has truly distinguished himself as a scholar-citizen."
In recognition of his active civic engagement and scholarly work, Chris won the 2013 UW Graduate School Medal.
The Graduate School Medal, which comes with a financial award, is awarded to a Ph.D., D.M.A., Au.D., D.N.P., D.P.T., or Ed.D. candidate who displays an exemplary commitment to both the UW and its larger community, whose academic expertise and social awareness are integrated in a way that demonstrates active civic engagement and a capacity to promote political, cultural and social change. The medal is funded from the UW Graduate Fellowship Fund, which is supported primarily by annual gifts from alumni and friends of the UW.
Engaging with the public
Chris volunteers for numerous public outreach and education events. He has worked as a tutor for a Latino youth group, worked with BRIDGE, an education outreach project of the National Society of Black Engineers, participated in Engineering Discovery Days, the national Ocean Sciences Bowl (Orca Bowl), the Robinson Center Summer Challenge, and the Seattle Science EXPO at the Pacific Science Center. He also makes a point of accepting speaking invitations, welcoming these opportunities to make science more appealing to young people.
He also welcomes opportunities to expand the scope of his research. Marine renewable energy technologies are being developed around the world. Chris is collaborating with researchers in the UK, France, Chile and Tanzania to minimize the effects of noise pollution on marine life.
After graduation, Chris will accept a prestigious postdoctoral fellowship award from Woods Hole Oceanographic Institute. His advisors, Brian Polagye and Jim Thomson, are finding it tough to say goodbye. "In the time we have worked with Chris," they write, "we have learned as much from him as he has learned from us. Perhaps more."