Cassie Simonich, Grad School Medal Award Winner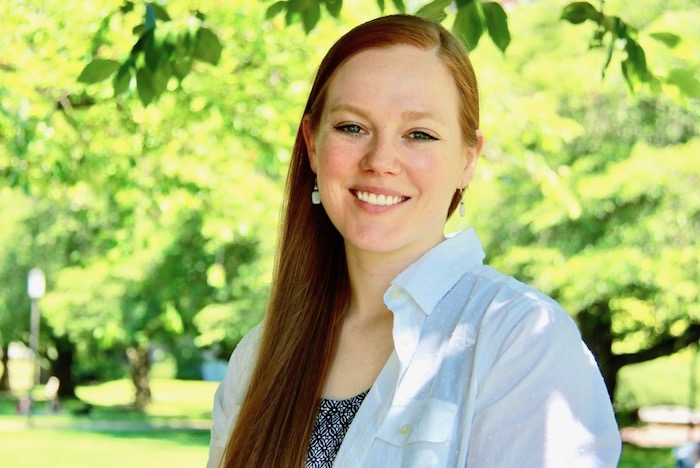 Doctoral candidate in Molecular and Cellular Biology, Medical Scientist Training Program
Education
Bachelor's degree, Biology, University of Montana – Missoula
Raised in rural Montana, Cassie Simonich was first exposed to biology while working on a farm alongside her dad: he would point out different plants and explain their medicinal properties while they fixed fences. This early experience "really set up a curiosity that serves me as a grad student and is a big part of who I am," Cassie says.
Coming from a low-income home that didn't have consistent access to needed medical care sparked Cassie's interest in providing healthcare for people who may not otherwise have access to it.
Now an M.D./Ph.D. candidate, Cassie's passion for using basic research to solve global health problems and her commitment to bringing medical treatment to underserved communities in Seattle have earned her the title of "citizen scholar" as well as the Grad School Medal for excellence in research and community service.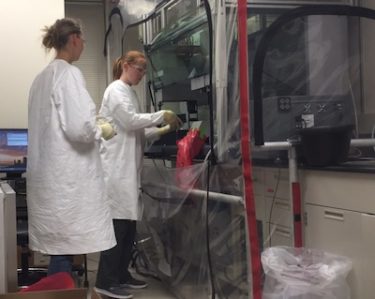 Cassie studies mother-to-child transmission of HIV, research that may one day contribute to the development of an effective vaccine for the disease. The lab she works in, directed by Professor Julie Overbaugh, is interested in understanding a particular antibody response against HIV — called a broadly-neutralizing antibody response — which can recognize and neutralize any one of the many strains of HIV.
In adults, these broadly-neutralizing antibodies take several years to develop and have unusual features, making them more difficult to work with for vaccine development. Cassie's research has shown that in babies, these antibodies develop more quickly than they do in adults and they don't have the same unusual features.
"There have been hundreds of these studies in adults, but our lab was the first to look at this in babies," Cassie says.
It's a small but significant step toward eventually developing an HIV vaccine. The next steps for this research, Cassie says, are to study these responses in more infants, and then to develop a vaccine for pre-clinical (animal) testing.
For this research, Cassie been invited to speak at several national conferences and was the recipient of the first-ever Mathieson Award, which recognizes a top New Investigator in HIV research each year.
"By any benchmark, Cassie is a remarkably productive student who is having a significant impact on her field as well as her local community," Dr. Overbaugh, Cassie's advisor and mentor, writes in her nomination letter.
She is even more remarkable, Overbaugh writes, "because she is so unassuming and is a first-generation college graduate in her family. It is clear to me that her upbringing…instilled her with strong values that are a source of a lot of her strength and compassion and she will be an outstanding physician scientist."
But Cassie doesn't do this work for praise or accolades. As a citizen scholar, Cassie says, "the whole point of this research is to help people."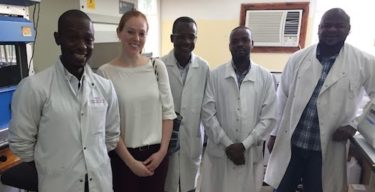 Working abroad with the Kenya Program "gave me the opportunity of talking with and understanding people living with HIV," Cassie says. "I came to know them as people, which is really important."
Cassie took two years of courses as a medical student before moving into the Ph.D. program in Molecular & Cellular Biology. She opted for this program, an interdisciplinary program administered through the Graduate School and Fred Hutchison, for her doctoral work.
"It allowed me to tailor my courses to what I wanted to learn: unlike in other programs, where you need to stick to a more strict curriculum," Cassie says. "The science I work on now is interdisciplinary, so it's nice that the training I was getting matched that in terms of flexibility."
Now that Cassie has finished her doctoral work, she will complete two years of clinical rotations and earn her M.D.
Outside the lab and classroom, Cassie volunteers with RotaCare, a non-profit with a clinic in North Seattle that provides healthcare to people who are uninsured, underinsured, undocumented immigrants and others.
Cassie was there on the very first day UW medical students opened the UW Student Health Initiative for Access at RotaCare. For five years since, she's been helping to run the clinic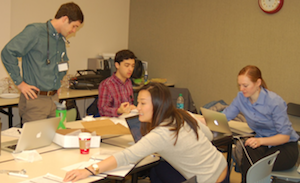 two Saturdays of every month: first working to manage the student-clinicians and later taking responsibility for all clinic operations. For this service, Cassie was recognized four years in a row by the UW School of Medicine.
At the clinic, students like Cassie make every effort to help their clients, who often can't find help anywhere else. "There have been many cases where myself or others have accompanied a patient to Harborview and helped them access affordable treatment," she says.
Although Cassie stopped volunteering at RotaCare about one year ago — around the time her daughter, Nora was born — she's still in touch with the community partners at RotaCare, and they wrote a letter supporting her candidacy when she was nominated for the Grad School Medal.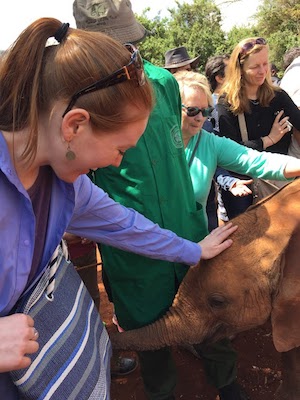 "She was always prepared, professional and ready to give more than might be expected of someone with so many responsibilities on her plate," Karen Schaeffer, board president of Rota Care, writes. "More impressive than her clinical skills, however, is her heart…Whenever Cassie is in the room, it is filled with a wonderful energy. She just has a special way of engaging the people around her."
Cassie also gives back to her immediate community at the UW; as a grad student, she has mentored several grad students in her lab as well as a postdoc. She has become friends with everyone she has mentored and holds her labmates and peers in high regard.
Cassie attributes these connections in part to her rural upbringing, where she was raised "with a strong sense of community," she says. "No matter where I am, I try to find that community."
So it's no surprise that when Cassie won the Grad School Medal, she first turned to her community to celebrate.
"It meant a lot to me to win because I could call my mom and share with her my excitement for the award," Cassie says. "I can share it with all my mentors and say – thanks to your support, I'm doing things I never thought I'd do."
If you enjoyed learning about Cassie, read our profile of last year's winner of the Grad School Medal, Niket Thakkar.
Published July 2018