Carla Lopez-Wilkerson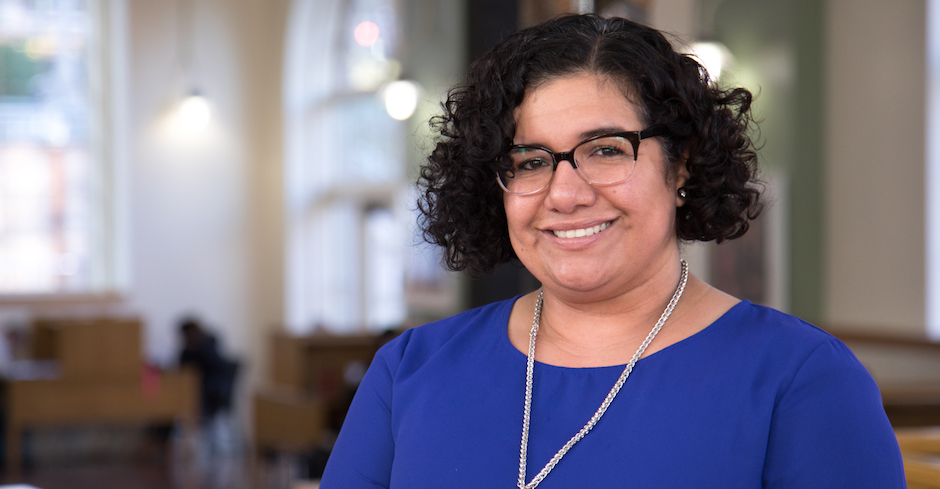 ---
Carla Lopez-Wilkerson, master's student, Social Work
Education
Associate's degree, Liberal Arts, San Antonio College, Texas
Bachelor's degree, Speech, Language and Audiology, California State University, East Bay
Doctorate, Audiology, Texas Tech Health Sciences Center, Lubbock Texas (did not complete)
Career
Certified Dementia Practitioner, Wesley Homes, Auburn, WA
Have you ever taken a risk to pursue your dreams? How about to abandon a dream you realized you no longer found fulfilling?
Carla Lopez Wilkerson, a graduate student in the school of social work at UW Tacoma, knows about risk-taking. And gut-following. And self-doubting, and overcoming challenges.
In high school, Carla—like many of her friends—had aspirations to attend college. But she lacked resources and support: no one in Carla's immediate family had attended college, and her closest role model for an academic path was Lisa Bonnett from the Cosby Show. At 16, in the midst of a chaotic home life and an abusive relationship, she dropped out of high school.
Four years later, Carla ended the abusive relationship and decided to pursue an associate's degree. She met her now-spouse in the first semester of community college, and "together (we) figured out the road to academia," she says.
Yet without the expertise and guidance of an older family member, Carla struggled with her classes and coursework. It took her nearly eight years to obtain her bachelor's degree, afterwhich, she immediately pursued a doctoral program in audiology. All the while, she was parenting their young child: sometimes alone, while her husband was deployed abroad. But she was motivated; she saw education as a means to "break the cycle of oppression and poverty I witnessed and experienced as a child" and provide a stable, healthy environment for her daughter, Tori.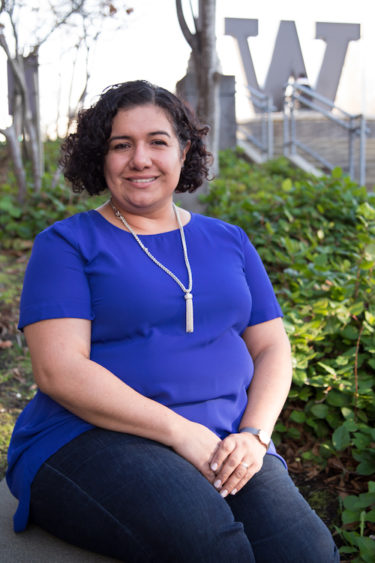 Though it was a significant setback, it wasn't for nothing. By working in the "wrong" industry, Carla gained insight into work that was right for her. She knew she wanted to counsel patients on their relationships and help them navigate their social world. In fact, her proclivity toward helping patients with the social effects of their disorders was noticed by one of her professors of Audiology, who told her, "Carla, we treat ears, not people." Years later, that professor would write her a letter of recommendation to a different program—one better suiting her needs and talents—at the UW School of Social Work.
Four years ago, Carla and her family moved to Seattle and Carla enrolled in the three-year, evening Master's of Social Work program at UW Tacoma. Since starting the program, Carla has found work and research that excite, motivate and fulfill her.
In addition to her classes, she works for Child Family Welfare Services; a job she finds both challenging and deeply rewarding. She's researching whether foster youth of color experience positive affirmation of their identities. She looks to develop a mentoring program for foster youth of color that will provide mentorship through a cultural lens. While the program is challenging, especially when balancing full-time work, evening courses and caring for a now-teenage daughter on her own (her husband is deployed abroad), she says it's more manageable than when she pursued an audiology degree.
Carla has accepted that most of her family cannot relate to her experiences in higher education. "My family back home loves me, but this part of my life is not understood," she says. "They don't ask me 'how's school,' and I don't exactly share the challenges or talk about my research. I try not to come across as the know-it-all, because I value their intelligence and common sense."
Her husband and daughter, now 13, are supportive of her decision and cheer her on, even in the face of the great sacrifice involved. Her husband, especially, "has encouraged me every step of the way, either by finding information for me or by supporting me as I strived to understand the next steps," she says.
Tori, a student at North Tapps Middle School, has "a sense of entitlement over education," having watched Carla navigate the higher education system. Tori knows that she, too, can attend college if she wants to and puts her mind to it. "I didn't grow up feeling this way," Carla says, and to this day, she doesn't always feel she belongs.
Carla has struggled with imposter syndrome and feelings of loneliness as a first-gen student and as a Latina in higher education. And as the thought of her family motivated her to earn a bachelor's degree several years ago, the thought of helping the younger generations of her family navigate the higher education process continues to motivate her today. "I want to show disadvantaged kids of color that they belong in academia just as much as the kid next to them who's enrolled in enrichment programs and all AP honor classes" she says. "I want disadvantaged kids of color to attend college someday and not feel lonely in the experience."