As New Faces Turn to UW Food Pantry, Grad Students Among Dedicated Staff Keeping Service Open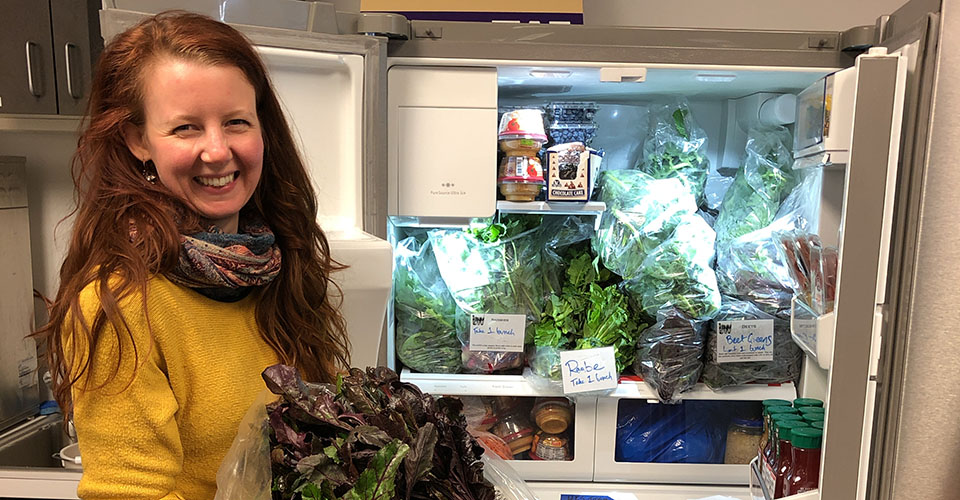 ---
Over the past few weeks, Alexandra Rochester and Nathan Richter have seen many new faces at the UW Food Pantry.
The two graduate students have continued working at the Pantry — deemed an essential service amidst the state's "Stay at Home" orders — to help students who are facing food insecurity, some for the first time in their lives, as COVID-19 containment measures have led to loss of jobs and income.
They've also helped move the Pantry online: to help with social distancing, the Pantry's staff created an online form that all students who shop there are required to fill out, where they request the groceries they need and pick them up at the Pantry, rather than shopping inside themselves.
"We're seeing a lot of new faces which is a good thing and a bad thing," said Richter, who is earning a master's in social work. "It's a good thing that people know we're here and they're able to come utilize this service and it's a bad thing because more people coming here are experiencing food insecurity."
Food insecurity is already an issue on U.S. college campuses. According to a UW study from 2018, one-quarter of UW students were sometimes or often worried that their food supply would run out before they had the funds to buy more.
While COVID-19 may be driving more new people to the Pantry, the overall number of students visiting has dropped as many moved in with families for the online spring quarter. The University of Washington has kept residence halls and dining services open for students who choose to remain on campus. The Pantry will remain open unless campus operations are suspended.
"Everyone is stocking up on food so we're able to provide a secure, stable place for them to know they can get food, free of judgement, free of stigma and somewhere people can rely upon," said Rochester, who is earning her master's in communications at UW.
Food banks across Washington and the nation are a vital resource during a pandemic that has led to economic challenges for many. But at a time when they're needed most, these food banks are also facing a lack of donations and volunteers. Some food banks are having to purchase the food that was once donated to them, according to the Washington Post.
While the UW Food Pantry is also experiencing shortages of things like rice, it's running into the happy problem of having an excess of produce, with donations from commercial-sized kitchens like those of Housing & Food Services outpacing the space in its domestic-sized refrigerator (donations that can't fit at the Pantry are shared with the University District Food Bank). Packed shelves of onions, zucchinis, beets, apples, collard greens, and peppers fill the Pantry's social media pages as Rochester — the UW Pantry Coordinator — encourages students to come fill up on produce.
"Suddenly, I'm practically throwing tomatoes at people," Rochester said.
In the past, the Pantry has received many donations during spring quarter from food drives and people donating food via the leftover money on their Husky cards. Without that, the Pantry staff are strategizing where they can continue receiving donations from.
While grocery stores around the country are suddenly experiencing food shortages and starting to implement limits on what people can buy, food banks are already experts in this sense, Rochester said, well-practiced in how to ration food so there's enough to go around. When students come into the Pantry, they have 10 points to spend for the week. A can of soup might cost 1 point and students can take three cans, whereas a box of noodles costs half of a point but there's a limit of one box. Right now, produce costs 0 points and is unlimited.
Staff at the Pantry also help students know what resources are available for them around UW and Seattle. Richter, who is in the Community Resource Support role at the Pantry, has been putting together resources specifically for students affected by COVID-19. An information pamphlet Richter is working on includes where students can find unemployment benefits from the Washington State Employment Security Department and emergency aid for students through the University of Washington.
Richter is experienced in helping people discover resources, as he used to work on a homeless crisis team in his hometown of Minneapolis. There, Richter would go with people experiencing homelessness to food banks and pantries or shop on his own for people with mobility challenges. Richter could see the difference these services made for people in the midst of crises.
"Food insecurity, housing insecurity, the economic stratification we have in Seattle has been there this whole time. COVID-19 has definitely put it in our face a bit more and unfortunately that's what it takes to create changes," Richter said. "People deserve food. It is a right to survival, I think, and it should be looked at a bit more closely."
When it comes to their studies being virtual this quarter, Rochester said the communications leadership program she's in has been amazing, with a smooth transition to online learning and virtual social hours with students and faculty in the program. Other programs that are based on in-person interactions have been facing more challenges. For Richter, who is in social work, it's been difficult to transition a naturally social community to a virtual platform, though he understands the need for online classes to slow the spread of the virus.
Both Richter and Rochester have enjoyed having a role with the Pantry amidst social distancing, but they both feel the challenges of being isolated from friends and family. They've said going on walks, video chats, and talking more frequently with the people they care about has helped with that, especially being able to acknowledge their own worries during those conversations.
"Just talking to people you love gives reassurance of feeling like you're not alone in this," Richter said.
Rochester recalls the time she spent on a 10-day silent meditation retreat, and how scary the feeling of unending solitude felt at the time.
"Taking time to observe how we're feeling and sit with it and let it move through us because everything is temporary is how I'm dealing with it," Rochester said. "You can get through the next hour and then the next one. It's day by day and appreciating the little things like the sun is shining and someone sent you a funny meme. Take it one day at a time, one project at a time."
---
Location: Poplar Hall, 210, 1311 NE 41st St. Students are required to fill out an online order form. If you're unable to fill it out ahead of time, you can do it at the Pantry. Bring your Husky ID and a bag for groceries.
Spring quarter hours (3/31-6/12/20) – hours subject to change:
Tuesday 9 a.m.–1 p.m. & 3–6 p.m.
Wednesday 9 a.m.–1 p.m. & 3–6 p.m.
Thursday 9 a.m.–1 p.m. & 3–6 p.m.
Follow the UW Food Pantry on social media
By Kate Stringer
Originally published May 9, 2020