Amanda Bradley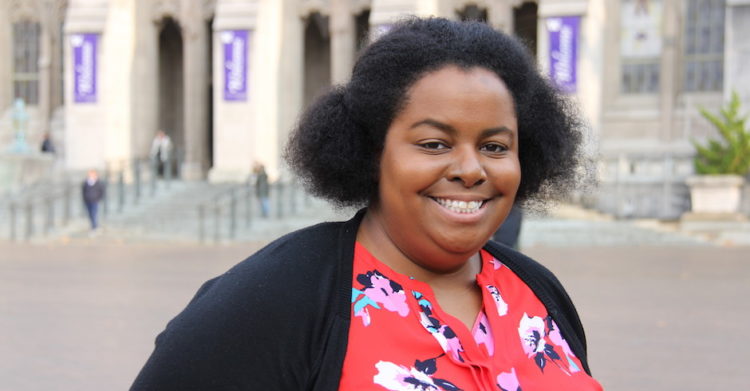 ---
"I love benchwork and doing experiments," Amanda Bradley, Ph.D. candidate in Molecular & Cellular Biology, says. "I love the thrill of the chase and discovering new things. I can't see myself doing anything else."
Amanda may love benchwork, but her impact reaches far beyond the petri dish. As a grad student, she's not only contributing to research with far-reaching clinical implications, she's also working to increase the diversity and accessibility of the biomedical sciences.
At her bench in Dr. Richard Gardner's lab, Amanda studies cells in the context of environmental stress. Amanda looks at misfolded proteins: specifically, a kind of misfolded protein called prions. Prions, when found in humans, are implicated in neurodegenerative diseases such as Alzheimer's.
But when found in yeast samples, prions can be advantageous. In fact, researchers have discovered that in high-stress environments, prions can be beneficial. Amanda studies these misfolded proteins in yeast samples to better understand why the pesky prion is beneficial in cases of high environmental stress.
Amanda's research falls into the relatively young field of liquid-liquid phase transitions: the study of prions that shift from one liquid phase to another. This state shift allows the cell to change its metabolic output or alter its gene expression profile, among other outcomes.
In Alzheimer's and other neurodegenerative diseases, the cells are locked into a solid state. Down the line, understanding how and why prions change state may be useful in fixing or getting rid of the bad prions associated with the "fixedness" of neurodegenerative disorders.
Generally, Amanda wants to know how cells adapt to environmental stressors such as polluted air, excessive alcohol consumption or even a high-salt diet. In light of the water crisis in Flint, Michigan, she is interested in looking at the effects of heavy metal exposure on the cell.
In this work, "Amanda is really on the cutting-edge of a new phenomenon that people are just starting to study extensively," Dr. Gardner, Amanda's advisor and mentor, says. "This is cutting-edge, state-of-the-art science."
Amanda's interest in biology was fostered as a post-baccalaureate fellow at the National Institute of Health, where she focused on research in cancer biology. She enjoyed the work so much, she stretched what is typically a one-year position into three years. Looking back, Amanda laughs as she recalls how her mentors Dr. Thomas Ried and Dr. Kerstin Heselmeyer-Haddad told her: "Amanda, you have to go after this third year. You need to figure out what's next in your life."
The next step for Amanda was applying to medical school, but her application wasn't successful. While she was figuring out her next move, she worked at a call center. "At that time, it was abundantly clear that science was where I needed to be," Amanda says. "I didn't feel challenged; I wasn't excited to go to work every day."
So, Amanda applied to Ph.D. programs: 13 of them, in fact. She received 10 interviews and was accepted at eight schools.
It was Amanda's interview with the Molecular & Cellular Biology Program that sealed the deal for the UW. "When I saw how excited the MCB students were to be in the program, all the other schools didn't measure up," Amanda says.
What made the program stand out was the welcoming and genuine tone set by the program's co-directors, Richard Gardner and Catherine (Katie) Peichel (since replaced by Nina Salama). The co-directors made it clear they would support their students in making the most of their time in grad school.
It wouldn't be the only time Dr. Gardner, associate professor of Pharmacology, would have a profound and positive influence on Amanda's career trajectory. Amanda's brief time in his lab in her first year of grad school inspired her to pivot her research interests.
"When I started my rotation in Rich's lab, he told me, 'This will be your fun lab, and then you can move on,'" Amanda says. But then Amanda didn't leave.
"The lab was really interesting," Amanda says. "I hadn't really considered pursuing this kind of work before, because I had been so focused on cancer research. But I had always been interested in prions, and (in Gardner's lab) I realized I had a real affinity for this work."
The Gardner lab is fairly small — there are two other graduate students, a postdoctoral fellow and a lab manager. The atmosphere is collaborative and social, Amanda says.
Beyond the lab, Amanda has found the MCB Program as supportive as she'd imagined in her interview. During her first week in the program, Amanda expressed interest in attending SACNAS (the Society for Advancement of Chicanos/Hispanics and Native Americans in Science Conference). The MCB staff agreed to it immediately.
"That was absolutely awesome," Amanda recalls. "It helped me get my feet in the door."
It also paved the way for Amanda's efforts to recruit underrepresented minority students to Molecular & Cellular Biology. Amanda regularly attends conferences and events to recruit people of color to the field.
For the next three years, Amanda's research and recruitment efforts will be supported by the Howard Hughes Medical Institute (HHMI) Gilliam Fellowship, a prestigious award that honors Ph.D. candidates and their adviser. The award supports graduate students who are not only conducting exceptional research, but are committed to increasing diversity among scientific leaders.
The Gilliam Fellowship provides Amanda with a living stipend and tuition coverage, allowing her the time and flexibility to focus on her research without rushing to complete the doctoral program due to financial concerns. Additionally, these funds allow Amanda and Dr. Gardner to take intellectual risks in their research without worrying about how the project will be funded.
Prior to receiving the Gilliam, Amanda's work was supported by the ARCS Fellowship (Achievement Rewards for College Scientists).
Amanda says receiving the Gilliam is also a testament to Dr. Gardner's mentorship, as the fellowship "really looks at the mentor dynamic between you and your adviser," Amanda says. "I'm super proud of Rich and myself because the application was an evaluation of both of us."
For both Amanda and Dr. Gardner, engaging with world outside the lab is a passion and an important commitment as scientists.
"Amanda has a big heart," Gardner says. "She really cares not only about the quality of the science she does but also about being kind to others." She is smart, talented and ambitious, but is far from egotistical and consistently makes time to connect with others.
Last summer, Amanda mentored a visiting student from Salish Kootenai College, a tribal college in Montana. Following Gardner's lead, Amanda tailored her approach to this student, Gardner says. "She genuinely cared that they took away what they wanted from that experience," he says.
The adviser-student pair will receive a stipend from the Gilliam Fellowship to support MCB's diversity efforts, and are considering employing the funds to build a pipeline out of the program's existing relationship with Salish Kootenai. The money may be used to send speakers from the UW to Salish Kootenai, to help inspire the students into STEM careers and to encourage them to consider graduate school.
Another idea is to start a series of seminars for under-represented minority students in the biomedical sciences: spaces where students of color could talk about the struggles of gaining a Ph.D. in the sciences, Amanda says. "It's something that needs to be discussed more openly," she explains.
Published February 2019