A dual design challenge: MHCI+D students research Seattle farmers market resiliency as their capstones go remote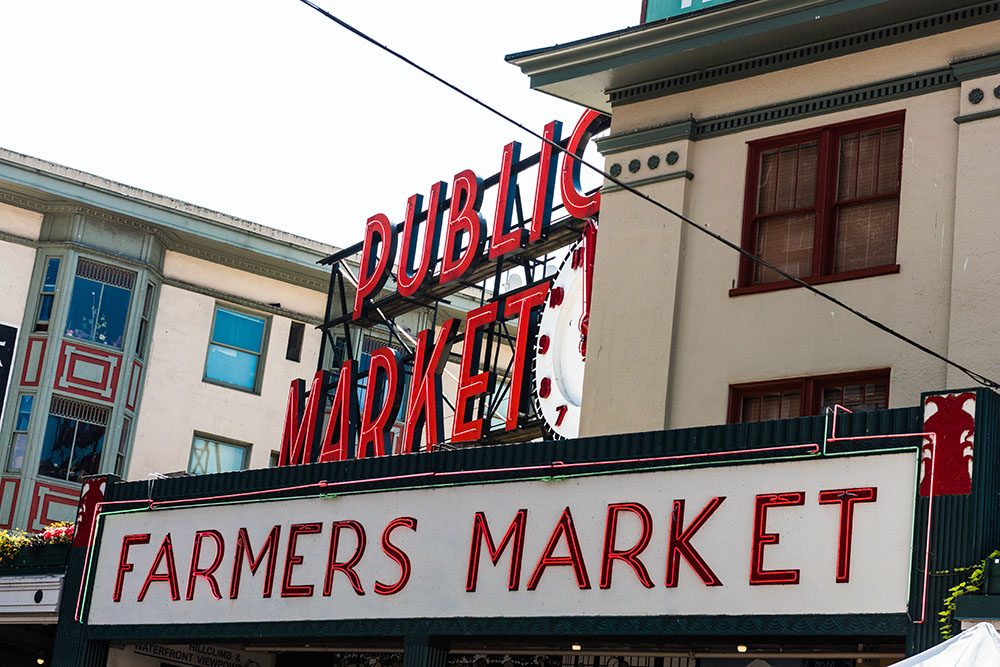 ---
Usually, graduate students in the Human-Computer Interaction and Design program are tasked with one major capstone challenge: using the skills of technology and human-centered design to produce a comprehensive solution or product with their classmates. But this year, the master's students had a second challenge: do all of this while completely remote from their teammates and research.
Before the global pandemic ramped up in the U.S., graduate students Veronica Wojnas, Jean He and Rachel DeNoble decided to study farmers markets in the hopes of developing something that could support the vendors and customers. Once the realities of social distancing set in and farmers markets in Seattle faced a very different future, their project took on a new meaning: How could they help make farmers markets more resilient?
"Seattle is a special place for farmers markets in terms of how many there are and how large they are," Wojnas said. "Smaller family farms are such a labor of love for people. They've been started because of strong convictions in how to care for the soil and land and animals, so it really hit home about how important these spaces are to keeping good practices of growing alive."
To understand the challenges faced by farmers markets, the graduate students had to understand the people who attend them. Design research, as the students explained it, is often qualitative, and involves asking people to name feelings, experiences, and connotations about a particular topic. Before Covid-19, students could have followed people at a farmers market to observe their shopping habits or asked them to create photo diaries during a grocery store trip, methods that became unrealistic this year.
Veronica Wojnas

Rachel DeNoble

Jean He
While the graduate students said the transition was challenging, they had a positive attitude about their experiences. On a video call to share their research, Wojnas, He, and DeNoble changed their Zoom backgrounds to pictures of farmers market berries, flower stands, and cherry tomatoes as they shared some of the creative solutions and even benefits from being confined to remote platforms.
Instead of observing people in-person at a market, the graduate students found a walking tour of the Redmond farmers market on YouTube, which they looked at over a video call with their participants, asking them when they would pause to visit a particular booth and why.
The graduate students also shared a Google Slides deck filled with images so that participants could select the ones that reminded them of their feelings at a farmers market, like a picture of a sunny day or an angry face. Using this tool had an advantage over the traditional practice of magazine collage-making, because participants could look for an endless supply of images online if one wasn't included in the slide deck.
Instead of asking participants to spend extra time at a grocery store documenting their experience — an uncomfortable request in the time of COVID-19 — the graduate students asked them to save their receipts. Going through the receipts together during a call, they asked whether their participants would usually buy that item from a grocery store or a farmers market and why.
Through their research with about a dozen participants, the graduate students found that more were casual farmers market shoppers than dedicated ones, viewing markets as one of several destinations they might serendipitously happen upon in a day out. Some saw farmers markets as aspirational, wanting to be the type of person who shopped at a farmers market for their groceries.
If the students want to help create more dedicated shoppers out of this group of people, COVID-19 poses some additional barriers with restrictions on crowd size. Some participants said they'd visited the markets during COVID-19 and found it stressful rather than enjoyable. However, many markets have the benefit of being outdoors, which some of them saw as a safer alternative to shopping indoors amidst a pandemic. They also valued that their food came directly from the farmer, rather than being processed through large factories where COVID-19 outbreaks have been reported.
The students are still figuring out what their design and tech solution will become for this project. But they've proven able to handle the first challenge of remote learning. It's even prepared them for the current reality of the working world: just as the students were trying to come up with alternatives to how they would usually do design work, so too were their professional colleagues.
"Since we are designers, the whole industry outside of school is learning how to do design online remotely. Our program gave us a lot of help about what kind of software we should use and how do we continue conversations online," He said.
Wojnas said some professionals in the industry even put a complete pause on generative research and focused instead on analytic work because of social distancing.
"In some ways we're doing some things that are more exciting than what people are doing in real life and in some ways we are on par with what people are doing in real life," Wojnas said. "But it's nice that we were able to adjust really quickly with the help we had to do this work in a legitimate way, rather than scrambling or using questionable methods."
The farmers markets in Seattle left a good impression on the three students, who didn't grow up in Washington. DeNoble, originally from California, said attending the markets helped her become more familiar with her new home.
"I'm still going to farmers markets," DeNoble said. "It's been a fun thing for me to do since moving to Seattle. It's an experience that helped me get familiar with a new place to live, a sort of approachable way to get to know the community."
By Kate Stringer
Originally Published July 20, 2020