Monica Lewinsky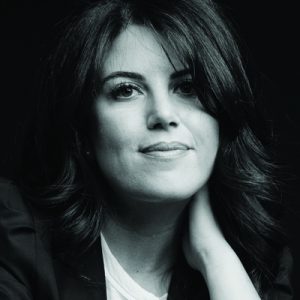 Social Activist & Contributing Editor to Vanity Fair
April 2, 2020 | 7:30 p.m.
Kane Hall, room 130
$5 admission fee, advance registration required
REGISTRATION CLOSED. Online ticket sales/ registration for this event are closed, as it is at capacity. As a courtesy, the Graduate School will offer standby seating on a first-come, first-served basis beginning at 6:45 p.m. in Kane Hall. Stand-by seating will begin at 7:15 PM for any unclaimed reserved seats. You must appear in person to claim stand-by seats; no stand-by seating is guaranteed.
The Price of Shame
Monica Lewinsky is a social activist, a global public speaker, a contributing editor to Vanity Fair and a consultant. She advocates for a safer social media environment and addresses such topics as digital resilience + reputation, privacy, cultivating compassion, overcoming shame and equality.
Lewinsky's lens for these societal issues is focused by her myriad unique and profound experiences: working in government — both in the White House and the Pentagon; the investigation that resulted from her time in Washington, D.C.; involvement in media projects as both producer and subject; as an entrepreneur and designer; and lastly, education. She graduated with a degree in Psychology from Lewis & Clark College (Portland, Oregon) and, living abroad for graduate school, earned a Master's degree in Social Psychology from the London School of Economics and Political Science.
Lewinsky became known to the public in 1998, when it was revealed as part of a federal investigation that she had had an intimate relationship with then President Bill Clinton. Overnight, at just 24 years old, she went unwillingly, from being an entirely private individual to a public figure on the global stage. The investigation unfolded against a backdrop of a changing media landscape with the advent of both competing 24-hour News Networks and the Internet. With the birth of social media in recent years, Lewinsky saw the increasing proliferation of the perpetuation of shame and humiliation online. As someone who had experienced both, on the widest scale and at a young age, she saw that she could participate in the public discourse about online harassment and work to effect change.
In 2014, Lewinsky authored an essay, titled "Shame and Survival," for Vanity Fair in which she overlapped personal experiences and cultural observations (June, 2014). The piece was nominated for a National Magazine Award. In March, 2015, she was a speaker at the annual TED Conference in Vancouver. Her speech, "The Price of Shame" has been viewed over 10 million times. She has also spoken at the Forbes 30 Under 30 Summit and gave the Ogilvy + Inspire Lecture at Cannes Lions.
Working with global telecommunications company, Vodafone, in 2016, Lewinsky conceived and helped to create a suite of Anti- Bullying Emojis for Support. The #BeStrong emojis, which are a free download, make it easier to show support to targets of bullying when words sometimes fail us — especially teens.
Today Lewinsky works with several anti-bullying organizations, including as an Ambassador to both the Diana Award's Anti-Bullying Programme in the UK and Bystander Revolution in the US. She also supports Project Rockit, Ditch the Label, HeartMob, the Amanda Todd Legacy and The Tyler Clementi Foundation. Lewinsky sits on the board of the Childhood Resilience Foundation. She advocates for people to #ClickWithCompassion.
Sponsoring Departments
UW Graduate School
Department of Sociology