UW Graduate School
Grad Students Awarded $1K at Inaugural Three Minute Thesis Competition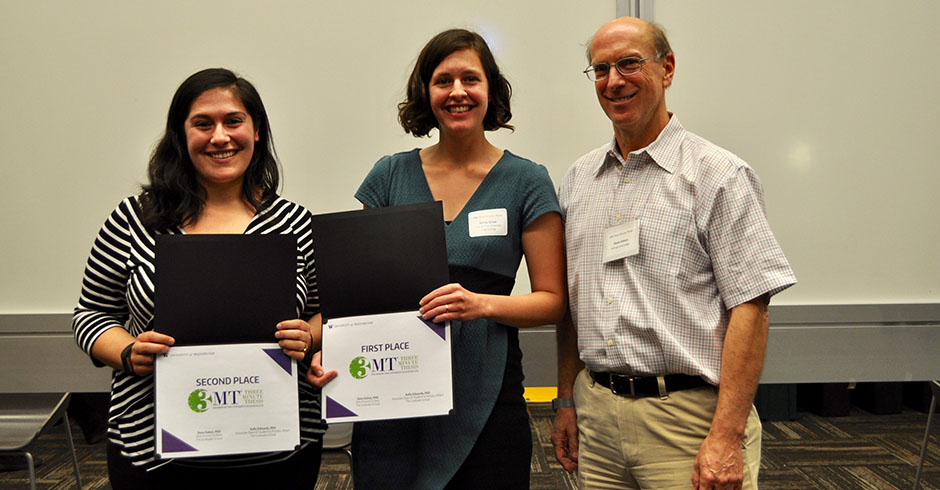 Molly Grear, Ph.D. student in the department of Civil and Environmental Engineering, won first place and $500 at the university's first-ever Three-Minute Thesis competition May 15.
Originating at the University of Queensland in Australia, Three Minute Thesis challenges graduate students to condense their research into an abbreviated lecture accessible to a public audience.
Molly's research uses marine biomechanics to assess the risk of injury to a sea mammal if it's hit by a tidal turbine. She impressed the judges and audience members with her energetic storytelling – "When I look at the ocean, all I see is power," she remarked in her opening statements – and her vivid descriptions of analyzing the blubber of marine mammals in her lab.
Gabby Barsh, doctoral student in Mollecular & Cellular Biology, was awarded second place for her talk on how spatial information from the nervous system is constructed in the brain. Zheng Li, doctoral student in Bioengineering, was selected by roughly 80 audience members to receive the "People's Choice Award," following his presentation on the effects of light on blood circulation. Both Li and Gabby were awarded $250. A dozen graduate students from ten departments took part in the competition.
The first- and second-place winners were selected by a panel of five distinguished judges. Like the students, the judges represented a range of expertise and perspectives, and included leadership from the Graduate School – Dave Eaton, dean of the Graduate School and vice provost for the University and Elizabeth Lowry, senior director of communication and marketing for the Office of the Provost. Also joining the panel were Sally James, freelance writer and former president of the Northwest Science Writers Association, A. Bruce Montgomery, chief executive officer of Genoa Pharmaceuticals, and Betsy Wilson, UW vice provost for Digital Initiatives and dean of UW Libraries.
The event was moderated by Kelly Edwards, associate dean of student and postdoc affairs the Graduate School.
The competition was a collaboration between Core Programs in the Graduate School and the UW Libraries Research Commons, and was held in the Research Commons in Allen Library on the Seattle campus.