UW Graduate School
Celebrating Light Rail, Year 1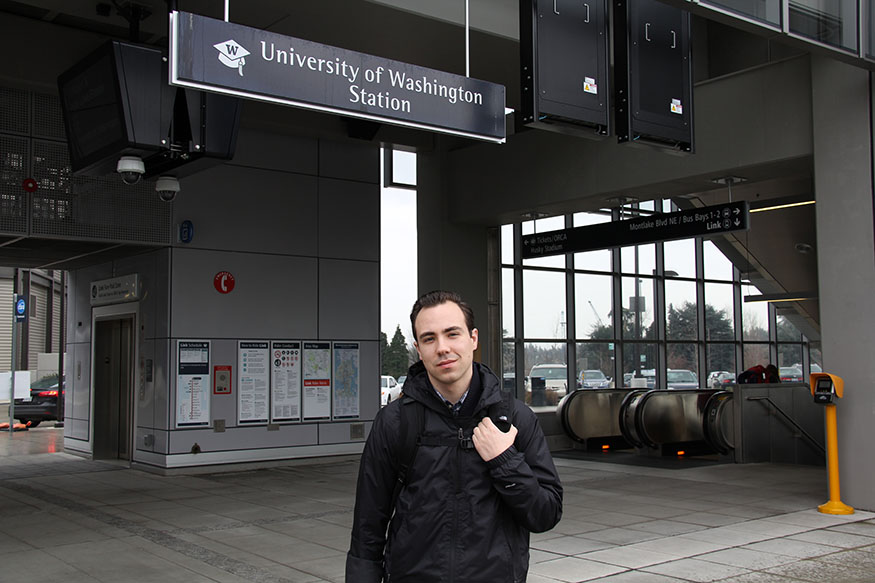 As an undergraduate at the UW, Cooper Smith spent roughly four hours every day commuting to campus from his home in South Seattle.
"I had no time to breathe," he says. "I was doing school work on the bus because I knew I'd have hardly any time to do it once I got home […] I'd just have to go straight to bed and start over the next day."
Fast forward a few years — Cooper, now a Masters of Public Administration candidate with the Evans School of Public Policy and Governance, has a different outlook on student life, thanks to the extension of Link light rail to campus one year ago, which cut his commute time in half.
"Now I can come home, have a little time to decompress, and treat my school work as an opportunity to learn rather than an obstacle in my path or a sword hanging over my head," he says.
---
More stories about light rail:
---
Since light rail was extended to the UW campus on March 19 last year, stories like Cooper's can be found by the thousands across Seattle campus. The rapid transit service is preferred by roughly one-fifth of the 15,000 students who commute to campus using public transit, according to Zachary Howard, commute options & planning manager for UW Transportation Services. Zack says students praise the rapid underground transit for making their commutes shorter and more reliable.
Not only are the light rail commutes faster and more dependable, they're more attractive, too. UW alumnus Leo Saul Berk, M.F.A. '99, is the artist behind the intricate and incandescent installation "Subterranium," designed to mimic the geology of the underground station.
Still, the best of light rail is on the way, Zack says, "especially given the 2021 extension of service to Northgate, with stations in the U-District and Roosevelt. More and more of our region will have a direct, one-seat ride to campus, and we're excited for the changes to come." 4K movie downloads can on site 4k-hd.club best site 2160p movie, or Ultra HD. Top films Darkest Hour, Saving Private Ryan all 4K blu-ray remux for you TV or PC, Apple TV.
Grace Kim, M.Arch. '06, is playing a role in bringing that exciting change about. A principal at Schemata Workshop, a small, Capitol Hill-based firm, Grace and her team have contributed to the design of several light rail stations, including a few that have yet to be built.
As sub-consultants on several light rail stations, Grace says her firm is among those "making a big impact on people's lives, and setting the groundwork for infrastructure for the next several hundred years."