For civil engineering doctoral student Nathalie Thelemaque, it's not enough to research how to design a building or a bridge.
Thelemaque wants to know the impact of infrastructure systems on the climate and marginalized communities and help create more sustainable ones. It's an issue so important that it even helped change her mind from considering a career in industry to one in academia.
"Especially with growing climate change concerns, it's very important that we're looking into the different impacts, because not every community is facing the same impacts," Thelemaque said.
Thelemaque is conscientious of the impact of her work beyond engineering. Just as others have helped support Thelemaque in her academic journey, she too wants to be a support system for other students, so they can pursue the subjects they're passionate about.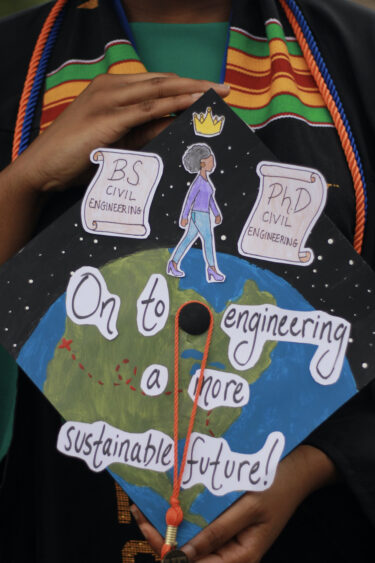 Thelemaque is a GO-MAP* fellow who is in her first year of graduate school after completing her undergraduate degree from the University of Florida in the midst of a pandemic. Even before moving to Seattle to study civil engineering and sustainability, Thelemaque jumped right into researching how communities can be impacted by infrastructure.
In the first paper that she worked on with a team of fellow researchers, she learned about the disparate challenges water utilities face during a pandemic.
A big city, where a water utility serves millions, will have many more operators than a small town with only a few employees. But during COVID-19, a utility operator could get sick and need to quarantine for two weeks. That potentially presents a huge challenge in maintaining a small community's ability to access drinking water as well as water to wash their hands in order to follow safety guidance during COVID-19.
Regardless of what research she's undertaking, Thelemaque said it's important to make sure that the people involved represent an array of diverse backgrounds.
"It's so important to have a diverse group of people," Thelemaque said. "To do good research, you need to have people who are willing to ask the questions that are most needed. You can't necessarily make a research assumption or question about a marginalized group but have no one from that group on the team."
Thelemaque said she's grateful for GO-MAP's work in supporting diverse cohorts of graduate students. She participates in virtual events through GO-MAP, which she said has been a helpful way to meet other students during a time when the pandemic has required most students to work remotely.
"I'm very grateful for GO-MAP — they're actually helping support the students coming into graduate schools, because they recognize that it's very necessary to have a diverse set of opinions and understand that not everybody might be on the same equal footing in being able to go to graduate school."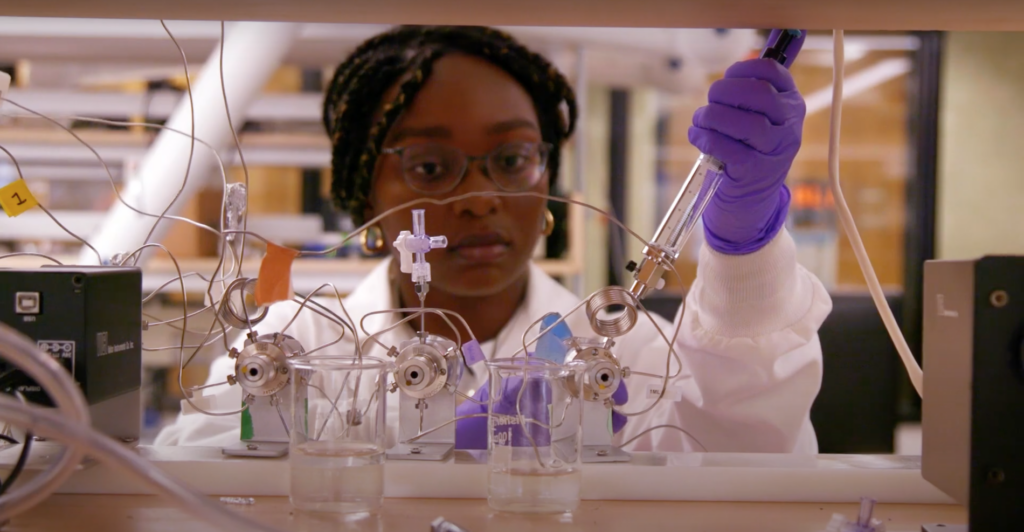 She's signed up to be part of this work through GO-MAP's Outreaching Grads (OG) Program, which helps recruit and connect Black, Indigenous, and students of color to graduate school.
Encouragement from professors, mentors and family have helped support Thelemaque on her own journey in higher education.
Her family inspired her passion not just for math and science, but education. Her mom is a registered nurse and her dad is an engineer. When she was young, she remembers attending her dad's master's graduation ceremony in electrical engineering.
She and her sister went to STEM camps in the summer and participated in local library reading programs. An avid writer when she was younger, she's already published two books of poetry and short stories and spoke at book fairs and schools to encourage other students to follow their passions.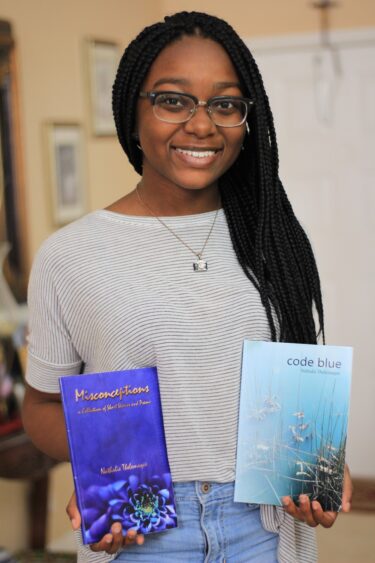 While Thelemaque loved writing, she gravitated toward math and engineering. An internship at Boeing during college inspired her to want to work in industry after graduation. But the following summer, a research program at MIT sparked her interest in academia. She also added a minor called Sustainability and the Built Environment, which inspired her to continue studying how her work was impacting emissions, greenhouse gases, and the communities she'd be working in.
Thelemaque is already working to be a support system for others in her own department, just like she's had along the way. Thelemaque recently gave a talk to a class of civil engineering undergraduates at UW. Over video chat, Thelemaque talked about imposter syndrome, or the feeling of not belonging amidst a group.
"In no way, shape or form does [imposter syndrome] define your capability of doing things," Thelemaque told the group of students. "The condition is as common as the cold; I feel like everyone gets it at least once. But what can make or break you is the ability to communicate your feelings with other people."
For Thelemaque, turning to her community for support amidst fears or doubts in graduate school has been the best way to remember that she belongs.
"I feel like almost everybody I've come across in graduate school has some degree of that syndrome," Thelemaque said. "I find that there's power in that and there's community in that."
*GO-MAP was the name of a program that is now called GSEE, the Office of Graduate Student Equity & Excellence. Learn more.
By Kate Stringer, UW Graduate School
Published February 25, 2021