It was the day student Jessica Pak Mortega had been worried about: her and her partner Edwin Mortega's schedules overlapped, and she needed to bring their one-year-old daughter, Olivia Mortega, along to a Zoom class for her Master of Social Work program.
Jessica was prepared — she laid out Olivia's favorite toys and had snacks within reaching distance. But Olivia wanted to see what Jessica was up to. In the middle of class, she walked over to Jessica's laptop and waved at all the faces, squealing in delight when they waved back. Jessica's fellow students and professor were also delighted to meet Olivia.
"I had been worried and anxious about this possible interruption all morning but my classmates' and professor's understanding and kindness were overwhelming," Jessica said.
Graduate students who are also parenting have found their worlds of home and college colliding since spring quarter classes moved online and schools and daycare centers closed due to COVID-19. While student parents have always had to wear multiple hats, this time is particularly stressful with balancing childcare, studies, and virtual classes as well as trying to attend to their own anxiety around the disruptions caused by the pandemic.
Many student parents feel guilt at not being able to give 100 percent of their attention to every aspect of their lives. But they've shown incredible resilience at coming up with time management solutions for the whole family, reaching out to their peers for support, and showing Herculean patience with their children during a difficult time. They're also finding joy too, being able to be around their kids during moments of childhood they were worried about missing while away at school.
"We are all dealing with a lot more at home and with work, sometimes much more than what is seen on the surface," Jessica said. "Empathy and kindness are absolutely necessary. This includes extending grace to ourselves as well."
Stories
David Mendez: balancing multiple schedules 
Christine Baldwin: finding support from your community
Sharmistha Ganguly Ghosh: Keeping a positive attitude
Jessica Pak Mortega: Getting more time for the small moments
Tips on managing schedules and self-care
David Mendez: balancing multiple schedules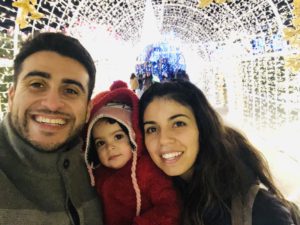 Like many student parents, David Mendez's day is often filled with tough choices.
"I have to grapple with deciding whether or not to spend 20 to 30 minutes singing a song with my daughter or 20 to 30 minutes reading for class the next day," David said. "You feel there's this anxiety of trying to be there for your child but also pull your own weight in the work you're doing."
On a walk a few weeks ago with his wife, Mariel, and their 20-month-old daughter, Milea, the stress and guilt reached a breaking point. All day, Milea was vying for her parents' attention as they dodged from room to room on conference calls while trying to keep her entertained with the movie Coco. David was busy with school work as a graduate student in the College of Education, and Mariel was busy with her work for a philanthropy organization.
On that walk, they realized they needed a detailed family schedule that was going to get them through the next few months. Their new schedule is filled with some of Milea's favorite activities and also gives room for David and Mariel to each have an hour to themselves every day. They also plan what will be for lunch during the week so there's less stress trying to come up with something on the spot and then put Milea down for a nap afterward. Some days the schedule works and some days it doesn't, but David said they try to be as consistent as they can.
But being at home has brought some bright spots for the family, too. David is no longer commuting an hour and 15 minutes to school or balancing pickup times with evening classes. He's also able to join social or networking activities with other students because they are happening online, activities that before the pandemic had often been impossible for student parents to join.
David recommends sharing your challenges with people you work closely with, rather than silently trying to go through it alone. Oftentimes he's learned other people are going through similar things and can become support systems for each other.
He also encourages other student parents to be ok with having the natural feelings of guilt and frustration.
"Give yourself space to reflect on the feeling you're having and not put it aside," David said. "It's ok to feel like you're struggling and there's always a community that is having similar experiences. If you are feeling helpless or you need support, it's ok to ask."
Christine Baldwin: finding support from your community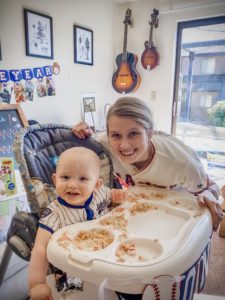 Before the pandemic, Christine Baldwin, a student in the MEDEX Northwest Physician Assistant Program through UW Medicine, kept her school life and home life separate. She'd be in class from 9:30 a.m. to 3:30 p.m. and then studied a few hours on campus to complete all her school work before heading home so she could focus her attention on her family.
"Unlike most students, my time at school was my 'me' time," Christine said. "I enjoyed getting to be around my peers and have a few moments to myself during lunch or studying after. It's been really hard losing that."
Now that Christine is home all the time, she feels guilty when she has to ignore her one-year-old son, Parker, to be on a Zoom call, or to watch her husband, Justin, take Parker on a walk without her.
Creating a schedule has been helpful for her family, especially posting it for everyone to see to help assuage the guilt of not being available for everyone at every moment of the day. Christine and Justin, who is also a student, alternate taking care of Parker while the other gets work done or attends classes. After putting Parker to bed at 7 p.m., Christine finally has complete quiet to get work done, which will often keep her up until 1 or 2 a.m. each night.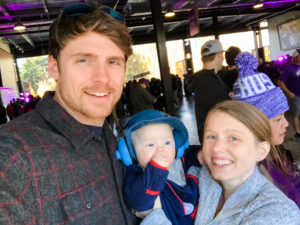 To find support, Christine has frequent Zoom calls with the fellow students in her cohort, many of whom are also parents. She describes these calls as 95 percent studying and 5 percent venting and laughing about their experiences. When she and Justin threw a one-year birthday party for Parker on Zoom recently, some of her classmates joined to help celebrate.
Christine has also been excited about being able to be around for Parker more, taking him out to play in the woods with Justin.
"I am enjoying how involved I get to be now as his mother," Christine said. "This last year was full of so many changes for him. I swear it all happened in the blink of an eye. I always used to stress about missing his 'firsts' but now it's more likely I will get to be around for all those moments."
Sharmistha Ganguly Ghosh: Keeping a positive attitude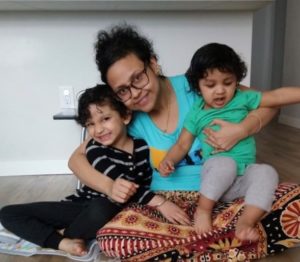 It's not uncommon for Sharmistha Ganguly Ghosh to find herself completing class assignments in the middle of the night with one of her kids sitting on her lap.
Sharmistha, who is earning a Master of Science in Business Analytics, has two boys, Hrishan, who is one year and seven months, and Reyansh, who is four.
Since being home, Sharmistha describes her average day as feeling like a tennis ball bouncing between household chores, studying, nursing her youngest, calls with a client, playing Legos with her children, and back to studying. Sharmistha uses a chart to help manage what she needs to get done and what her deadlines are. She said she can't ever procrastinate if she wants to keep up with the 14 credits she's taking in her final quarter.
But Sharmistha is good at keeping a positive attitude. She said her supportive husband and family make it easier to handle, and she feels like these challenges will help her become stronger and better at balancing competing priorities.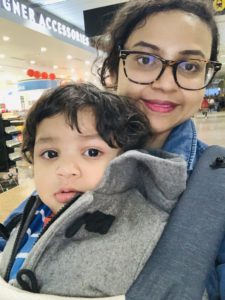 "Due to this extremely difficult situation, stress is imminent. But we need to keep our cool, and this too shall pass," she said.
She tries to hold a lot of empathy and patience for her children as well. She reminds herself that because her sons are at home more, they aren't able to release their energy playing in the neighborhood like they used to, and are more prone to misbehaving. Sharmistha said this requires a lot more love and understanding on her part as a parent, but she also sees her children reflecting that kindness back to her.
"Every struggle comes with its own share of happiness," Sharmistha said. "At the end of the day, when I sit back on my couch and my kids run up to me to offer coffee from their toy coffee machine, spreading their arms around me saying, 'Mumma, have some coffee and relax, you seem tired,' it's the biggest happiness a mom can get, seeing her kids being compassionate and loving."
Jessica Pak Mortega: Getting more time for the small moments
Jessica Pak Mortega and her family had been looking forward to dol, a Korean celebration commemorating a child's first birthday filled with traditions, lots of food, and people.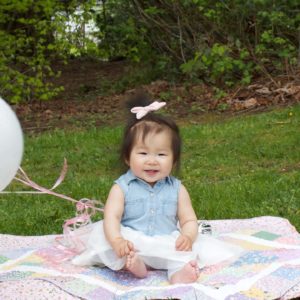 But because of the Stay-At-Home orders, that couldn't happen for Jessica's daughter, Olivia. While Jessica was sad they couldn't celebrate as they'd hoped, she found joy in doing the simple things Olivia loved, like blowing bubbles in the backyard, watching her eat cake for the first time, and spending 100 percent of the day together. Some of their family even left presents on their front porch for them to open later.
Many of the changes to student-parent life are like that now, Jessica has found: some elements of good and some elements of bad mixed together.
Before the pandemic, Jessica had been struggling to find a balance between being her daughter's primary caregiver and her studies, especially coupled with a two-hour commute to school.
"I questioned my ability to do either well and felt guilty about spending so much time away from my child," Jessica said. "Since classes moved online, I am grateful for the additional time I am able to spend with my daughter. I am able to see her when she first wakes and put her to bed each night."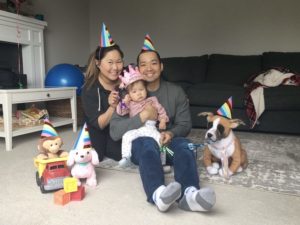 But the days are long and she and her partner, Edwin, aren't always able to balance their schedules perfectly.
Through Jessica's social work program, she is still able to support people remotely. Right now, she provides mental health check-ins via phone, email, and text chats with high-schoolers at Two Rivers, an alternative high school in North Bend. Next year, Jessica will provide behavioral health services for pregnant women in an OB/GYN clinic.
"Supporting one another is so important during this time," Jessica said. "Be kind to yourself and others."
Tips on managing schedules and self-care
Create a schedule and post it for everyone to see. Include time in the schedule for yourself as well as other family members. Keep your own personal time management system as well to help stave off procrastination.
Keep connected with your graduate student cohort, especially fellow student parents who can be a support system.
Share what you're going through with other people you work closely with. Not only can they help support you but they may be going through something similar.
Don't forget about yourself. As hard as it may seem, schedule time for yourself during the week. Need some ideas? UW IMA is offering classes like yoga, fitness, mindfulness, and more.
It's more difficult for younger children to express what they're going through, so extra patience and empathy for everyone is required.
Help yourself and your child prepare for returning back to school by talking about how things might be different, said Kathleen Farrell, the Work-Life Program Manager for Human Resources at UW. For example, you can talk to your kids about how people might be wearing masks and how fewer students might be in daycare. Farrell also advises that if you have a job that's expected to open before your child's daycare, talk to your supervisor now about how you might need a different working arrangement. See more advice on planning for the return back to school and work from UW HR's Working During COVID-19 resource page.
By Kate Stringer, UW Graduate School
Originally published May 11, 2020